Writing a CV can be much harder than it initially appears.Indeed, this process involves much more than merely listing one's qualifications, work experience and educational background.Landing a desired role is often determined by the impression that the recruiter receives, as well as how "clean" the CV appears to be in terms of form and content.The free CV sample found below is intended to take much of the guesswork out of the equation.Many candidates have already taken advantage of the clarity that this article has to offer.Please spend a few moments to browse through its contents and its structure.Feel free to modify the CV as you see fit.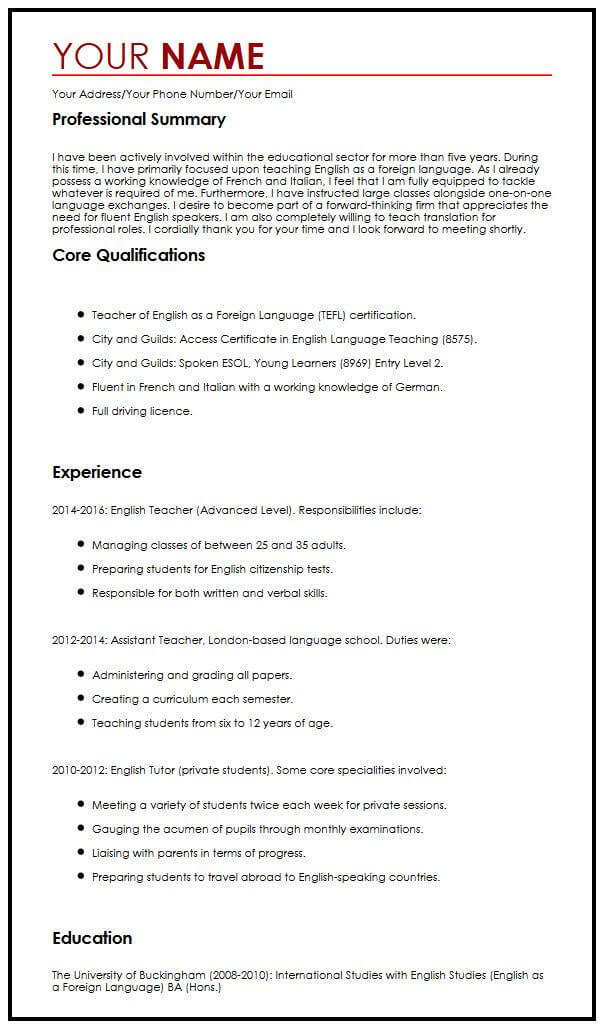 Your Address/Your Phone Number/Your Email
Professional Summary
I have been actively involved within the educational sector for more than five years.During this time, I have primarily focused upon teaching English as a foreign language.As I already possess a working knowledge of French and Italian, I feel that I am fully equipped to tackle whatever is required of me.Furthermore, I have instructed large classes alongside one-on-one language exchanges.I desire to become part of a forward-thinking firm that appreciates the need for fluent English speakers.I am also completely willing to teach translation for professional roles.I cordially thank you for your time and I look forward to meeting shortly.
Core Qualifications
Teacher of English as a Foreign Language (TEFL) certification.
City and Guilds: Access Certificate in English Language Teaching (8575).
City and Guilds: Spoken ESOL, Young Learners (8969) Entry Level 2.
Fluent in French and Italian with a working knowledge of German.
Full driving licence.
Experience
2014-2016: English Teacher (Advanced Level).Responsibilities include:
Managing classes of between 25 and 35 adults.
Preparing students for English citizenship tests.
Responsible for both written and verbal skills.
2012-2014: Assistant Teacher, London-based language school.Duties were:
Administering and grading all papers.
Creating a curriculum each semester.
Teaching students from six to 12 years of age.
2010-2012: English Tutor (private students).Some core specialities involved:
Meeting a variety of students twice each week for private sessions.
Gauging the acumen of pupils through monthly examinations.
Liaising with parents in terms of progress.
Preparing students to travel abroad to English-speaking countries.
Education
The University of Buckingham (2008-2010): International Studies with English Studies (English as a Foreign Language) BA (Hons.)
Conclusion
This free CV sample highlights all of the main points to take into consideration when formatting your presentation.It is also wise to browse through the hundreds of other examples that can be found throughout this website, at your leisure.