Many job candidates make the mistake of listing too many skills and their entire past employment history within a CV. Not only can this appear quite awkward, but the interviewer may very well become bored quickly. It is best to keep this presentation brief, although it is just as important to display your talents and desires utilising the most effective techniques possible. We have constructed a concise one-page CV example to aid you in this process. Although our theoretical candidate is looking for a position within the field of engineering, you can utilise this same structure for your unique industry.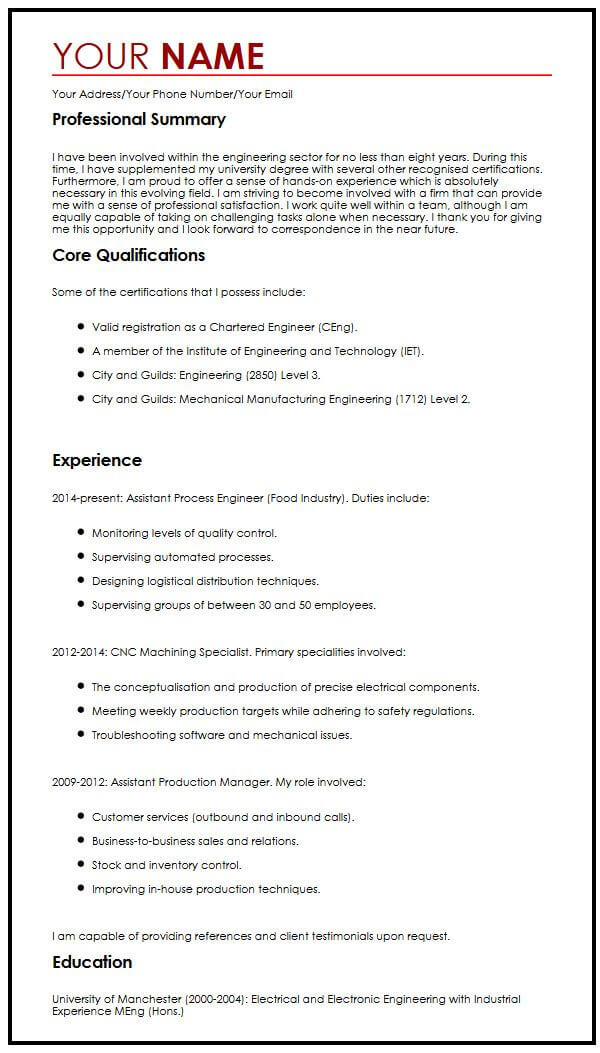 Your Address/Your Phone Number/Your Email
Professional Summary
I have been involved within the engineering sector for no less than eight years. During this time, I have supplemented my university degree with several other recognised certifications. Furthermore, I am proud to offer a sense of hands-on experience which is absolutely necessary in this evolving field. I am striving to become involved with a firm that can provide me with a sense of professional satisfaction. I work quite well within a team, although I am equally capable of taking on challenging tasks alone when necessary. I thank you for giving me this opportunity and I look forward to correspondence in the near future.
Core Qualifications
Some of the certifications that I possess include:
Valid registration as a Chartered Engineer (CEng).
A member of the Institute of Engineering and Technology (IET).
City and Guilds: Engineering (2850) Level 3.
City and Guilds: Mechanical Manufacturing Engineering (1712) Level 2.
Experience
2014-present: Assistant Process Engineer (Food Industry). Duties include:
Monitoring levels of quality control.
Supervising automated processes.
Designing logistical distribution techniques.
Supervising groups of between 30 and 50 employees.
2012-2014: CNC Machining Specialist. Primary specialities involved:
The conceptualisation and production of precise electrical components.
Meeting weekly production targets while adhering to safety regulations.
Troubleshooting software and mechanical issues.
2009-2012: Assistant Production Manager. My role involved:
Customer services (outbound and inbound calls).
Business-to-business sales and relations.
Stock and inventory control.
Improving in-house production techniques.
I am capable of providing references and client testimonials upon request.
Education
University of Manchester (2000-2004): Electrical and Electronic Engineering with Industrial Experience MEng (Hons.)
Conclusion
Making sure your CV displays all your relevant skills and certifications on just one page can be done. By adapting this one-page CV example to meet your needs, you're well on the way to an ideal job application. For further tips and advice, take a look at the rest of our website.