Easy to use, intuitive and expertly designed
Job hunting is fiercely competitive—career experts report that there's an average of 250 applications submitted for any single role. You need your CV to stand out if you're going to get noticed by recruiters and employers.
Give yourself that competitive edge by using an online CV builder. You'll get access to professionally-designed CV templates, role-specific text and expert advice for creating your perfect CV.
Why use a CV builder?
It's quicker than starting from scratch

Rather than starting with a blank page, our online CV builder gives you professionally-designed CV templates and expertly-written example text to help you along the way. It also gives you helpful tips and hints at every stage, making it quick and easy for you to build your perfect CV.

It provides you with a professional and appropriate design

When it comes to crafting the perfect CV, the rule 'quality over quantity' has never been more relevant. In fact, a study that assessed recruiters' responses to curriculum vitaes using eye-tracking technology showed that employers and recruiters favour those that are professionally designed.




Our CV templates have been designed to help you manage the content on your CV effectively, making sure there's enough room for you to really sell yourself without it looking cramped. And with various different designs to choose from, you're sure to find something perfect for your application.

Easy to personalise for each application

Job hunting can be a lot of work, especially when you need to adapt your CV for each role you apply for. Our CV builder gives you various professional templates to choose from and expertly-written, role-specific text to add to your CV. Every time you find a new role to apply for, you can head into the CV builder and easily adapt it for the application.
Top CVs created in our CV builder
Using an online CV builder helps you to create a stronger CV. Built by career experts, our builder has helped millions of jobseekers to build personalised CVs online and get interviews. With easy steps to follow and tips at every stage, you'll have a brilliant CV in no time.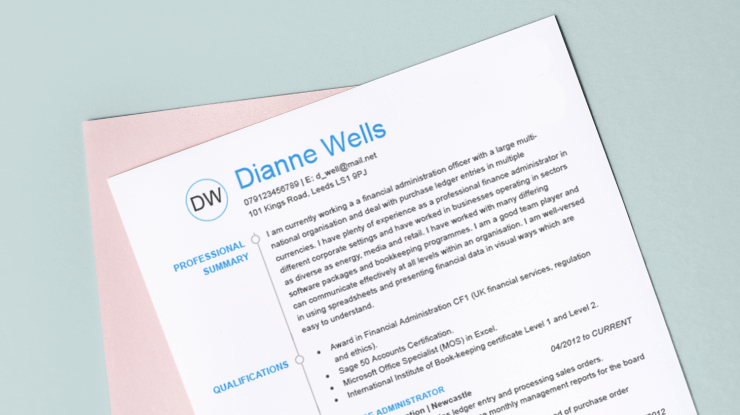 What our CV builder can do for you
Suggest appropriate content
Rather than starting from scratch, our CV builder suggests tried-and-tested, professionally-written content for you to use and adapt. The suggestions are based on the role you're applying for, so you can simply edit them depending on your experience.
Give expert guidance along the way
As well as our CV tips and our guide on how to write a CV, our online CV builder offers recruiter-approved guidance and manager insights at every stage. We also offer various CV examples for different job roles and levels of experience for you to draw inspiration from.
Help you create a targeted CV for each application
Our CV builder has been designed to help build CVs appropriate for different roles and industries. This means that you can create a CV that's targeted towards the role you're applying for. And, because your CVs are created and stored online, it's easy for you to jump back in and amend and download your CV for each application.
Make sure your CV is in tip top shape
There's nothing worse than sending off an application and realising you missed something. While we still recommend you triple check your CV before sending it off, our CV builder has built-in spell-check functionality to make sure there aren't any typos in there. What's more, our professionally-designed CV templates mean that your CV will look the part, too.
Offer various download formats
Different applications require different CV formats. Our CV builder allows you to download your CV in various formats, from the common (like a Word CV or a PDF CV) to the more obscure (like a html CV).
Try it out for free
You wouldn't buy a car without taking it for a test drive, right? So before you pay for a CV builder, try it out. MyperfectCV lets you try building your CV for free, so you can see first hand how easy it is and how professional your CV will turn out.
Get started
The best way to find out how much our CV builder can do for you is to just get started. Tell us the role you're applying for, pick a template, and get stuck in.