How to Build a CV That Will Make Recruiters Reach for the Phone
Job hunting is a fiercely competitive process. In fact, according to professor and corporate recruiting strategist Dr John Sullivan, an average of 250 CVs are reviewed for a single job position.
And what makes it more challenging is that you have no idea who your fellow competitors are! It's like running an obstacle course blindfolded, with hurdles and pitfalls all around you and no idea where you're coming in the race!
Using a CV maker to create a customised CV that fits the requirements of the job you're applying for is crucial to presenting yourself as a competent candidate.
Our free online CV maker has been developed to support UK jobseekers by creating a high-quality CV quickly and easily. It will guide you through the CV building journey in an easy step-by-step process, giving hints and tips on which sections to include.
Why Use a CV Builder?
It's Easy

Using a CV creator is a great way to overcome your writer's block and act as a helpful thought starter.

Rather than starting from zero, using our online CV creator helps by providing you with actual wording suggestions. The easy-to-follow process provides you with helpful tips and hints at every step, so you can easily build a professional-looking document, minus the stress and frustration of doing it alone.

It's Quick

Job searching can be a time-consuming and laborious process. Particularly if you're already working full time, finding extra hours to job-search, send through applications and organise interviews can feel like another fulltime job in itself!

Forget slaving away for hours. Our online CV builder takes just a few minutes, so you don't need to waste hours researching the right wording or format. All the content you need is available at the click of a button in the online CV creator.

It's High Quality

When it comes to crafting the perfect CV, the rule "quality over quantity" has never been more relevant. In fact, a study that assessed recruiters responses to CVs using eye-tracking technology, showed that readers favour professionally-prepared CVs.

The documents with less information that were clear and evenly-formatted were categorised as "easier to read", increasing the candidates' chances of being rated as a "fit" for the organisation.

Free up Your Valuable Time

Your time is precious and let's be honest – there are better ways to spend your days than agonising over creating your CV.

Using an online CV builder gives you the guidance you need to get started, cutting down the time spent doing your own research, giving you precious hours back into your day – hours better spent finding the right job and preparing for all the interviews you're sure to be getting.
3 Common Questions From UK Jobseekers
1. What information needs to be on a CV?
Here's some of the essential information you should always include in a CV:
Personal statement:

As the opener to your CV this should be a punchy statement showing the recruiter in two sentences or less, why you're the right person for the job.

Work experience:

Include all relevant job positions you have held, right up to your current (or most recent) position.

Education:

Include all relevant academic qualifications or degrees, from most to least recent.

Achievements/Awards:

This is not the time for modesty, so include anything you've excelled in professionally and personally (if you feel it's relevant.)

Key skills:

Remember to list any technical qualifications you've gained over the years such as Photoshop proficiency, HTML training or other technical programmes.
Our free online CV builder guides you through how to include all these essential components into your CV.
2. How many pages should a CV be?
A CV should be a maximum of 2 A4 pages long. Here's how to include all the information:
Use appendices and portfolios:

Consider adding the extra detail in a separate document.

Sleep on it:

It's amazing what a fresh pair of eyes in the morning will do for your editing skills.

Get a second opinion:

An objective third party such as a trusted friend or colleague will be able to suggest where you can make cuts if your CV is running long.

Use our online CV maker:

Ensure your CV is the perfect length while still capturing all the vital details.
3. What are some tips for creating the best CV?
Here are some helpful tips that will elevate your CV from average to extraordinary:
Make sure your email address is on point: 76% of CVs will be ignored immediately if the email address is unprofessional.
No formal education? Leave it out. Instead focus on your most relevant skills or work experience such as internships, apprenticeships or volunteer work experience.
Make sure you quantify your achievements. For example, "Story selected for front page publication in XX publication out of 800+ submissions."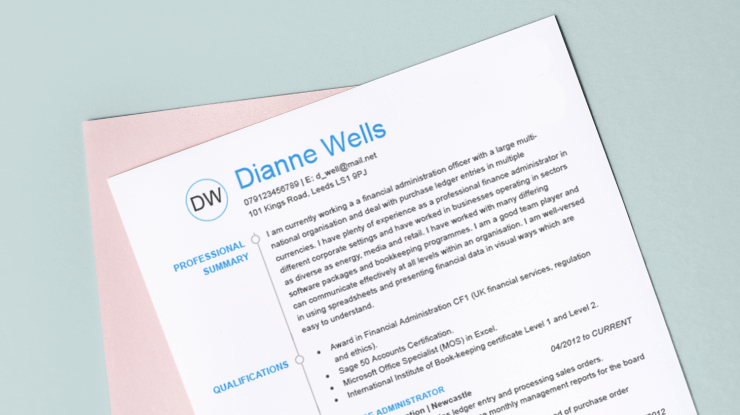 Choosing the Right CV Builder For You
You might be united with the millions of other job-seekers out there in your search for a new role, each person's requirements are going to be very different when it comes to creating their perfect CV. Here are some tips on how to quickly identify whether a CV builder is right for you.
A great online CV builder should:
1.
Provide plenty of example CVs to refer to
To make your CV as specific as it needs to be, you'll need to tailor it very closely to the industry in which you're hoping to work. Use sector-specific appropriate jargon and language. Show the recruiter that you have a sound understanding of their business and any challenges they may be facing.
A CV creator loaded with different CV examples from your industry is going to give you maximum inspiration for content to pull from when creating your own CV, presenting you as credible candidate who has done their homework.
You never know, one of the examples you see might just give you the nugget of inspiration that takes your CV from average to extraordinary!
2.
Include a variety of CV template options
When it comes to CV templates, there is no "one size fits all" approach. The perfect template for you is not going to be the perfect template for a different role, even if it's in the same industry!
As we know, the order of the information in a CV is incredibly important and has a huge impact on how easily the recruiter will digest the information they're reading (hint – the easier it is to digest, the better the result for you!) It's important to present your CV content within a layout and structure that works for you.
A great CV builder should give you a range of layout options and guide you as to which ones work best for the kind of information you're presenting. That's why our CV maker has a number of different template options to allow you to mix and match your content and see instantly which layout is going to work best.
3.
Offer multiple output formats
While there may still be the odd occasion where you're asked to produce a hard copy of your job application documents, such as your CV and covering letter, the majority of job applications these days are online.
However, the application process itself is far from standard – with each asking for different formats of your application documents.
It's important that a CV builder equips you with what you need to submit an application that meets the exact requirements the organisation is asking for.
A great CV maker should offer you the option to create and save your CV in both a Word document and PDF format, so you're not left scrambling at the last minute when it comes to uploading your final application!
4.
Let you try the CV builder for free
You wouldn't buy a car without taking it for a test drive first, right? So why would you sign up for a CV builder without first making sure it's going to deliver you a professional-looking document you can be proud of?
Taking the next step in your career is a huge deal. So it's understandable that you want to select a CV creator that gives you the best chance of landing a role.
Our CV builder is completely free to try, so you can see first-hand how easy the step-by-step process is and the high-quality CV you will be able to create. You'll be able to see an instant example of what your finished document could look like.
5.
Offer sample text that you can use to help build your CV
One of the most crucial ways to make your CV stand out to your future employer is with the language you use:
How do you sound educated, but not too formal?
How do you sound confident but not arrogant?
How do you keep your sentences short but still impactful?
Ideally a CV builder should give you specific excerpts of text you can use that is appropriate for today's industry and is the kind of thing recruiters will be looking for.
Instead of getting stuck at square one, use one of the hundreds of pieces of sample text in our CV builder to create your perfect CV.
6.
Give you tips and advice at every step
Ever been working on something and been sure you're on the right track and then a friend or colleague steps in and gives you a quick tip or observation that completely changes your perspective?
A CV builder is like that helpful friend. At every step of the process, our online CV builder gives you quick hints and thought-starters to provide inspiration. The CV creator offers suggestions about what content to include in a specific section, how you could format it, or what kind of language you should be using.
It's all industry-specific and relevant to the exact role you're applying for – not a generic or wishy-washy sentence in sight!
7.
Is online, for easy access anytime, anywhere
When you're job searching, the need to be flexible is paramount. It's possible you're also working full-time while looking for your next role, so often the huge amount of work that goes into the job hunt needs to somehow be squeezed into your spare time.
It may even be that you're applying for a job from a totally different country or time zone! Whatever the case, managing applications, scheduling interviews and networking can often feel like a full-time job.
Having access to an online CV maker that can help you build your CV anytime, anywhere is essential. Our CV builder gives you unrestricted, around the clock access to be able to build your CV when it suits you.
Get round the clock access to our free online CV builder .When you're job searching, the need to be flexible is paramount. It's possible you're also working full-time while looking for your next role, so often the huge amount of work that goes into the job hunt needs to somehow be squeezed into your spare time.
It may even be that you're applying for a job from a totally different country or time zone! Whatever the case, managing applications, scheduling interviews and networking can often feel like a full-time job.
Having access to an online CV maker that can help you build your CV anytime, anywhere is essential. Our CV builder gives you unrestricted, around the clock access to be able to build your CV when it suits you.
Get round the clock access to our free online CV builder and start creating your perfect CV now.
8.
Has been used by millions of other jobseekers
Just like your decision to use any branded product, reviews from fellow users are an essential part of the selection process. In fact, word of mouth and endorsement from other consumers is so important that 93% of online shoppers say reviews impact their purchasing decision.
Why would your decision to use one CV builder over another be any different? After all, a great CV maker has the potential to land you your dream job and alter the entire course of your life.
Our online CV maker has been used by millions of other successful job seekers from every country and every industry, so you can be confident it has been road-tested with proven results.
9.
Also offers cover letter builder functionality
Making an outstanding CV undoubtedly plays a vital role in securing you the job you are after. But don't forget about its equally important counterpart – the cover letter.
A cover letter is the first document your potential employer will see from you and is a strong, impactful statement introducing you, showing your personality and delivering key points about why you are best candidate for this specific role.
Without a knockout cover letter, all the hard work you've put into creating the perfect CV could be completely wasted. Just like the CV, there are key sections and types of information you should include in your cover letter. Just like the online CV maker, our cover letter builder allows you to do just that.
Use our cover letter builder and CV builders together to create a set of documents that will make it impossible for any recruiter to overlook you!
10.
Allow you to create different, customised versions of your CV
The reality of job hunting is that you'll probably apply for multiple roles, not just one. But a CV that works perfectly for one job application, is unlikely to be completely suitable for another. Even if it's in the same industry, each job description is different, and recruiters want different things. An online CV builder allows you room to create multiple unique CVs.
Some job ads make a strong request for specific qualification or number of years of work experience, while others place more of an emphasis on personality and culture fit.
The content in your CV should match as closely as possible, the exact criteria in the job description, so using a CV builder to customise a CV for every different job application you send is an absolute must.
Our CV builder allows you this flexibility. It helps you develop your own set of building blocks, and then to assemble them in a professional, concise and memorable way that fits the brief and will capture recruiters' attention.
See Popular CVs Created in a CV Builder
Even the quickest search for an online CV builder can return thousands of results, all giving you different advice and leaving you feeling overwhelmed and unsure where to start.
Our online CV creator has been used by millions of job-seekers and is based on extensive research into each specific job sectors and recruitment industry best practice. We know what recruiters are looking for and how to present it to them.
The easy-to-use CV builder guides you through a step by step process, with helpful hints and tips at every step. And as these examples show, it's easy to create a high- quality CV in just a few steps.
Create a Truly Personalised CV With an Online Builder
Not all online CV builders are created equal. While there are plenty of online platforms that will allow you to cobble together a poorly-worded, generic document that meets the basic requirements of a CV, it's unlikely these are going to deliver the wow-factor to land you the job you want.
In fact, it's much more likely they'll be discarded straight into the recruiter's nearest bin. What you need is a document that:
Looks ultra-professional and polished.
Uses language that is appropriate and persuasive.
Meets the exact criteria for the advertised role.
Use recruitment industry best practice for formatting and layout.
Includes the most relevant and impressive of your achievements.
Demonstrates your individual personality and flair.
That's a lot to try and fit into two sides of A4!
A great CV builder doesn't just collect basic information and spit a CV out. Instead, it guides you through the process of crafting and curating your CV into the best representation of you.
You need to make a document that is the perfect balance of professional and memorable: comprehensive, yet concise; confident, but not arrogant. By offering CV templates, sample text and content tips at every step, the right CV builder helps you to build a CV that exceeds the recruiter's expectations!
What Are You Waiting For? Start Building Your Perfect CV Now
Writing a standout CV is one of the most important things you'll ever do.
Today's playing field for jobseekers is an extremely competitive one. Using a CV builder to make a CV that presents you as a serious, professional candidate is the most important thing you can do to make a strong first impression.
A strong CV has the power to get you noticed immediately, through the door for an interview, and into a role that could take your career to new heights! But with so much differing advice online, creating this all-important document can be confusing.
We all want to imagine a recruiter picking up our CV and being immediately impressed, not underwhelmed. Using an online CV builder is the best way to ensure you'll build a CV that delivers the impact you're looking for.
The first step to a perfect job is a perfect CV. And your perfect CV is closer than you think - get started with our online CV builder now.