How to Build a CV That Will Make Recruiters Reach for the Phone
Job hunting is a fiercely competitive process. Career experts report that an average of 250 CVs are reviewed for a single role.
Create a competitive edge by using an online CV builder. Get access to templates and expert advice on customising your CV to match the job you've applied for.
Why Successful Candidates Use a CV Builder
It's easy

Rather than starting with a blank page, our free online CV creator gives you example text to start out with. You get helpful tips and hints at every step, eliminating frustration and making it easy to create a professional document.

It's quick

You're busy, and finding the time to review and respond to job descriptions is tough. Our online CV builder gives you professional templates so you don't spend hours looking for CV formats or CV designs. Get access to all the content you need at the click of a button.

It's high quality

When it comes to crafting the perfect CV, the rule 'quality over quantity' has never been more relevant. In fact, a study that assessed recruiters' responses to curriculum vitaes using eye-tracking technology showed that readers favour those that are professionally prepared.

The documents with less information that were clear and evenly-formatted were categorised as 'easier to read', increasing the candidates' chances of being rated as a 'fit' for the organisation.

Free up valuable time

Your time is precious. Using an online CV builder gives you guidance, cutting down the time you need to spend on choosing templates and writing content. Instead, use that time to apply for jobs and attend interviews.
3 Common Questions From UK Jobseekers
1. What information needs to be on a CV?
Information that needs to be on a CV includes:
Personal statement:

A punchy statement showing potential employers why you're the right person for the job.

Employment history:

Include all relevant roles you've held, right up to your current (or most recent) position.

Education:

Relevant academic qualifications or degrees, from most to least recent.

Achievements & awards:

Highlight key successes - this is not the time for modesty!

Key skills:

Mention those listed in the job description, including any technical qualifications or software packages you're proficient in.
Our free online CV builder guides you through how to include all these essential components in your CV.
2. How many pages should a CV be?
A CV should be 1-2 pages of A4. Here's how to include all the information:
Use appendices:

Consider adding extra detail in a separate document.

Sleep on it:

It's amazing how a little time will help your editing skills.

Get a second opinion:

An objective third party like a trusted friend or colleague can suggest what to cut.

Link to online portfolios:

These add more context and examples of your work.

Use our online CV maker:

We'll help you to ensure your CV is the perfect length while still capturing all the vital details.
3. What are some tips for creating the best CV?
Create the best CV by paying close attention to every detail. Here are some tips:
Make sure your email address is appropriate. 76% of CVs with unprofessional email addresses are discarded.
No formal employment history? Focus on your most relevant skills or activities, like internships, apprenticeships, or volunteer work experience.
Quantify your achievements, for example 'Story selected for front page publication in [paper/magazine name] out of 800+ submissions'.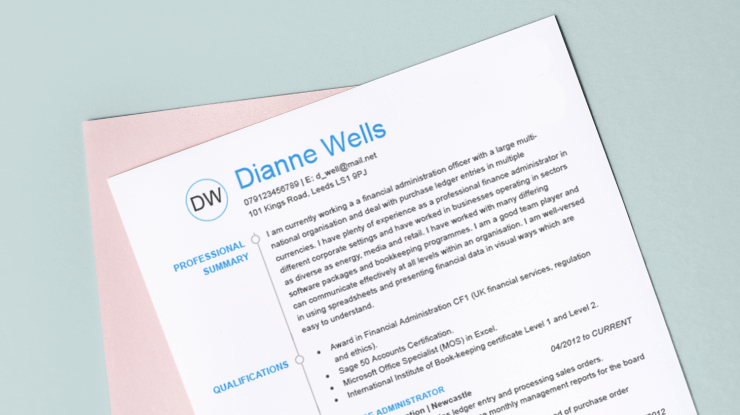 How to Choose the Right CV Builder
The right CV builder gives you a very real competitive advantage. A simple template isn't enough - the right tool will offer you more guidance and examples to build a perfect CV quickly and easily. Here are 10 important criteria to consider.
Provide plenty of example CVs to refer to
Your CV must be closely customised to match the job you've applied for. A CV creator that has different CV examples for your job and industry will give you maximum inspiration when creating your own document.
Include a variety of professional CV template options
When it comes to CV templates there is no 'one size fits all' approach. It's important that the CV design presents content within a layout and structure that works for the role you're applying for. A great CV builder will offer a range of options.
Offer multiple output formats
While there may still be the odd occasion where you're asked to produce a hard copy of your job application documents, such as your CV and cover letter, the majority of job applications these days are online.
However, the application process itself is far from standard – with each asking for different formats of your application documents.
It's important that a CV builder equips you with what you need to submit an application that meets the exact requirements the organisation is asking for.
A great CV maker should offer you the option to create and save your CV in both a Word document and PDF format, so you're not left scrambling at the last minute when it comes to uploading your final application!
Offer sample text to help build your CV
One of the best ways to make your CV stand out is by using the right language. You want to come across as educated, but not too formal. Confident, but not arrogant. Sample text helps you to gauge what's appropriate, quickly and easily. Don't get stuck at square one - use one of the hundreds of pieces of sample text in our builder to create your perfect CV.
Give you tips and advice at every step
A CV builder should be like a helpful friend, with hints and help at every step of the process. This makes it quicker and easier to make your CV and start submitting applications. Our CV builder goes a step further, even providing suggested content to help you with CV writing.
Be online
Flexibility is massively important when you're taking the next step in your career. Timelines can be short and you may need to build or edit your CV at short notice, when you don't have access to a computer. Having access to an online CV maker that can help you build your CV anytime, anywhere is essential.
Have been used by millions of other jobseekers
We all pay attention to recommendations when choosing products and services. A new CV maker might be intriguing, but it's not guaranteed to give you the same results as one that's tried and tested. Choose a CV builder with experience under its belt. MyPerfectCV has been helping millions of successful jobseekers for over a decade, and we're confident that we can help you too.
Allow you to create different versions of your CV
Each role requires a customised application. But building a CV from scratch each time is slow and hard work. Our CV maker allows you to create and save multiple unique CVs, one for each application.
Also offer cover letter builder functionality
Your CV is half of your job application - your cover letter is the other half. Create a strong, positive impression with matching templates and content that syncs up by using the same builder for both documents.
Let you try it for free
You wouldn't buy a car without taking it for a test drive, right? So before you pay for a CV builder, try it out. MyPerfectCV lets you try building your CV for free, so you can see first hand how easy it is and how professionally your CV will turn out.
See Popular CVs Created in a CV Builder
Using an online CV builder helps you to create a stronger CV. Built by career experts, our builder has helped millions of jobseekers to build personalised CVs online and get interviews. With easy steps to follow and tips at every stage, you'll have a brilliant CV in no time.
Create a Professional CV
Not all online CV makers are created equal. There are plenty of platforms that will help you throw a generic document together but it's unlikely they'll exude the professionalism necessary to land you the job you want.
Don't allow your CV to land in an employer's rubbish bin. A high quality CV should secure you an interview by:
Using a polished, ultra-professional CV design.
Including keywords from the job ad.
Showing that you meet the criteria for the advertised role.
Highlighting relevant and impressive achievements.
Including correct, up-to-date personal details.
That's a lot to try and fit into two sides of A4!
A great CV builder doesn't just collect basic information and automatically generate a CV. Instead, it guides you through the process of crafting and curating your CV to best represent you in the employment market.
What Are You Waiting For? Start Building Your Perfect CV Now
The UK employment market is extremely competitive and when you apply for your perfect job you'll be up against a large group of applicants.
Using a CV builder will help to present you as a serious, professional candidate who will impress employers and secure the interview. The first step to a perfect job is a perfect CV. And your perfect CV is closer than you think - get started with our online CV builder now.