Write High Impact Cover Letters that Open Doors
More than half of all employers want to see something more than a CV when you apply for a job. A cover letter sample helps you to write a personalised cover letter that will make your application stand out from the crowd. Learn how to make a great first impression, appeal to recruiters, and land the job you're looking for.
40 Top UK Cover Letter Samples
We've been helping applicants from around the world to build cover letters for more than a decade, so we've got the best library of cover letter samples available. Our cover letter samples will help you to understand how to write a cover letter that will impress recruiters.
UK Applicants' Top 2 Questions on Cover Letter Samples
Can I use the same cover letter for multiple jobs?
You can't use the same cover letter for multiple jobs. It needs to be personalised for each individual job application, because:
Some recruiters will look for educational qualifications, others for work experience.
Your cover letter must meet the specific professional standards of the industry.
It needs to show that you fully understand the requirements of each position applied for.
Making the effort to customise a cover letter demonstrates your interest in the position.
View our customised cover letter examples.
How do you write a compelling cover letter?
Write a compelling cover letter by focusing on what recruiter needs to know, and making it easy for them to find this information. Focus on:
A clear structure, making it easy to pick out important keywords like necessary qualifications.
Not being longer than one side of A4.
Separate, brief paragraphs rather than dense text.
Including only the most relevant achievements.
Learn more about how to write a cover letter.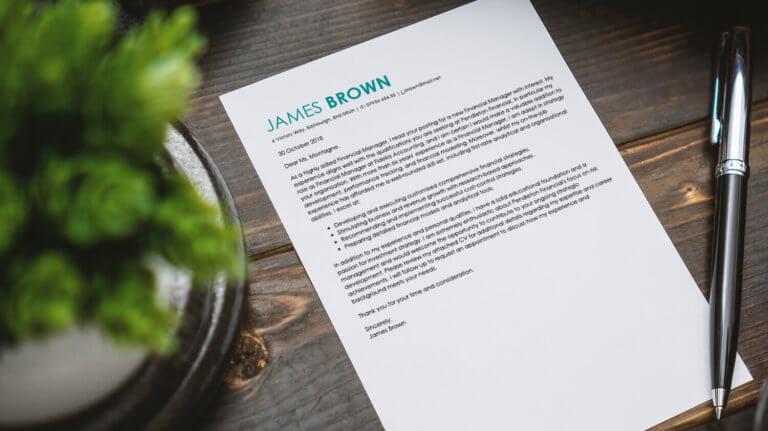 Top 10 Cover Letter Mistakes to Avoid
When experts explain what they're looking for in a cover letter, it's about personalisation. In fact, 49% of employers say that the only thing more important than a personalised cover letter is your CV. Get it right by avoiding the following mistakes:
A look that isn't industry appropriate
You may like the way a cover letter sample looks but if it doesn't match what a recruiter in a particular industry or sector is looking for, it won't get read. Use a cover letter template that's been built by experts to meet the expectations of the position you're applying for.
Incorrect personal details
Your personal details – contact number, email, and postal address – are basic information. But it's easy to forget about them when you're trying to create a compelling case for your application. Make sure you provide your own correct details, not those on the sample.
Impersonal opening and closings
A recruiter who's scanning hundreds of cover letters will instantly warm to a candidate who takes the trouble to address them by name. It takes just a few minutes to look online or give the company a call to add a personal touch. When signing off, leave a positive impression by adding a positive note such as 'looking forward to answering any questions you have'.
Being too informal
Each cover letter sample been carefully created to show you the level of formality that a recruiter in the industry expects. Ignoring this and going for a super casual tone may make a recruiter think you're not a serious candidate.
Ignoring your peers
Don't be too proud to see how your peers create convincing cover letters. Studying their cover letter examples shows you what recruiters will compare you to, and which mistakes to avoid.
Running on too long
When it comes to writing an effective cover letter, less is definitely more. Recruiters spend mere seconds reading full CVs, so a cover letter that's longer than one side of A4 could be discarded.
Copying sections
As our cover letter templates show, every cover letter needs to be tailored for the position in question. Reusing large sections from a cover letter sample will mean that the information is too general and not personally relevant.
Ignoring cover letter samples
A cover letter is an opportunity to make your case as a great applicant. If you ignore the structure, layout, and tone used in other cover letter samples a recruiter will quickly decide that you don't understand the role you've applied for.
Not using a single specific achievement
The content of your cover letter has to reflect your personal strengths. Do this by choosing a single, highly relevant achievement to mention. Maximise the impact of this achievement by backing it up with concrete facts and figures.
Including information that's not relevant
Don't make the mistake of including too much information in your cover letter. Edit any details such as work experience and education so that you only include those that are directly relevant to the position you're applying for.
Build Your Own Perfect Cover Letter
A strong cover letter is your first and best chance to appeal to a recruiter. Get it right and you'll guarantee that they want to explore your full CV and find out exactly what you have to offer.
Our cover letter samples will show just how effective a one-page cover letter can be, and our cover letter builder makes it quick and easy to build a letter perfect for the position you're applying for. Don't run the risk of hoping for the best - start building your own perfect cover letter today.