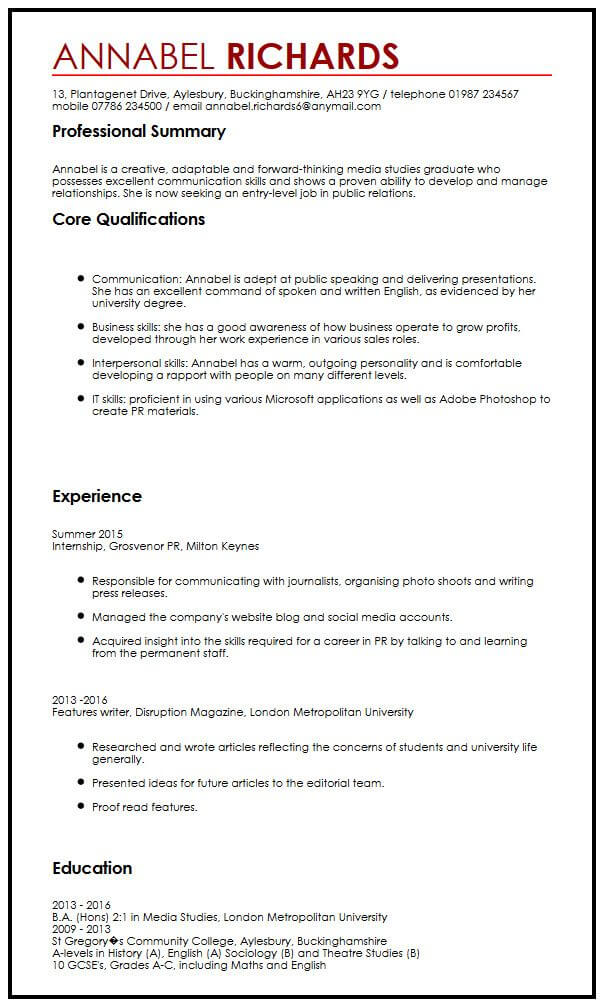 ---
There are plenty of job opportunities open to you as a university graduate, but in a tight job market, it is important for your CV to display your most valuable qualifications and experience. A concise and effective CV that grabs the attention of hiring managers for all the right reasons is vital to get you an interview; make sure that you tailor each CV that you write to the job for which you are applying. Before writing your resume, it is helpful to study some good examples of curriculum vitae such as our free CV example for university students below: it will provide you with valuable insights and guidance into writing your own personalised CV from scratch.
13, Plantagenet Drive, Aylesbury, Buckinghamshire, AH23 9YG / telephone 01987 234567 mobile 07786 234500 / email annabel.richards6@anymail.com
Professional Summary
Annabel is a creative, adaptable and forward-thinking media studies graduate who possesses excellent communication skills and shows a proven ability to develop and manage relationships. She is now seeking an entry-level job in public relations.
Core Qualifications
Communication: Annabel is adept at public speaking and delivering presentations. She has an excellent command of spoken and written English, as evidenced by her university degree.
Business skills: she has a good awareness of how business operate to grow profits, developed through her work experience in various sales roles.
Interpersonal skills: Annabel has a warm, outgoing personality and is comfortable developing a rapport with people on many different levels.
IT skills: proficient in using various Microsoft applications as well as Adobe Photoshop to create PR materials.
Experience
Summer 2015
Internship, Grosvenor PR, Milton Keynes
Responsible for communicating with journalists, organising photo shoots and writing press releases.
Managed the company's website blog and social media accounts.
Acquired insight into the skills required for a career in PR by talking to and learning from the permanent staff.
2013 -2016
Features writer, Disruption Magazine, London Metropolitan University
Researched and wrote articles reflecting the concerns of students and university life generally.
Presented ideas for future articles to the editorial team.
Proof read features.
Education
2013 – 2016
B.A. (Hons) 2:1 in Media Studies, London Metropolitan University
2009 – 2013
St Gregory's Community College, Aylesbury, Buckinghamshire
A-levels in History (A), English (A) Sociology (B) and Theatre Studies (B)
10 GCSE's, Grades A-C, including Maths and English
Conclusion
There are numerous job opportunities for university graduates, but it can be difficult to get an interview. Use our free CV example for university students for valuable guidance on how to construct your own effective, concise CV that is tailor made for the position for which you are applying.