A perfect student CV showcases the qualifications you've already gained, like A levels, as well as outlining your current studies. Make up for a lack of work experience by highlighting voluntary work and extra-curricular activities, referring to how they've helped you prepare for the world of work.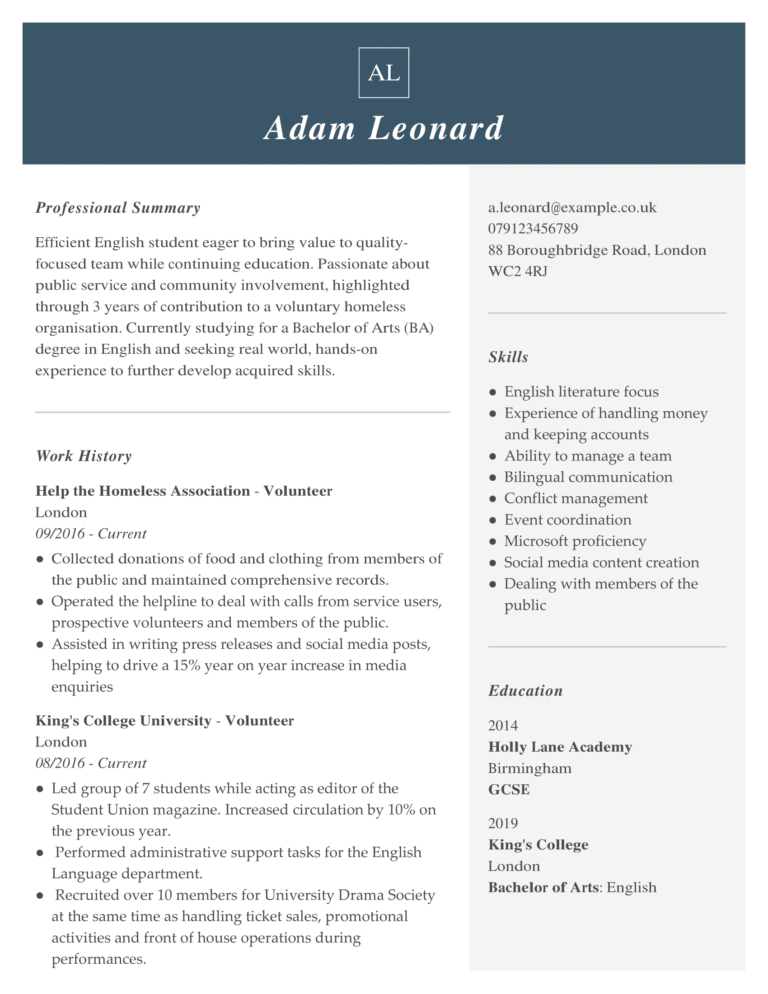 Student CV Templates
The CV templates we recommend for students offer the perfect structure for setting out your achievements and potential. The use of clear sections, numbered lists, and bullet points makes it easy for an employer to spot your most impressive attributes.
How to choose a student CV template
Our student CV templates have a neat design that's professional, but not too formal.
Font: Using the same font (or 2 fonts at most) creates a professional look and shows that you're a serious candidate.
Colours: While black is the standard colour for text, most student CVs can include one additional colour, as long as it's easy to read.
Headings: Clear headings make the CV look attractive and help employers quickly find what they're looking for.
We've structured our student CV templates to focus on your strengths, rather than what you may not have yet (like relevant formal work experience).
Personal statement: Leading with a personal statement gives a strong impression of who you are, and your ambitions for the future.
Education: As a student, your education is an asset. Make sure this section is included in your student CV.
Work experience: While you may not have formal work experience related to the role you want, this section still matters. Include any work experience, including volunteer activity.
Skills: Your skills are also a strength. Keep it concise by using bullet points to list what you bring to the table.
This perfect student CV example showcases skills, experience, and potential - all without having loads of professional work experience. Here's how it does this:
A short personal statement: In just over 50 words, this student has explained his current studies (a BA), shared a keen sense of community, and talked about wanting a job that builds on his skills.
Highlighting volunteer roles: This candidate hasn't had any formal work experience, so he's highlighted the volunteer roles he's undertaken. By outlining his responsibilities in these roles, he shows that he's up for a similarly responsible job.
A professional look: Rather than getting too trendy, this student has chosen a more classic CV template that creates a professional first impression.
Getting specific: This candidate quantifies his achievements by providing clear stats to show the impact of his work. For example, he didn't just increase media enquiries to a homeless charity: he increased them by 15%.
Showcasing skills: This student looks beyond formal qualifications for his skill set, mentioning transferable and soft skills like conflict management and dealing with the public.
How to Write a Perfect Student CV
We've spent more than a decade helping students write the kind of CV that helps get jobs. Here are our 5 top tips:
Make your personal statement count: 50 words isn't very long, so make sure your personal statement includes the course you're studying now, a reference to any volunteer work you've done, and your future ambitions.
Get creative when thinking about work experience: Most employers won't expect you to have any relevant work experience, but it doesn't stop you highlighting relevant responsibilities and skills from the jobs you have done. For example, working in a shop isn't just selling things: it involves customer service, mastering sales techniques, and cash handling.
Check your spelling: Check and double check spelling and grammar. An error-free CV demonstrates excellent attention to detail that any employer will value.
List your qualifications: Because you're still studying, it's important to mention the qualifications you already have, like A levels. Include the subjects, grades, years, and where you gained them.
Choose your skills carefully: Think about hobbies, interests, and extra-curricular activities and the broad range of skills you've gained from them. Skills like managing a team and coordinating events will be valuable in a wide range of positions.
Frequently Asked Questions About Student CVs
What should be included in a student CV?
A student CV should include the following:
Your current course of study.
What you're hoping to gain from the position.
Qualifications you've gained prior to your degree.
A list of skills, including hard skills like being bilingual.
How can a student make a CV with no experience?
A student can make a CV with no experience by focusing on what they do have, including:
Formal volunteer roles you've held, with details of your responsibilities.
Informal volunteering, like helping out within your university department.
Details of what you've achieved, backed up with figures. For example, recruiting 10 members for your university's Drama Society.
A levels and GCSEs you've been awarded, complete with grades.
When you're ready, our CV builder makes it quick and easy for you to build a perfect student CV that employers will love.
How to write a good CV for a student?
Write a good CV for a student by capturing your potential, willingness to work hard, and ambition:
Don't be afraid to say how keen you are to contribute to a role. Employers are always looking for enthusiasm.
Sell yourself. Be confident enough to use words like 'efficient' and 'skills'.
Focus on your strengths. Don't apologise for what you lack; highlight what you're great at already.
Think about every part of your life to complete your Skills section. For example, if you babysit you may have great conflict management skills.
Our CV builder helps you focus on your strengths and produce a brilliant student CV.
Vital Skills for Your Student CV
The skills you list on a student CV are even more important if you don't have formal work experience. This is how you convince a recruiter that you're capable of filling the role in question, even if you haven't done it before.
Key skills for a student CV
Ability to manage a team
Conflict management
Good written and oral communication
Organisational abilities
Self-motivation
Time management
Problem solving abilities
Additional skills to help your student CV beat the competition
Focus on your area of study
Money handling and account management
Bilingual communication
Event coordination
Social media content creation
Microsoft proficiency
Dealing with members of the public
Build Your Perfect Student CV
For more than a decade we've been helping students write high-impact CVs. Our tips, templates, and CV builder will do the same for you.
With our expert advice, you'll find it easy to put together a CV that includes your current studies, skills you've acquired, and a sense of what you could bring to a new role. Get started today and start your career on the front foot.