CV Sample With Transferable Skills
Certain professions are extremely specific in terms of their scope and industry.Others can be seen as offering a much broader range of applications.These are typically known as positions with transferable skills.These skills are also highly useful, as they can be applicable to a number of different situations and requirements.Concisely listing such talents within a CV is an excellent means of attracting the attention of a recruiter.We have therefore constructed this CV sample with transferable skills.Take some time to study its contents as well as the layout that should be followed.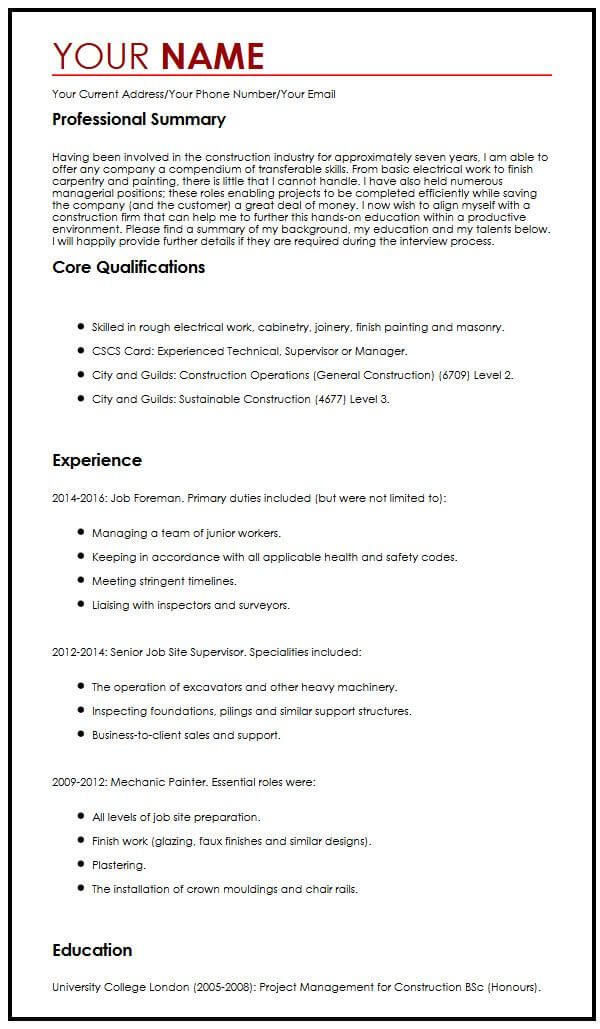 Your Current Address/Your Phone Number/Your Email
Professional Summary
Having been involved in the construction industry for approximately seven years, I am able to offer any company a compendium of transferable skills.From basic electrical work to finish carpentry and painting, there is little that I cannot handle.I have also held numerous managerial positions; these roles enabling projects to be completed efficiently while saving the company (and the customer) a great deal of money.I now wish to align myself with a construction firm that can help me to further this hands-on education within a productive environment.Please find a summary of my background, my education and my talents below.I will happily provide further details if they are required during the interview process.
Core Qualifications
Skilled in rough electrical work, cabinetry, joinery, finish painting and masonry.
CSCS Card: Experienced Technical, Supervisor or Manager.
City and Guilds: Construction Operations (General Construction) (6709) Level 2.
City and Guilds: Sustainable Construction (4677) Level 3.
Experience
2014-2016: Job Foreman.Primary duties included (but were not limited to):
Managing a team of junior workers.
Keeping in accordance with all applicable health and safety codes.
Meeting stringent timelines.
Liaising with inspectors and surveyors.
2012-2014: Senior Job Site Supervisor.Specialities included:
The operation of excavators and other heavy machinery.
Inspecting foundations, pilings and similar support structures.
Business-to-client sales and support.
2009-2012: Mechanic Painter.Essential roles were:
All levels of job site preparation.
Finish work (glazing, faux finishes and similar designs).
Plastering.
The installation of crown mouldings and chair rails.
Education
University College London (2005-2008): Project Management for Construction BSc (Honours).
Conclusion
So, we can now see how the basic format of this document should appear to the recruiter.This CV sample with transferable skills can obviously be modified depending upon your unique area of expertise.For even further information, please make it a point to browse through the remainder of this site.There are numerous other CV examples as well as additional tips and tricks to take into account.