Early Years Practitioner CV Example
Our free early years practitioner CV sample will help you to take the first step towards working in the early years sector by writing a CV that accurately depicts your skills, strengths and experience. Our free CV early years practitioner CV sample will enable you to find the job of your dreams by showing you what to include and to give you an idea of the type of formatting to use.
Create This CVSee all templates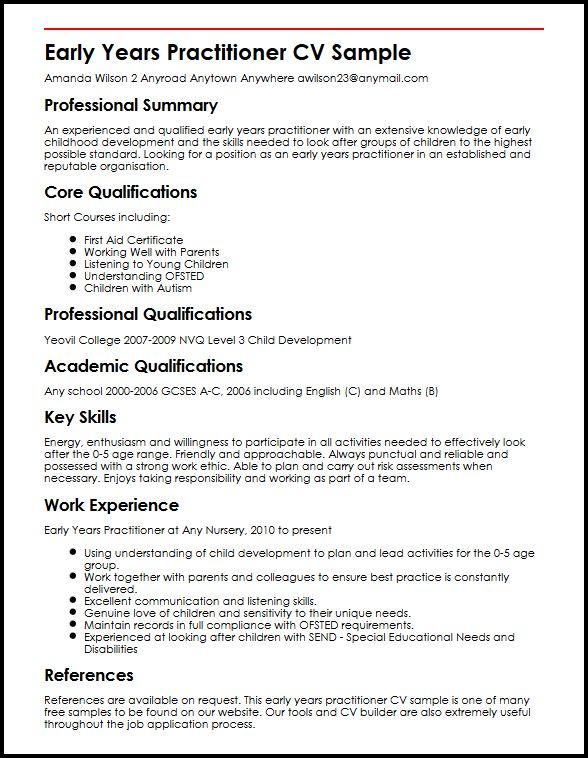 Build a professional CV that gets you hired.
Early Years Practitioner CV SampleAmanda Wilson 2 Anyroad Anytown Anywhere awilson23@anymail.com
Professional Summary
An experienced and qualified early years practitioner with an extensive knowledge of early childhood development and the skills needed to look after groups of children to the highest possible standard. Looking for a position as an early years practitioner in an established and reputable organisation.
Core Qualifications
Short Courses including:
First Aid Certificate
Working Well with Parents
Listening to Young Children
Understanding OFSTED
Children with Autism
Professional Qualifications
Yeovil College 2007-2009NVQ Level 3 Child Development
Academic Qualifications
Any school 2000-2006GCSES A-C, 2006 including English (C) and Maths (B)
Key Skills
Energy, enthusiasm and willingness to participate in all activities needed to effectively look after the 0-5 age range. Friendly and approachable. Always punctual and reliable and possessed with a strong work ethic. Able to plan and carry out risk assessments when necessary. Enjoys taking responsibility and working as part of a team.
Work Experience
Early Years Practitioner at Any Nursery, 2010 to present
Using understanding of child development to plan and lead activities for the 0-5 age group.
Work together with parents and colleagues to ensure best practice is constantly delivered.
Excellent communication and listening skills.
Genuine love of children and sensitivity to their unique needs.
Maintain records in full compliance with OFSTED requirements.
Experienced at looking after children with SEND - Special Educational Needs and Disabilities
References
References are available on request.This early years practitioner CV sample is one of many free samples to be found on our website. Our tools and CV builder are also extremely useful throughout the job application process.