International Student CV Example
International students have unique study, travel and life experience to offer to potential new employers, which is why it is important to present a well-written CV that properly reflects the jobseeker's achievements, qualifications and skills. This example CV for international students can be tailored to the job vacancy in question; it illustrates the type of resume that will help in the steps towards success when seeking work. Before starting the CV writing process, job hunters will find it most helpful to review this CV sample for international students and gain a fuller understanding of the information to include and the correct formatting to use. Our free CV sample for international students below is a first-rate example of the type of document that will get applicants noticed by management and recruiters, to win that important job interview.

Create This CVSee all templates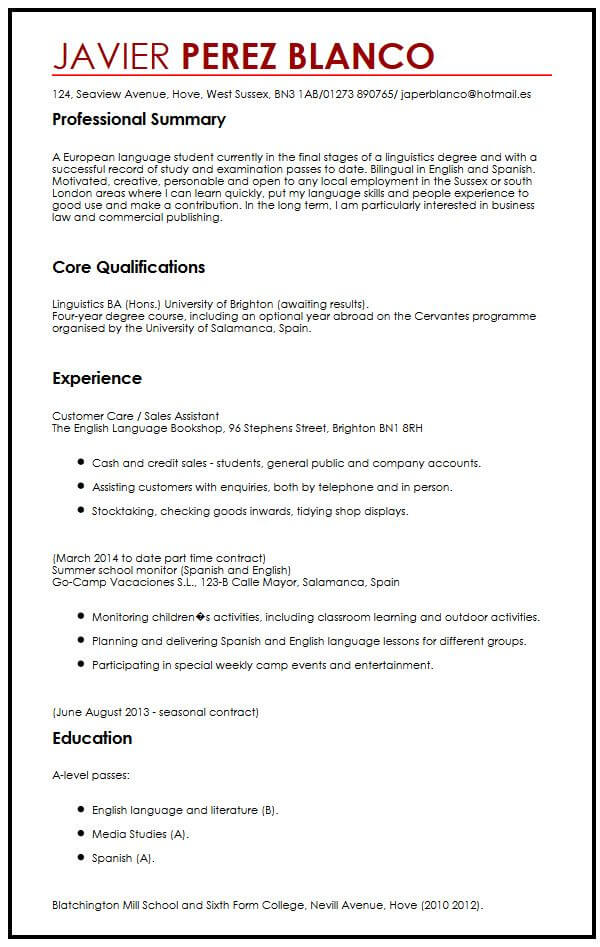 Build a professional CV that gets you hired.
124, Seaview Avenue, Hove, West Sussex, BN3 1AB/01273 890765/ japerblanco@hotmail.es

Professional Summary
A European language student currently in the final stages of a linguistics degree and with a successful record of study and examination passes to date. Bilingual in English and Spanish.Motivated, creative, personable and open to any local employment in the Sussex or south London areas where I can learn quickly, put my language skills and people experience to good use and make a contribution. In the long term, I am particularly interested in business law and commercial publishing.
Related CVs Entry Level CV Examples