A trainee aspires to be a future master of their trade, so when applying for trainee jobs, you need a suitable CV that shows you're ready and willing to learn, will be an asset to the company and have the entry level skills, experience and qualifications needed to be eligible for the job. The LiveCareer trainee CV sample will help you to show you're the right candidate for the position through appropriate wording and professional layout. This will make a positive impression on the person who's recruiting trainees, standing you in good stead for getting an interview.
Create This CVSee all templates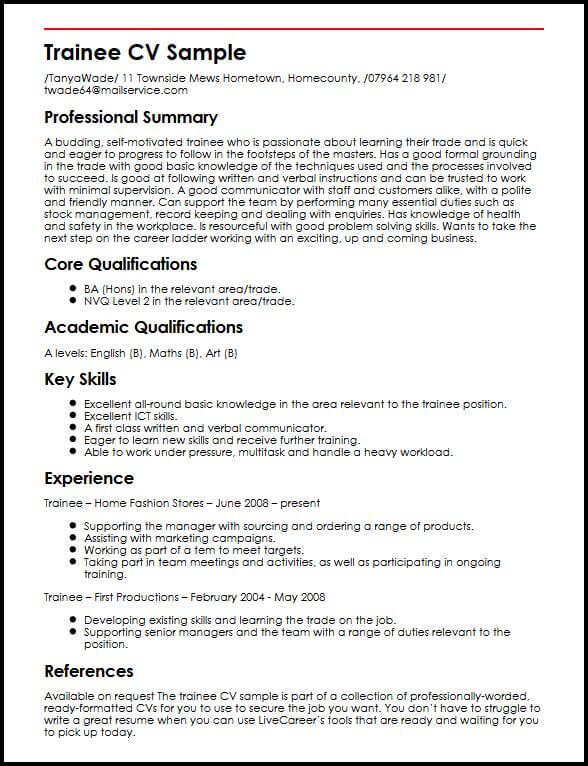 Build a professional CV that gets you hired.
Trainee CV Sample/TanyaWade/ 11 Townside Mews Hometown, Homecounty, /07964 218 981/ twade64@mailservice.com
Professional Summary
A budding, self-motivated trainee who is passionate about learning their trade and is quick and eager to progress to follow in the footsteps of the masters. Has a good formal grounding in the trade with good basic knowledge of the techniques used and the processes involved to succeed. Is good at following written and verbal instructions and can be trusted to work with minimal supervision. A good communicator with staff and customers alike, with a polite and friendly manner. Can support the team by performing many essential duties such as stock management, record keeping and dealing with enquiries. Has knowledge of health and safety in the workplace. Is resourceful with good problem solving skills. Wants to take the next step on the career ladder working with an exciting, up and coming business.
Core Qualifications
BA (Hons) in the relevant area/trade.
NVQ Level 2 in the relevant area/trade.
Academic Qualifications
A levels: English (B), Maths (B), Art (B)
Key Skills
Excellent all-round basic knowledge in the area relevant to the trainee position.
Excellent ICT skills.
A first class written and verbal communicator.
Eager to learn new skills and receive further training.
Able to work under pressure, multitask and handle a heavy workload.
Experience
Trainee | Home Fashion Stores | June 2008 | present
Supporting the manager with sourcing and ordering a range of products.
Assisting with marketing campaigns.
Working as part of a tem to meet targets.
Taking part in team meetings and activities, as well as participating in ongoing training.
Trainee | First Productions | February 2004 - May 2008
Developing existing skills and learning the trade on the job.
Supporting senior managers and the team with a range of duties relevant to the position.
References
Available on requestThe trainee CV sample is part of a collection of professionally-worded, ready-formatted CVs for you to use to secure the job you want. You don't have to struggle to write a great resume when you can use LiveCareer's tools that are ready and waiting for you to pick up today.