Assistant Football Coach CV Example
The first stage in a successful assistant football coach job search is writing a well-written CV that is aimed at the targeted job and is clearly demonstrative of your most impressive qualifications, accomplishments and skills. Before you start writing your CV, you will probably find it incredibly helpful to have a look at an assistant football coach CV sample to get an idea of the kinds of information to include and the kind of formatting to use. Our assistant football coach CV sample below is one such example of the type of document that can capture a hiring manager's attention and get you that all-important interview.
Create This CVSee all templates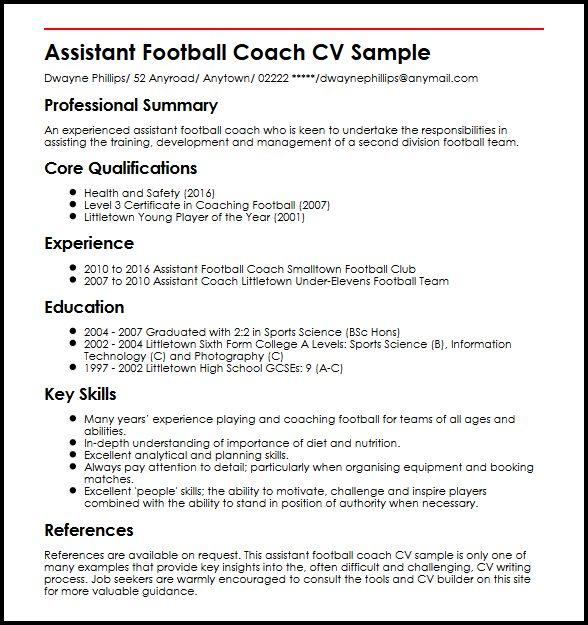 Build a professional CV that gets you hired.
Assistant Football Coach CV Sample Dwayne Phillips/ 52 Anyroad/ Anytown/ 02222 *****/dwaynephillips@anymail.com
Professional Summary
An experienced assistant football coach who is keen to undertake the responsibilities in assisting the training, development and management of a second division football team.
Core Qualifications
Health and Safety (2016)
Level 3 Certificate in Coaching Football (2007)
Littletown Young Player of the Year (2001)
Experience
2010 to 2016 Assistant Football Coach Smalltown Football Club
2007 to 2010 Assistant Coach Littletown Under-Elevens Football Team
Education
2004 - 2007 Graduated with 2:2 in Sports Science (BSc Hons)
2002 - 2004 Littletown Sixth Form College A Levels: Sports Science (B), Information Technology (C) and Photography (C)
1997 - 2002 Littletown High School GCSEs: 9 (A-C)
Key Skills
Many years' experience playing and coaching football for teams of all ages and abilities.
In-depth understanding of importance of diet and nutrition.
Excellent analytical and planning skills.
Always pay attention to detail; particularly when organising equipment and booking matches.
Excellent 'people' skills; the ability to motivate, challenge and inspire players combined with the ability to stand in position of authority when necessary.
References
References are available on request.This assistant football coach CV sample is only one of many examples that provide key insights into the, often difficult and challenging, CV writing process. Job seekers are warmly encouraged to consult the tools and CV builder on this site for more valuable guidance.