Horse Riding Instructor CV Example
The creation of your horse riding instructor CV is the first and most important step on the road to your new job in teaching. It should be an honest reflection of your talents, experience and career aims. Using a free horse riding instructor CV sample will help you focus on and present your core strengths to employers with authority and clarity.
Create This CVSee all templates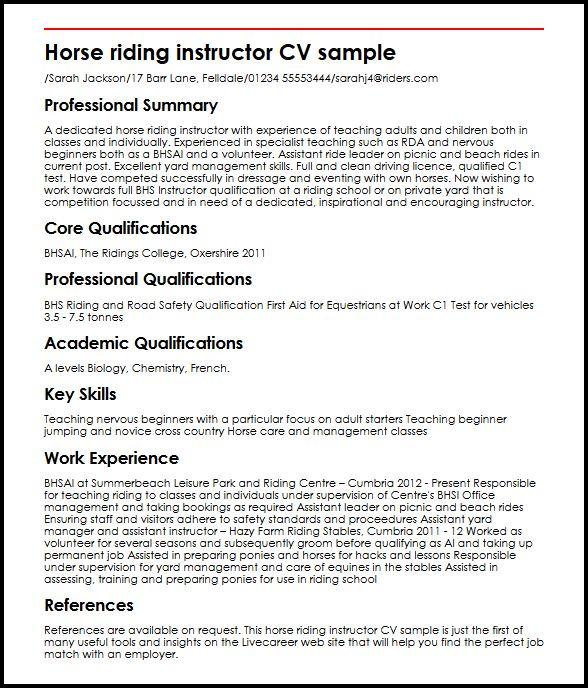 Build a professional CV that gets you hired.
Horse riding instructor CV sample/Sarah Jackson/17 Barr Lane, Felldale/01234 55553444/sarahj4@riders.com
Professional Summary
A dedicated horse riding instructor with experience of teaching adults and children both in classes and individually. Experienced in specialist teaching such as RDA and nervous beginners both as a BHSAI and a volunteer. Assistant ride leader on picnic and beach rides in current post. Excellent yard management skills. Full and clean driving licence, qualified C1 test. Have competed successfully in dressage and eventing with own horses. Now wishing to work towards full BHS Instructor qualification at a riding school or on private yard that is competition focussed and in need of a dedicated, inspirational and encouraging instructor.
Core Qualifications
BHSAI, The Ridings College, Oxershire 2011
Professional Qualifications
BHS Riding and Road Safety QualificationFirst Aid for Equestrians at WorkC1 Test for vehicles 3.5 - 7.5 tonnes
Academic Qualifications
A levels Biology, Chemistry, French.
Key Skills
Teaching nervous beginners with a particular focus on adult startersTeaching beginner jumping and novice cross countryHorse care and management classes
Work Experience
BHSAI at Summerbeach Leisure Park and Riding Centre| Cumbria 2012 - PresentResponsible for teaching riding to classes and individuals under supervision of Centre's BHSIOffice management and taking bookings as requiredAssistant leader on picnic and beach ridesEnsuring staff and visitors adhere to safety standards and proceeduresAssistant yard manager and assistant instructor | Hazy Farm Riding Stables, Cumbria 2011 - 12Worked as volunteer for several seasons and subsequently groom before qualifying as AI and taking up permanent jobAssisted in preparing ponies and horses for hacks and lessonsResponsible under supervision for yard management and care of equines in the stablesAssisted in assessing, training and preparing ponies for use in riding school
References
References are available on request.This horse riding instructor CV sample is just the first of many useful tools and insights on the Livecareer web site that will help you find the perfect job match with an employer.
Related CVs Sports leisure