Rugby Coach CV Example
In order to find a new coaching job in rugby or to develop your sports career in any managerial role, it is important that you take the time to write a really fist class CV. Ideally, you will fully describe all of your aptitudes for coaching and abilities with dealing with rugby players as well as highlighting certain key areas of strength, such as mid-field defence or scrummaging skills. Our free rugby coach CV sample is a valuable way to discover the best methods of displaying such information in a manner that shows you at your best. It will help you to highlight the traits rugby professionals are looking for in coaches and assist you with formatting in a way that makes your CV easy to read.
Create This CVSee all templates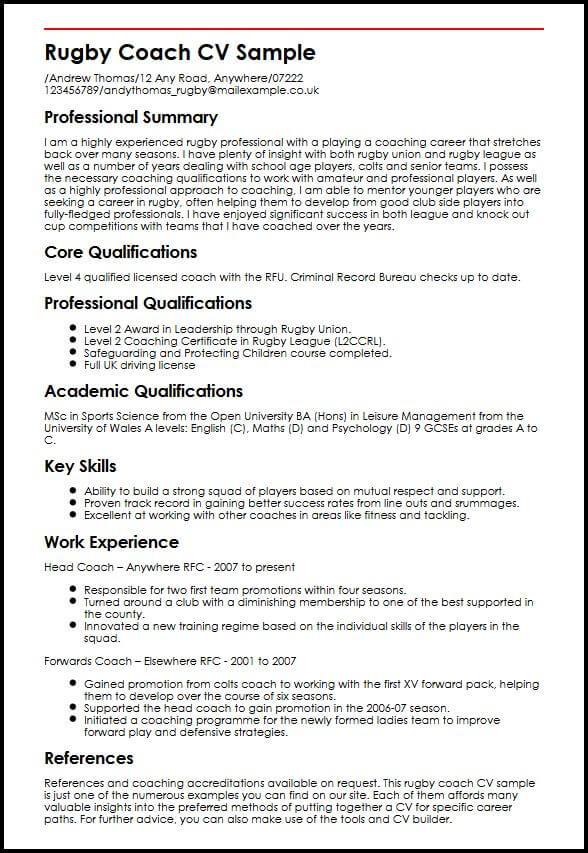 Build a professional CV that gets you hired.
Rugby Coach CV Sample/Andrew Thomas/12 Any Road, Anywhere/07222 123456789/andythomas_rugby@mailexample.co.uk
Professional Summary
I am a highly experienced rugby professional with a playing a coaching career that stretches back over many seasons. I have plenty of insight with both rugby union and rugby league as well as a number of years dealing with school age players, colts and senior teams. I possess the necessary coaching qualifications to work with amateur and professional players. As well as a highly professional approach to coaching, I am able to mentor younger players who are seeking a career in rugby, often helping them to develop from good club side players into fully-fledged professionals. I have enjoyed significant success in both league and knock out cup competitions with teams that I have coached over the years.
Core Qualifications
Level 4 qualified licensed coach with the RFU.Criminal Record Bureau checks up to date.
Professional Qualifications
Level 2 Award in Leadership through Rugby Union.
Level 2 Coaching Certificate in Rugby League (L2CCRL).
Safeguarding and Protecting Children course completed.
Full UK driving license
Academic Qualifications
MSc in Sports Science from the Open UniversityBA (Hons) in Leisure Management from the University of WalesA levels: English (C), Maths (D) and Psychology (D)9 GCSEs at grades A to C.
Key Skills
Ability to build a strong squad of players based on mutual respect and support.
Proven track record in gaining better success rates from line outs and srummages.
Excellent at working with other coaches in areas like fitness and tackling.
Work Experience
Head Coach | Anywhere RFC - 2007 to present
Responsible for two first team promotions within four seasons.
Turned around a club with a diminishing membership to one of the best supported in the county.
Innovated a new training regime based on the individual skills of the players in the squad.
Forwards Coach | Elsewhere RFC - 2001 to 2007
Gained promotion from colts coach to working with the first XV forward pack, helping them to develop over the course of six seasons.
Supported the head coach to gain promotion in the 2006-07 season.
Initiated a coaching programme for the newly formed ladies team to improve forward play and defensive strategies.
References
References and coaching accreditations available on request.This rugby coach CV sample is just one of the numerous examples you can find on our site. Each of them affords many valuable insights into the preferred methods of putting together a CV for specific career paths. For further advice, you can also make use of the tools and CV builder.
Related CVs Sports leisure