Beauty Consultant CV Sample
Your first step in growing a career as beauty consultant involves preparing a CV that correctly highlights your strengths and one that accurately reflects your skills and abilities. Our freely available Beauty Consultant CV Sample below is a valueless tool that will come to your aid towards getting useful insight on what is appropriate for inclusion. Our Beauty Consultant CV Sample guides you on the correct formatting that will grab the recruiting manager's attention.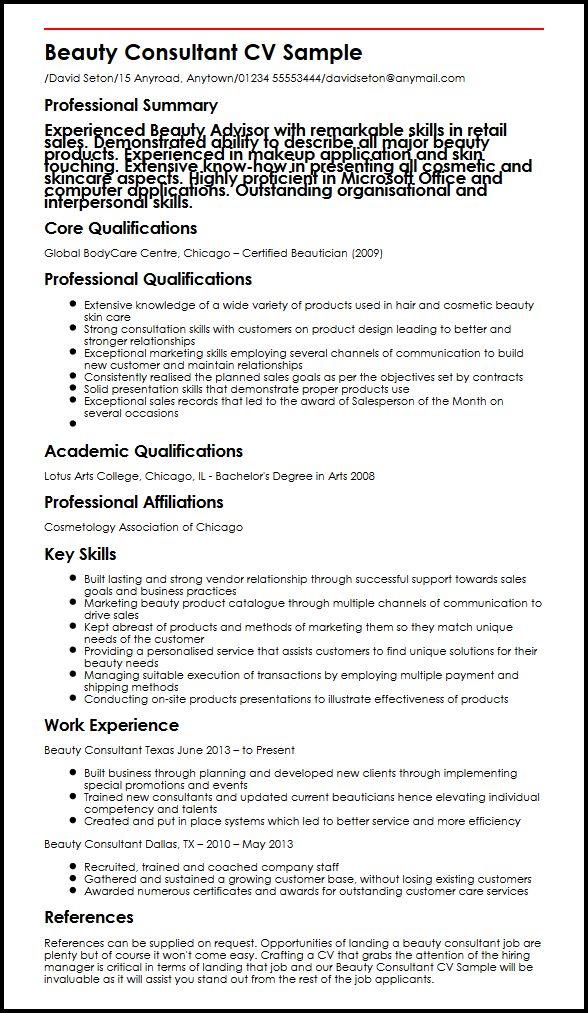 Beauty Consultant CV Sample/David Seton/15 Anyroad, Anytown/01234 55553444/davidseton@anymail.com
Professional Summary
Experienced Beauty Advisor with remarkable skills in retail sales. Demonstrated ability to describe all major beauty products. Experienced in makeup application and skin touching. Extensive know-how in presenting all cosmetic and skincare aspects. Highly proficient in Microsoft Office and computer applications. Outstanding organisational and interpersonal skills.
Core Qualifications
Global BodyCare Centre, Chicago| Certified Beautician (2009)
Professional Qualifications
Extensive knowledge of a wide variety of products used in hair and cosmetic beauty skin care
Strong consultation skills with customers on product design leading to better and stronger relationships
Exceptional marketing skills employing several channels of communication to build new customer and maintain relationships
Consistently realisedthe planned sales goals as per the objectives set by contracts
Solid presentation skills that demonstrate proper products use
Exceptional sales records that led to the award of Salesperson of the Month on several occasions
Academic Qualifications
Lotus Arts College, Chicago, IL - Bachelor's Degree in Arts 2008
Professional Affiliations
Cosmetology Association of Chicago
Key Skills
Built lasting and strong vendor relationship through successful support towards sales goalsand business practices
Marketing beauty product catalogue through multiple channels of communication to drive sales
Kept abreast of products and methods of marketing them so they match unique needs of the customer
Providing a personalised service that assists customers to find unique solutions for their beauty needs
Managing suitable execution of transactions by employing multiple payment and shipping methods
Conducting on-site products presentations to illustrate effectiveness of products
Work Experience
Beauty Consultant Texas June 2013 | to Present
Built business through planning and developed new clients through implementing special promotions and events
Trained new consultants and updated current beauticians hence elevating individual competency and talents
Created and put in place systems which led to better service and more efficiency
Beauty Consultant Dallas, TX | 2010 | May 2013
Recruited, trained and coached company staff
Gathered and sustained a growing customer base, without losing existing customers
Awarded numerous certificates and awards for outstanding customer care services
References
References can be supplied on request.Opportunities of landing a beauty consultant job are plenty but of course it won't come easy. Crafting a CV that grabs the attention of the hiring manager is critical in terms of landing that job and our Beauty Consultant CV Sample will be invaluable as it will assist you stand out from the rest of the job applicants.