The initial step towards success is to create a well-written CV that is tailored to the job advertised and shows your most impressive qualifications, achievements and skills. Chronological CVs (or traditional CVs) are a popular format, used to match the jobseekers' qualifications and work experience to job specifications. A chronological CV includes a career summary statement followed by positions of employment, listed in reverse chronological order | starting from the current (or most recent) role, working backwards. Before writing your curriculum vitae, this helpful example gives an excellent idea of the information to include and formatting to use to get your job application noticed by HR or management, resulting in an invitation to an interview for your desired new job.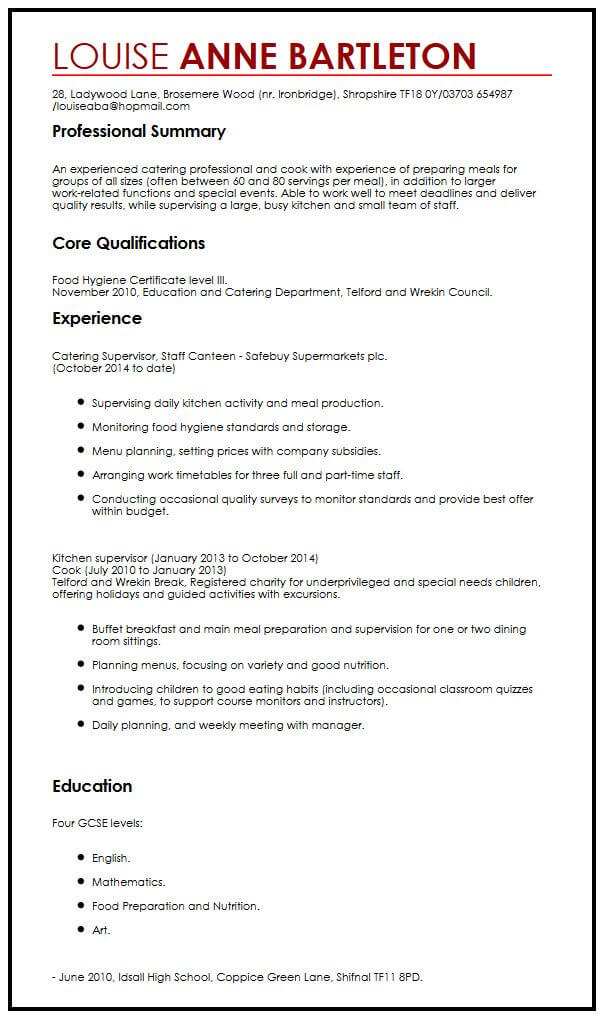 28, Ladywood Lane, Brosemere Wood (nr. Ironbridge), Shropshire TF18 0Y/03703 654987 /louiseaba@hopmail.com
Professional Summary
An experienced catering professional and cook with experience of preparing meals for groups of all sizes (often between 60 and 80 servings per meal), in addition to larger work-related functions and special events. Able to work well to meet deadlines and deliver quality results, while supervising a large, busy kitchen and small team of staff.
Core Qualifications
Food Hygiene Certificate level III. November 2010, Education and Catering Department, Telford and Wrekin Council.
Experience
Catering Supervisor, Staff Canteen - Safebuy Supermarkets plc.(October 2014 to date)
Supervising daily kitchen activity and meal production.
Monitoring food hygiene standards and storage.
Menu planning, setting prices with company subsidies.
Arranging work timetables for three full and part-time staff.
Conducting occasional quality surveys to monitor standards and provide best offer within budget.
Kitchen supervisor (January 2013 to October 2014) Cook (July 2010 to January 2013) Telford and Wrekin Break, Registered charity for underprivileged and special needs children, offering holidays and guided activities with excursions.
Buffet breakfast and main meal preparation and supervision for one or two dining room sittings.
Planning menus, focusing on variety and good nutrition.
Introducing children to good eating habits (including occasional classroom quizzes and games, to support course monitors and instructors).
Daily planning, and weekly meeting with manager.
Education
Four GCSE levels:
English.
Mathematics.
Food Preparation and Nutrition.
Art.
- June 2010, Idsall High School, Coppice Green Lane, Shifnal TF11 8PD.
Conclusion
This chronological CV example is just one of several that provide key insight into the CV writing process. Many employers prefer this classical chronological format, which is ideal for candidates with experience. Alternative CV example formats include skills-based or functional layouts; jobseekers are invited to try out the tools and CV builder on this site for more valuable guidance.