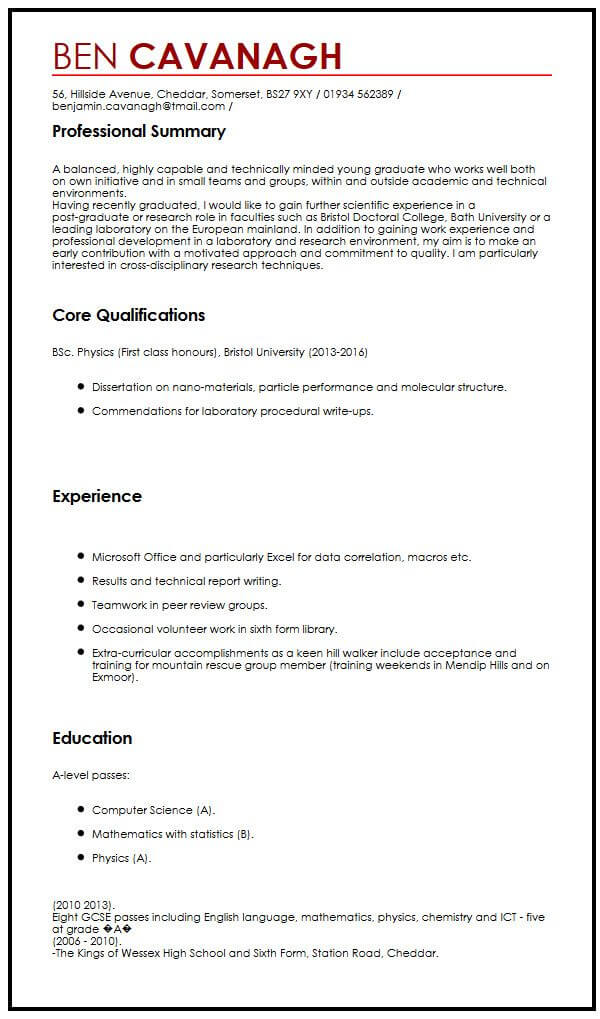 ---
The first step in a successful job search is to create a well-written CV that is tailored to the position advertised and reflects your most impressive qualifications and achievements. Before starting the CV writing process, we recommend you study this CV example for graduate students, which illustrates the right type of information to include and the suggested formatting to create a neat, eye-catching document that will get your application noticed. Basing your document on this CV example for graduate students will help to secure you the desired interview. Graduates are advised to bear in mind that when applying for lecturing, post-doctoral or other research posts, it is important to focus on specialist skills and research interests – include details of any grants awarded, conferences attended, documents published and membership of professional associations.
56, Hillside Avenue, Cheddar, Somerset, BS27 9XY / 01934 562389 / benjamin.cavanagh@tmail.com /
Professional Summary
A balanced, highly capable and technically minded young graduate who works well both on own initiative and in small teams and groups, within and outside academic and technical environments.
Having recently graduated, I would like to gain further scientific experience in a post-graduate or research role in faculties such as Bristol Doctoral College, Bath University or a leading laboratory on the European mainland. In addition to gaining work experience and professional development in a laboratory and research environment, my aim is to make an early contribution with a motivated approach and commitment to quality. I am particularly interested in cross-disciplinary research techniques.
Core Qualifications
BSc. Physics (First class honours), Bristol University (2013-2016)
Dissertation on nano-materials, particle performance and molecular structure.
Commendations for laboratory procedural write-ups.
Experience
Microsoft Office and particularly Excel for data correlation, macros etc.
Results and technical report writing.
Teamwork in peer review groups.
Occasional volunteer work in sixth form library.
Extra-curricular accomplishments as a keen hill walker include acceptance and training for mountain rescue group member (training weekends in Mendip Hills and on Exmoor).
Education
A-level passes:
Computer Science (A).
Mathematics with statistics (B).
Physics (A).
(2010 2013).
Eight GCSE passes including English language, mathematics, physics, chemistry and ICT – five at grade 'A'
(2006 – 2010).
-The Kings of Wessex High School and Sixth Form, Station Road, Cheddar.
Conclusion
In addition to this CV example for graduate students, this site also offers numerous other free CV templates for various public and private sector posts. Jobseekers are advised to consult the CV builder and tools for further essential support with writing winning CVs, for success in the job application process.