CV Sample for University Students
In order to make a good first impression that stands out from other students with a CV - when perhaps you don't have a great deal of direct work experience to draw upon - your written application must be set out in the best way. This means highlighting all of your skills and work-related abilities in a strong manner, which draws upon your life experience and educational background equally. By using our free CV sample for university students, you will make sure that you cover all of the things that employers are looking for, as well as coming across as a true individual. Your CV should be formatted in a way that makes it simple to be reviewed at a glance.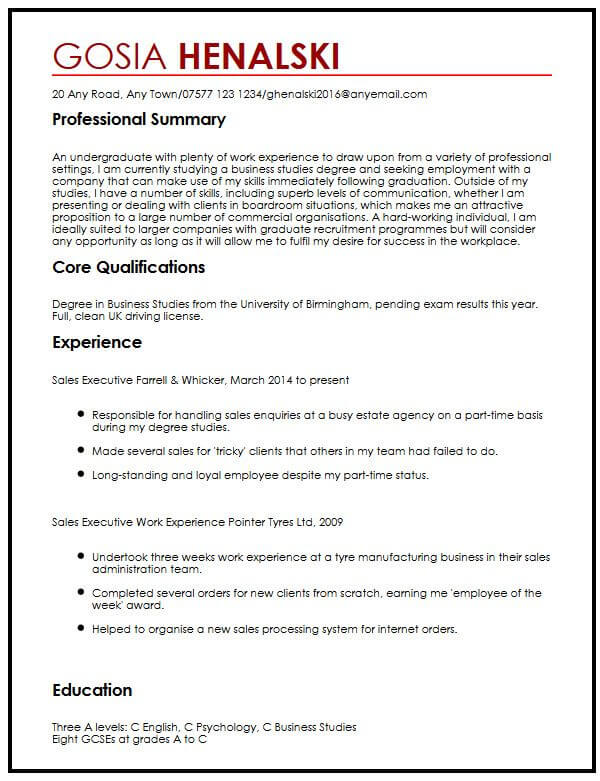 20 Any Road, Any Town/07577 123 1234/ghenalski2016@anyemail.com
Professional Summary
An undergraduate with plenty of work experience to draw upon from a variety of professional settings, I am currently studying a business studies degree and seeking employment with a company that can make use of my skills immediately following graduation. Outside of my studies, I have a number of skills, includingsuperb levels of communication, whether I am presenting or dealing with clients in boardroom situations, which makes me an attractive proposition to a large number of commercial organisations. A hard-working individual, I am ideally suited to larger companies with graduate recruitment programmes but will consider any opportunity as long as it will allow me to fulfil my desire for success in the workplace.
Core Qualifications
Degree in Business Studies from the University of Birmingham, pending exam results this year.Full, clean UK driving license.
Experience
Sales ExecutiveFarrell & Whicker, March 2014 to present
Responsible for handling sales enquiries at a busy estate agency on a part-time basis during my degree studies.
Made several sales for 'tricky' clients that others in my team had failed to do.
Long-standing and loyal employee despite my part-time status.
Sales Executive Work ExperiencePointer Tyres Ltd, 2009
Undertook three weeks work experience at a tyre manufacturing business in their sales administration team.
Completed several orders for new clients from scratch, earning me 'employee of the week' award.
Helped to organise a new sales processing system for internet orders.
Education
Three A levels: C English, C Psychology, C Business StudiesEight GCSEs at grades A to C
Conclusion
By making use of this CV sample for university students, you will be able to produce a great document that covers all of the key points. However, it is just one of many similar examples you could use. If needed, gain further ideas from our tools and CV builder located on this site.