Domestic Housekeeper CV Sample
Housekeeping is an essential industry throughout the United Kingdom.As there are now more applicants than in the past, the competition can be considered to be fierce.The chances of landing a fulfilling role will partially depend upon one's initial presentation and how a curriculum vitae is formatted.Those who are applying for the first time or who may have just entered into the workforce may find this task a bit difficult and confusing.The domestic housekeeper CV sample we provide is intended to highlight some of the main points which should be included during the initial application process.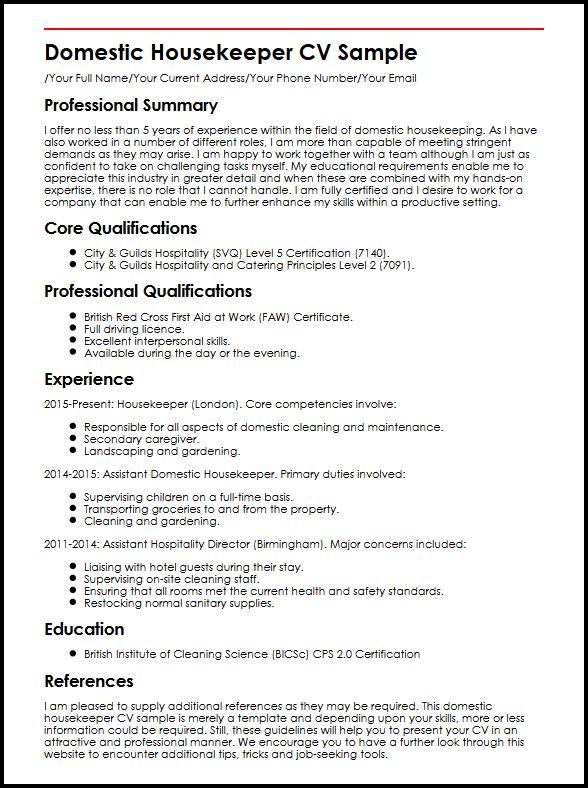 Domestic Housekeeper CV Sample/Your Full Name/Your Current Address/Your Phone Number/Your Email
Professional Summary
I offer no less than 5 years of experience within the field of domestic housekeeping.As I have also worked in a number of different roles, I am more than capable of meeting stringent demands as they may arise.I am happy to work together with a team although I am just as confident to take on challenging tasks myself.My educational requirements enable me to appreciate this industry in greater detail and when these are combined with my hands-on expertise, there is no role that I cannot handle.I am fully certified and I desire to work for a company that can enable me to further enhance my skills within a productive setting.
Core Qualifications
City & Guilds Hospitality (SVQ) Level 5 Certification (7140).
City & Guilds Hospitality and Catering Principles Level 2 (7091).
Professional Qualifications
British Red Cross First Aid at Work (FAW) Certificate.
Full driving licence.
Excellent interpersonal skills.
Available during the day or the evening.
Experience
2015-Present: Housekeeper (London).Core competencies involve:
Responsible for all aspects of domestic cleaning and maintenance.
Secondary caregiver.
Landscaping and gardening.
2014-2015: Assistant Domestic Housekeeper.Primary duties involved:
Supervising children on a full-time basis.
Transporting groceries to and from the property.
Cleaning and gardening.
2011-2014: Assistant Hospitality Director (Birmingham).Major concerns included:
Liaising with hotel guests during their stay.
Supervising on-site cleaning staff.
Ensuring that all rooms met the current health and safety standards.
Restocking normal sanitary supplies.
Education
British Institute of Cleaning Science (BICSc) CPS 2.0 Certification
References
I am pleased to supply additional references as they may be required.This domestic housekeeper CV sample is merely a template and depending upon your skills, more or less information could be required.Still, these guidelines will help you to present your CV in an attractive and professional manner.We encourage you to have a further look through this website to encounter additional tips, tricks and job-seeking tools.