Domestic Worker CV Sample
The responsibilities of a domestic worker are as varied as they are interesting and rewarding.Due to the fact that these types of professionals are always required, the prospect of finding a lucrative position is very real.Unfortunately, this also equates to a rather stiff amount of competition and presentation is one of the keys to success.This domestic worker CV sample is intended to help those who may not be certain how such a document is structured and the type of information to include.Such a concise template will ensure that any applicant is headed in the right direction.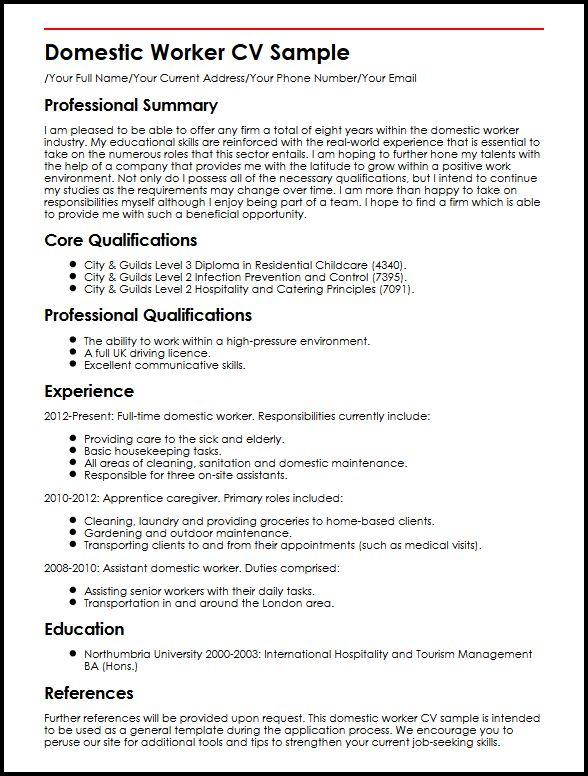 Domestic Worker CV Sample/Your Full Name/Your Current Address/Your Phone Number/Your Email
Professional Summary
I am pleased to be able to offer any firm a total of eight years within the domestic worker industry.My educational skills are reinforced with the real-world experience that is essential to take on the numerous roles that this sector entails.I am hoping to further hone my talents with the help of a company that provides me with the latitude to grow within a positive work environment.Not only do I possess all of the necessary qualifications, but I intend to continue my studies as the requirements may change over time.I am more than happy to take on responsibilities myself although I enjoy being part of a team.I hope to find a firm which is able to provide me with such a beneficial opportunity.
Core Qualifications
City & Guilds Level 3 Diploma in Residential Childcare (4340).
City & Guilds Level 2 Infection Prevention and Control (7395).
City & Guilds Level 2 Hospitality and Catering Principles (7091).
Professional Qualifications
The ability to work within a high-pressure environment.
A full UK driving licence.
Excellent communicative skills.
Experience
2012-Present: Full-time domestic worker.Responsibilities currently include:
Providing care to the sick and elderly.
Basic housekeeping tasks.
All areas of cleaning, sanitation and domestic maintenance.
Responsible for three on-site assistants.
2010-2012: Apprentice caregiver.Primary roles included:
Cleaning, laundry and providing groceries to home-based clients.
Gardening and outdoor maintenance.
Transporting clients to and from their appointments (such as medical visits).
2008-2010: Assistant domestic worker.Duties comprised:
Assisting senior workers with their daily tasks.
Transportation in and around the London area.
Education
Northumbria University 2000-2003: International Hospitality and Tourism Management BA (Hons.)
References
Further references will be provided upon request.This domestic worker CV sample is intended to be used as a general template during the application process.We encourage you to peruse our site for additional tools and tips to strengthen your current job-seeking skills.