When writing a European CV for your job search, it's important to create a unique document with the right wording, showing your qualifications, experience and skills to target the jobs you're most interested in. Before you write your CV, referring to the European CV Example will help you to get an idea of the information you need to add and the formatting to use. The European CV Example is exactly the kind of CV that will impress recruitment teams, who are then more likely to shortlist you for interview.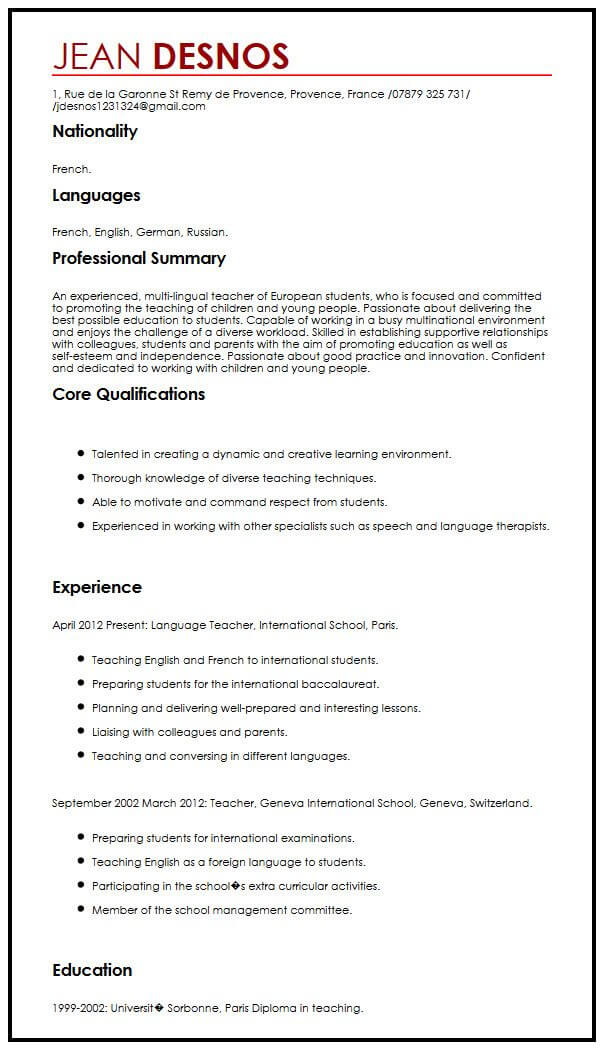 1, Rue de la Garonne St Remy de Provence, Provence, France /07879 325 731/ /jdesnos1231324@gmail.com
Nationality
French.
Languages
French, English, German, Russian.
Professional Summary
An experienced, multi-lingual teacher of European students, who is focused and committed to promoting the teaching of children and young people. Passionate about delivering the best possible education to students. Capable of working in a busy multinational environment and enjoys the challenge of a diverse workload. Skilled in establishing supportive relationships with colleagues, students and parents with the aim of promoting education as well as self-esteem and independence. Passionate about good practice and innovation. Confident and dedicated to working with children and young people.
Core Qualifications
Talented in creating a dynamic and creative learning environment.
Thorough knowledge of diverse teaching techniques.
Able to motivate and command respect from students.
Experienced in working with other specialists such as speech and language therapists.
Experience
April 2012Present: Language Teacher, International School, Paris.
Teaching English and French to international students.
Preparing students for the international baccalaureat.
Planning and delivering well-prepared and interesting lessons.
Liaising with colleagues and parents.
Teaching and conversing in different languages.
September 2002March 2012: Teacher, Geneva International School, Geneva, Switzerland.
Preparing students for international examinations.
Teaching English as a foreign language to students.
Participating in the school's extra curricular activities.
Member of the school management committee.
Education
1999-2002: Université Sorbonne, ParisDiploma in teaching.
Conclusion
The European CV Example is part of our extensive online CV library, which will help you to write an excellent CV. When applying for jobs, using the tools and CV builder on this site will provide you with significant benefits, helping you to be successful.