Customize this CV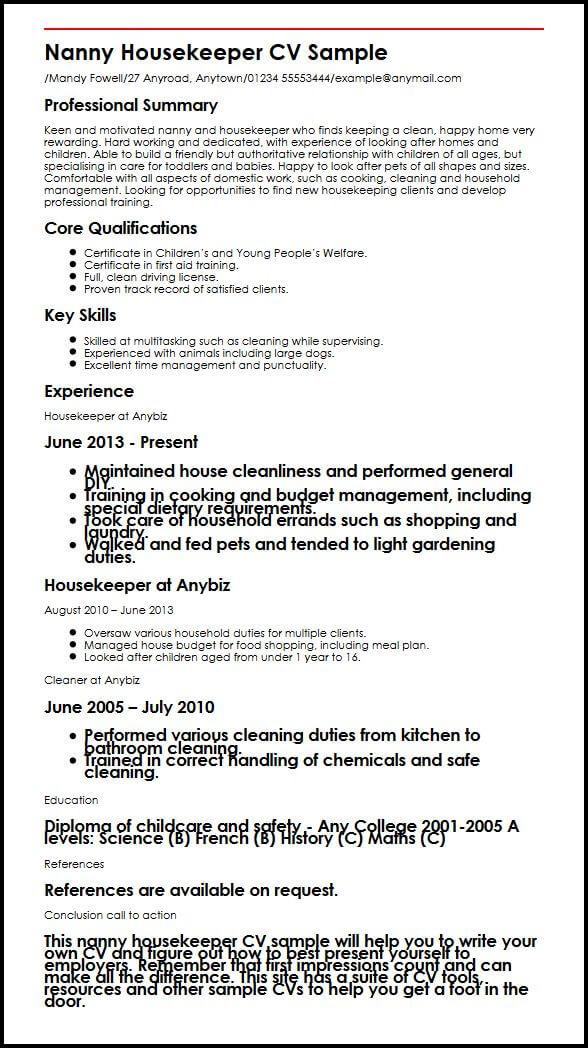 ---
Create This CV
The road to becoming a nanny or housekeeper starts with crafting the ideal CV, to show employers that you're serious and a good choice. Getting this right can be tricky, so feel free to use our free nanny housekeeper CV sample to start the process. From here, you can write a strong CV with a smart, eye-catching layout that will kick start your new career.
Nanny Housekeeper CV Sample
/Mandy Fowell/27 Anyroad, Anytown/01234 55553444/example@anymail.com
Professional Summary
Keen and motivated nanny and housekeeper who finds keeping a clean, happy home very rewarding. Hard working and dedicated, with experience of looking after homes and children. Able to build a friendly but authoritative relationship with children of all ages, but specialising in care for toddlers and babies. Happy to look after pets of all shapes and sizes. Comfortable with all aspects of domestic work, such as cooking, cleaning and household management. Looking for opportunities to find new housekeeping clients and develop professional training.
Core Qualifications
Certificate in Children's and Young People's Welfare.
Certificate in first aid training.
Full, clean driving license.
Proven track record of satisfied clients.
Key Skills
Skilled at multitasking such as cleaning while supervising.
Experienced with animals including large dogs.
Excellent time management and punctuality.
Experience
Housekeeper at Anybiz
June 2013 – Present

Maintained house cleanliness and performed general DIY.
Training in cooking and budget management, including special dietary requirements.
Took care of household errands such as shopping and laundry.
Walked and fed pets and tended to light gardening duties.
Housekeeper at Anybiz
August 2010 | June 2013
Oversaw various household duties for multiple clients.
Managed house budget for food shopping, including meal plan.
Looked after children aged from under 1 year to 16.
Cleaner at Anybiz
June 2005 | July 2010

Performed various cleaning duties from kitchen to bathroom cleaning.
Trained in correct handling of chemicals and safe cleaning.
Education
Diploma of childcare and safety – Any College 2001-2005 A levels: Science (B) French (B) History (C) Maths (C)
References
References are available on request.
Conclusion call to action
This nanny housekeeper CV sample will help you to write your own CV and figure out how to best present yourself to employers. Remember that first impressions count and can make all the difference. This site has a suite of CV tools, resources and other sample CVs to help you get a foot in the door.