Floral assistant CV example
When looking for a new position, the first step is to ensure that your job application stands out for all the right reasons. The best way to write an effective CV is to use a CV sample template as this will provide guidance in the best way to list your most relevant qualifications, experience and skills. Before you begin to write your CV, study a floral assistant CV template for valuable guidance that will help you to decide on the best format to use and to understand what types of information hiring managers are looking for. Our free floral assistant CV below is an excellent example of a document that is sure to gain a hiring manager's attention and help you achieve an interview.
Create this CVSee all templates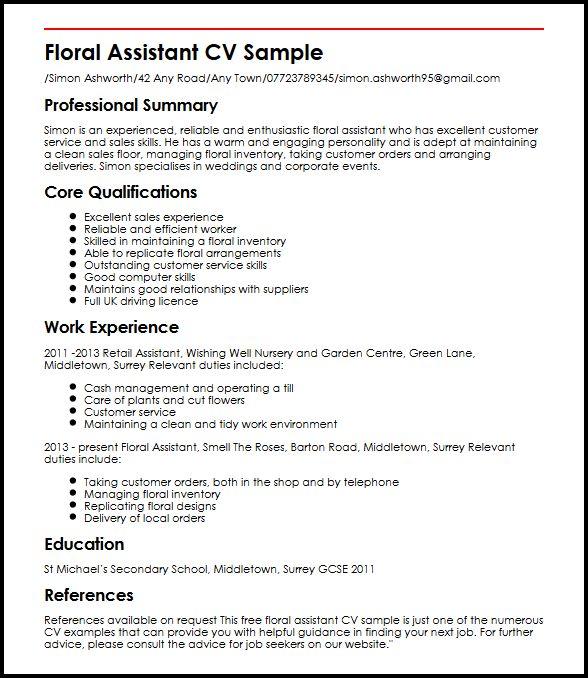 Build a professional CV that gets you hired.
Floral assistant CV Sample/Simon Ashworth/42 Any Road/Any Town/07723789345/simon.ashworth95@gmail.com
Professional Summary
Simon is an experienced, reliable and enthusiastic floral assistant who has excellent customer service and sales skills. He has a warm and engaging personality and is adept at maintaining a clean sales floor, managing floral inventory, taking customer orders and arranging deliveries. Simon specialises in weddings and corporate events.
Core Qualifications
Excellent sales experience
Reliable and efficient worker
Skilled in maintaining a floral inventory
Able to replicate floral arrangements
Outstanding customer service skills
Good computer skills
Maintains good relationships with suppliers
Full UK driving licence
Work Experience
2011 -2013Retail Assistant, Wishing Well Nursery and Garden Centre, Green Lane, Middletown, SurreyRelevant duties included:
Cash management and operating a till
Care of plants and cut flowers
Customer service
Maintaining a clean and tidy work environment
2013 - presentFloral Assistant, Smell The Roses, Barton Road, Middletown, SurreyRelevant duties include:
Taking customer orders, both in the shop and by telephone
Managing floral inventory
Replicating floral designs
Delivery of local orders
Education
St Michael's Secondary School, Middletown, SurreyGCSE 2011
References
References available on requestThis free floral assistant CV sample is just one of the numerous CV examples that can provide you with helpful guidance in finding your next job. For further advice, please consult the advice for job seekers on our website."
Related CVs Arts CV Examples