Gallery Assistant CV Example
Your CV gives employers a window on your skills and experience, and is your first step towards a new career. That's why getting the right information down on paper, and formatting it in the correct way, is so important. A CV that's easy to to read allows employers to pick out key points quickly, while proper layout aids clarity and gives the document a professional appearance. Using a gallery assistant CV sample as a base for creating your own CV can help you decide what to include, how to list your qualifications and career path, and which areas to focus on.
Create This CVSee all templates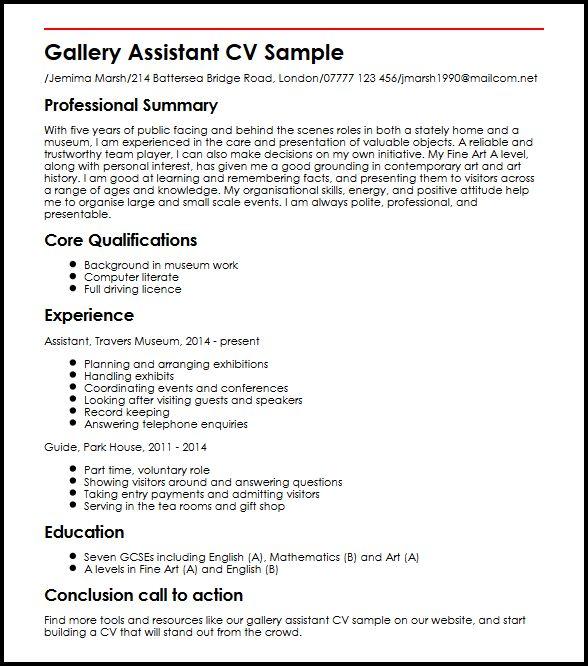 Build a professional CV that gets you hired.
Gallery Assistant CV Sample/Jemima Marsh/214 Battersea Bridge Road, London/07777 123 456/jmarsh2990@mailcom.net
Professional Summary
With five years of public facing and behind the scenes roles in both a stately home and a museum, I am experienced in the care and presentation of valuable objects. A reliable and trustworthy team player, I can also make decisions on my own initiative. My Fine Art A level, along with personal interest, has given me a good grounding in contemporary art and art history. I am good at learning and remembering facts, and presenting them to visitors across a range of ages and knowledge. My organisational skills, energy, and positive attitude help me to organise large and small scale events. I am always polite, professional, and presentable.
Core Qualifications
Background in museum work
Computer literate
Full driving licence
Experience
Assistant, Travers Museum, 2014 - present
Planning and arranging exhibitions
Handling exhibits
Coordinating events and conferences
Looking after visiting guests and speakers
Record keeping
Answering telephone enquiries
Guide, Park House, 2011 - 2014
Part time, voluntary role
Showing visitors around and answering questions
Taking entry payments and admitting visitors
Serving in the tea rooms and gift shop
Education
Seven GCSEs including English (A), Mathematics (B) and Art (A)
A levels in Fine Art (A) and English (B)
Conclusion call to action
Find more tools and resources like our gallery assistant CV sample on our website, and start building a CV that will stand out from the crowd.
Related CVs Arts CV Examples