Floral Designer CV Example
You can kick start your new career as a floral designer today, by getting a little help with that tricky first step: your CV. Use our free floral designer CV sample as a framework to get you started, with a sample layout and inspiration for your personal summary. Tailor this to your needs and then you can focus on selling yourself and starting your new role.
Create This CVSee all templates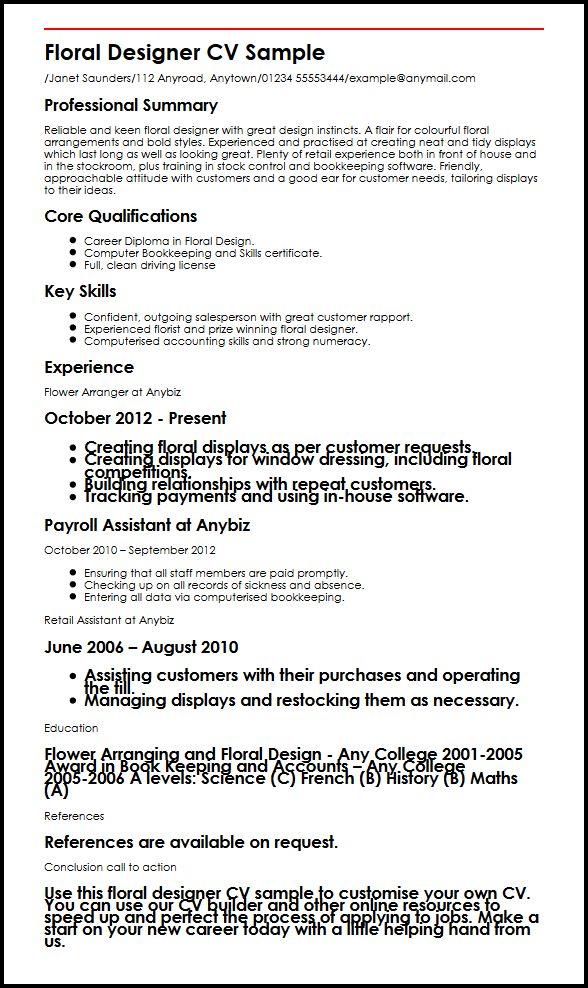 Build a professional CV that gets you hired.
Floral Designer CV Sample/Janet Saunders/112 Anyroad, Anytown/01234 55553444/example@anymail.com
Professional Summary
Reliable and keen floral designer with great design instincts. A flair for colourful floral arrangements and bold styles. Experienced and practised at creating neat and tidy displays which last long as well as looking great. Plenty of retail experience both in front of house and in the stockroom, plus training in stock control and bookkeeping software. Friendly, approachable attitude with customers and a good ear for customer needs, tailoring displays to their ideas.
Core Qualifications
Career Diploma in Floral Design.
Computer Bookkeeping and Skills certificate.
Full, clean driving license
Key Skills
Confident, outgoing salesperson with great customer rapport.
Experienced florist and prize winning floral designer.
Computerised accounting skills and strong numeracy.
Experience
Flower Arranger at Anybiz
October 2012 - Present

Creating floral displays as per customer requests.
Creating displays for window dressing, including floral competitions.
Building relationships with repeat customers.
Tracking payments and using in-house software.

Payroll Assistant at Anybiz
October 2010 | September 2012
Ensuring that all staff members are paid promptly.
Checking up on all records of sickness and absence.
Entering all data via computerised bookkeeping.
Retail Assistant at Anybiz
June 2006 | August 2010

Assisting customers with their purchases and operating the till.
Managing displays and restocking them as necessary.
Education
Flower Arranging and Floral Design - Any College 2001-2005Award in Book Keeping and Accounts | Any College 2005-2006A levels: Science (C) French (B) History (B) Maths (A)
References
References are available on request.
Conclusion call to action
Use this floral designer CV sample to customise your own CV. You can use our CV builder and other online resources to speed up and perfect the process of applying to jobs. Make a start on your new career today with a little helping hand from us.
Related CVs Arts CV Examples