Dental assistant CV Example
Our free dental assistant CV sample will help you construct your first CV when the time comes to begin that all important job search. You may choose to apply to local dentistry practises as a trainee dental assistant with college release days, or seek to qualify as a dental assistant through higher education. Our dental assistant CV sample will help explain how to set out your job experience and career qualifications as they are achieved.
Create This CVSee all templates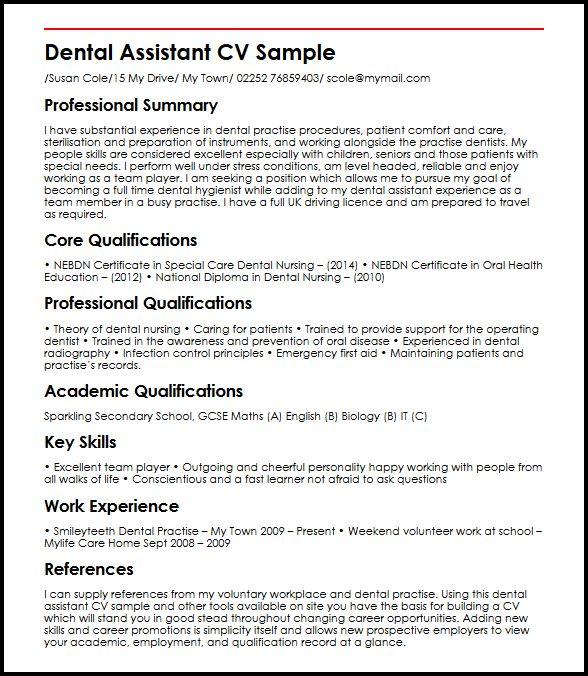 Build a professional CV that gets you hired.
Dental Assistant CV Sample /Susan Cole/15 My Drive/ My Town/ 02252 76859403/ scole@mymail.com
Professional Summary
I have substantial experience in dental practise procedures, patient comfort and care, sterilisation and preparation of instruments, and working alongside the practise dentists. My people skills are considered excellent especially with children, seniors and those patients with special needs. I perform well under stress conditions, am level headed, reliable and enjoy working as a team player. I am seeking a position which allows me to pursue my goal of becoming a full time dental hygienist while adding to my dental assistant experience as a team member in a busy practise. I have a full UK driving licence and am prepared to travel as required.
Core Qualifications

• NEBDN Certificate in Special Care Dental Nursing | (2014)
•NEBDN Certificate in Oral Health Education | (2012)
• National Diploma in Dental Nursing | (2010)
Professional Qualifications

• Theory of dental nursing
• Caring for patients
• Trained to provide support for the operating dentist
• Trained in the awareness and prevention of oral disease
• Experienced in dental radiography
•Infection control principles
• Emergency first aid
• Maintaining patients and practise's records.
Academic Qualifications
Sparkling Secondary School, GCSE Maths (A) English (B) Biology (B) IT (C)
Key Skills

• Excellent team player
• Outgoing and cheerful personality happy working with people from all walks of life
• Conscientious and a fast learner not afraid to ask questions
Work Experience

• Smileyteeth Dental Practise | My Town 2009 | Present
• Weekend volunteer work at school | Mylife Care Home Sept 2008 | 2009
References
I can supply references from my voluntary workplace and dental practise.Using this dental assistant CV sample and other tools available on site you have the basis for building a CV which will stand you in good stead throughout changing career opportunities. Adding new skills and career promotions is simplicity itself and allows new prospective employers to view your academic, employment, and qualification record at a glance.