Intern CV Example
When it comes to writing a CV, it's essential to show employers that you're serious, capable and know what you want. This huge first step can be very daunting, but it's vital when it comes to getting noticed and reaching the interview stage, where you can truly shine. Feel free to use this CV example for interns to help you craft the ideal CV, giving you the key information points and a practical layout that you can use as a foundation. Getting everything in the right place and looking professional is a huge boon to your applications, plus it will help you to organise your thoughts when it comes to writing a cover letter. The CV example for interns can help you to write a strong CV with a clean, attractive layout that will kick-start your new career.

Create This CVSee all templates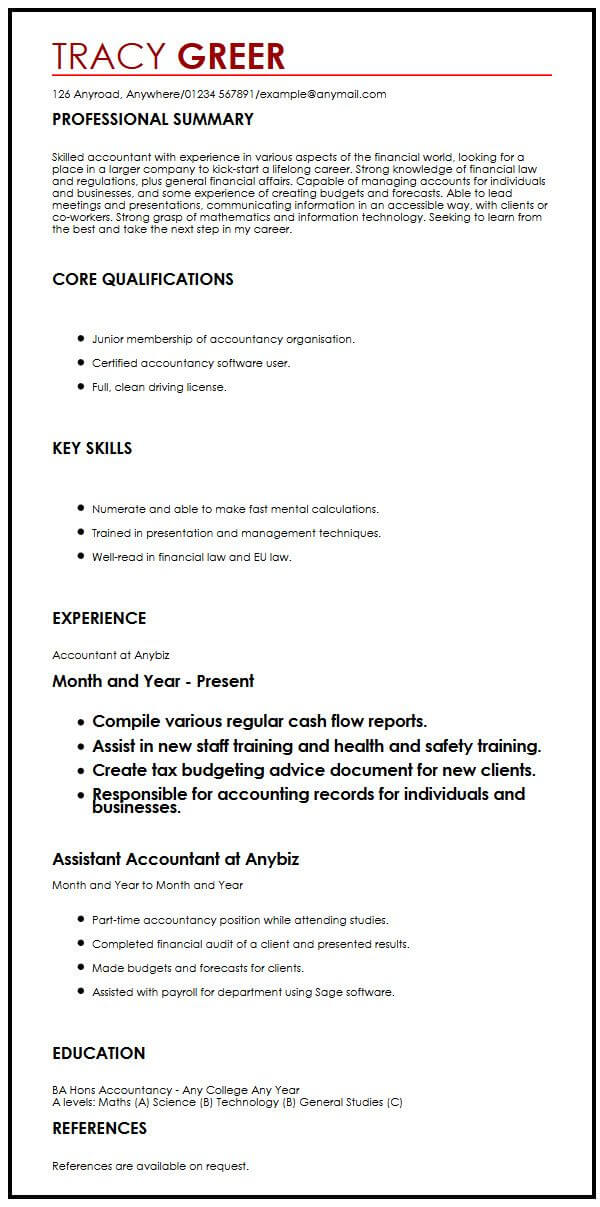 Build a professional CV that gets you hired.
126 Anyroad, Anywhere/01234 567891/example@anymail.com

PROFESSIONAL SUMMARY
Skilled accountant with experience in various aspects of the financial world, looking for a place in a larger company to kick-start a lifelong career. Strong knowledge of financial law and regulations, plus general financial affairs. Capable of managing accounts for individuals and businesses, and some experience of creating budgets and forecasts. Able to lead meetings and presentations, communicating information in an accessible way, with clients or co-workers. Strong grasp of mathematics and information technology. Seeking to learn from the best and take the next step in my career.
Related CVs Entry Level CV Examples