Law Student CV Example
The legal profession is known for being highly competitive, so we have put together a CV Sample for Law Students who are determined to stay ahead of the curve. This CV Sample for Law Students includes useful information about the content and layout of a successful Law Student CV and can help you portray your strengths, achievements and qualifications in a way that sets you apart from other candidates. Use our free CV Sample for Law Students if you want to maximise your chances of success when applying for a job in this competitive industry sector.

Create This CVSee all templates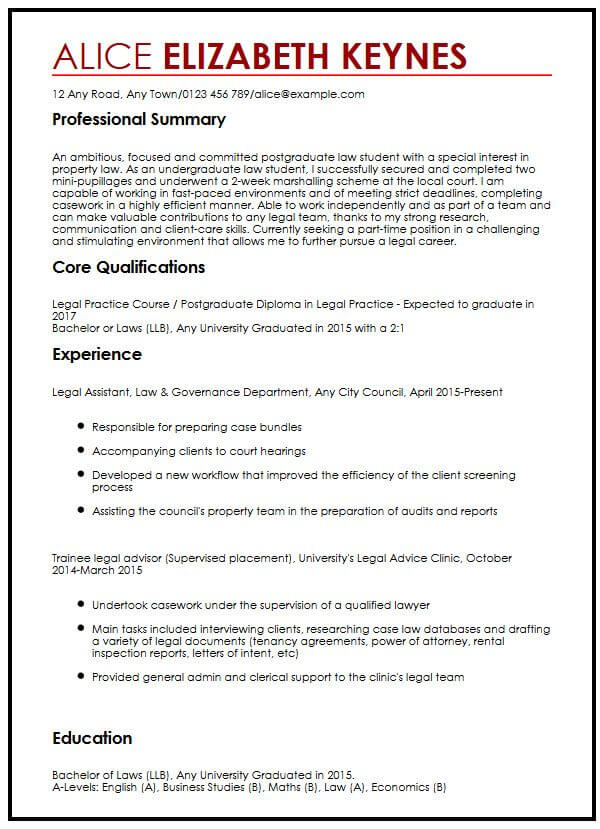 Build a professional CV that gets you hired.
12 Any Road, Any Town/0123 456 789/alice@example.com
Professional Summary
An ambitious, focused and committed postgraduate law student with a special interest in property law. As an undergraduate law student, I successfully secured and completed two mini-pupillages and underwent a 2-week marshalling scheme at the local court. I am capable of working in fast-paced environments and of meeting strict deadlines, completing casework in a highly efficient manner. Able to work independently and as part of a team and can make valuable contributions to any legal team, thanks to my strong research, communication and client-care skills. Currently seeking a part-time position in a challenging and stimulating environment that allows me to further pursue a legal career.
Core Qualifications
Legal Practice Course / Postgraduate Diploma in Legal Practice - Expected to graduate in 2017Bachelor or Laws (LLB), Any UniversityGraduated in 2015 with a 2:1
Experience
Legal Assistant, Law & Governance Department, Any City Council, April 2015-Present
Responsible for preparing case bundles
Accompanying clients to court hearings
Developed a new workflow that improved the efficiency of the client screening process
Assisting the council's property team in the preparation of audits and reports
Trainee legal advisor (Supervised placement), University's Legal Advice Clinic, October 2014-March 2015
Undertook casework under the supervision of a qualified lawyer
Main tasks included interviewing clients, researching case law databases and drafting a variety of legal documents (tenancy agreements, power of attorney, rental inspection reports, letters of intent, etc)
Provided general admin and clerical support to the clinic's legal team
Education
Bachelor of Laws (LLB), Any UniversityGraduated in 2015.A-Levels: English (A), Business Studies (B), Maths (B), Law (A), Economics (B)
Conclusion
This sample Law Student CV is just one of the many CV examples available from our website. To make the most of the resources available and to find industry-specific guidance, check our CV builder section and browse through the different sample CVs available.
Related CVs Entry Level CV Examples