Event Steward CV Example
Obtaining a position as an event steward can be exciting and financially rewarding.Although many believe that such a role revolves around security alone, the truth of the matter is that there are numerous additional responsibilities.Some of these include offering first aid, greeting guests, responding to emergencies and providing attendees with answers to their questions.As a result, there are many applicants within this field and competition can be quite fierce.The event steward CV sample found below has already helped many job seekers build their professional curriculum with ease.Please have a further examination to appreciate the details that should always be contained within.
Create This CVSee all templates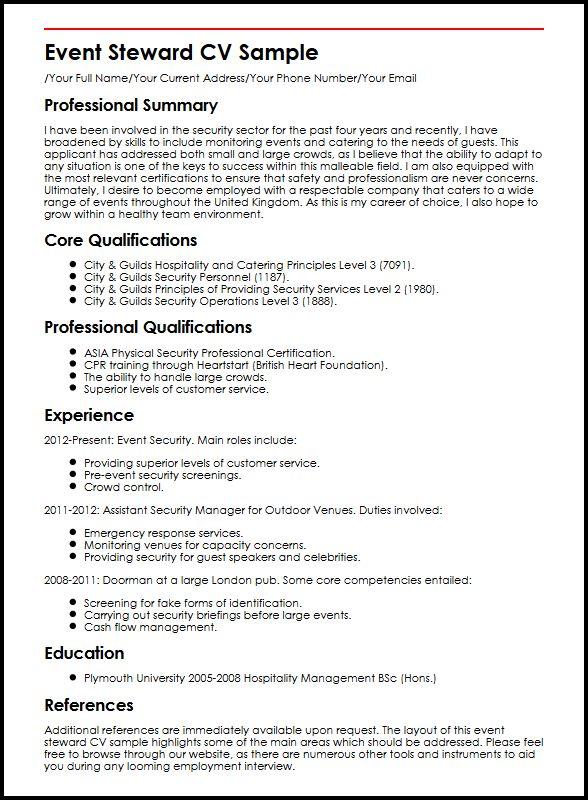 Build a professional CV that gets you hired.
Event Steward CV Sample/Your Full Name/Your Current Address/Your Phone Number/Your Email
Professional Summary
I have been involved in the security sector for the past four years and recently, I have broadened by skills to include monitoring events and catering to the needs of guests.This applicant has addressed both small and large crowds, as I believe that the ability to adapt to any situation is one of the keys to success within this malleable field.I am also equipped with the most relevant certifications to ensure that safety and professionalism are never concerns.Ultimately, I desire to become employed with a respectable company that caters to a wide range of events throughout the United Kingdom.As this is my career of choice, I also hope to grow within a healthy team environment.
Core Qualifications
City & GuildsHospitality and Catering Principles Level 3 (7091).
City & Guilds Security Personnel (1187).
City & Guilds Principles of Providing Security Services Level 2 (1980).
City & Guilds Security Operations Level 3 (1888).
Professional Qualifications
ASIA Physical Security Professional Certification.
CPR training through Heartstart (British Heart Foundation).
The ability to handle large crowds.
Superior levels of customer service.
Experience
2012-Present: Event Security.Main roles include:
Providing superior levels of customer service.
Pre-event security screenings.
Crowd control.
2011-2012: Assistant Security Manager for Outdoor Venues.Duties involved:
Emergency response services.
Monitoring venues for capacity concerns.
Providing security for guest speakers and celebrities.
2008-2011: Doorman at a large London pub.Some core competencies entailed:
Screening for fake forms of identification.
Carrying out security briefings before large events.
Cash flow management.
Education
Plymouth University 2005-2008 Hospitality Management BSc (Hons.)
References
Additional references are immediately available upon request.The layout of this event steward CV sample highlights some of the main areas which should be addressed.Please feel free to browse through our website, as there are numerous other tools and instruments to aid you during any looming employment interview.
Related CVs Event planning