Our customers have been hired by: *
The role of an event executive is a challenging and diverse job opportunity.Not only will there be opportunities to connect with powerful stakeholders in a number of fields, but the room for advancement is nearly unparalleled when compared to other sectors.As this is such a popular profession, the competition from your peers is likely to be substantial. Correctly presenting a CV during the recruitment process is pivotal to obtain a desired role.This is the primary reason why we have constructed this event executive CV sample.Please take some time to appreciate its content and formatting.
Download Executive Event Planner CV Example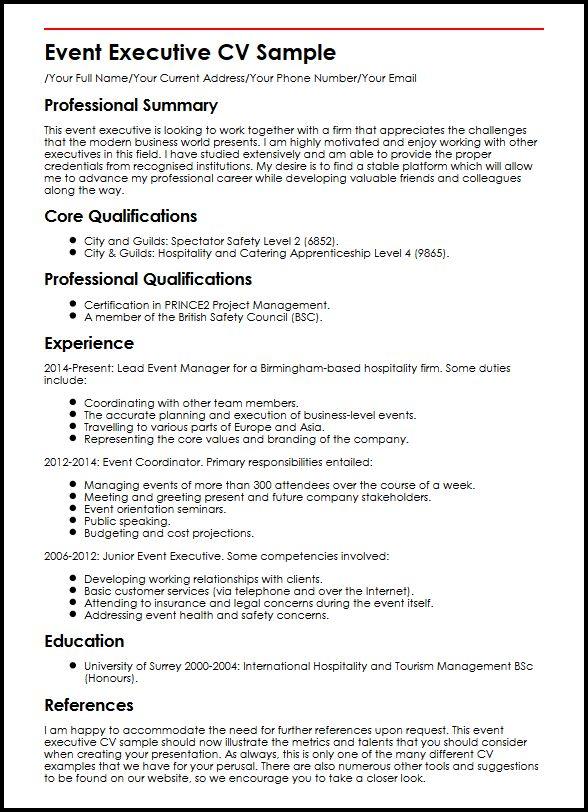 Event Executive CV Sample/Your Full Name/Your Current Address/Your Phone Number/Your Email
Professional Summary
This event executive is looking to work together with a firm that appreciates the challenges that the modern business world presents.I am highly motivated and enjoy working with other executives in this field.I have studied extensively and am able to provide the proper credentials from recognised institutions.My desire is to find a stable platform which will allow me to advance my professional career while developing valuable friends and colleagues along the way.
Core Qualifications
City and Guilds: Spectator Safety Level 2 (6852).
City & Guilds: Hospitality and Catering Apprenticeship Level 4 (9865).
Professional Qualifications
Certification in PRINCE2 Project Management.
A member of the British Safety Council (BSC).
Experience
2014-Present: Lead Event Manager for a Birmingham-based hospitality firm.Some duties include:
Coordinating with other team members.
The accurate planning and execution of business-level events.
Travelling to various parts of Europe and Asia.
Representing the core values and branding of the company.
2012-2014: Event Coordinator.Primary responsibilities entailed:
Managing events of more than 300 attendees over the course of a week.
Meeting and greeting present and future company stakeholders.
Event orientation seminars.
Public speaking.
Budgeting and cost projections.
2006-2012: Junior Event Executive.Some competencies involved:
Developing working relationships with clients.
Basic customer services (via telephone and over the Internet).
Attending to insurance and legal concerns during the event itself.
Addressing event health and safety concerns.
Education
University of Surrey 2000-2004: International Hospitality and Tourism Management BSc (Honours).
References
I am happy to accommodate the need for further references upon request.This event executive CV sample should now illustrate the metrics and talents that you should consider when creating your presentation.As always, this is only one of the many different CV examples that we have for your perusal.There are also numerous other tools and suggestions to be found on our website, so we encourage you to take a closer look.
Related CVs Event planning