Event Planning Coordinator CV Example
A coordinator is a multi-skilled professional who can pull information and resources into a logical and understandable format, so if you're applying for this type of role, you need a professionally accurate CV that shows you're the right person for the job. If you use our free coordinator CV sample, you can be sure you won't miss out any essential information in your document. Moreover, your CV will be well formatted, with the power to impress the recruitment team, who'll have no hesitation in shortlisting you for an interview.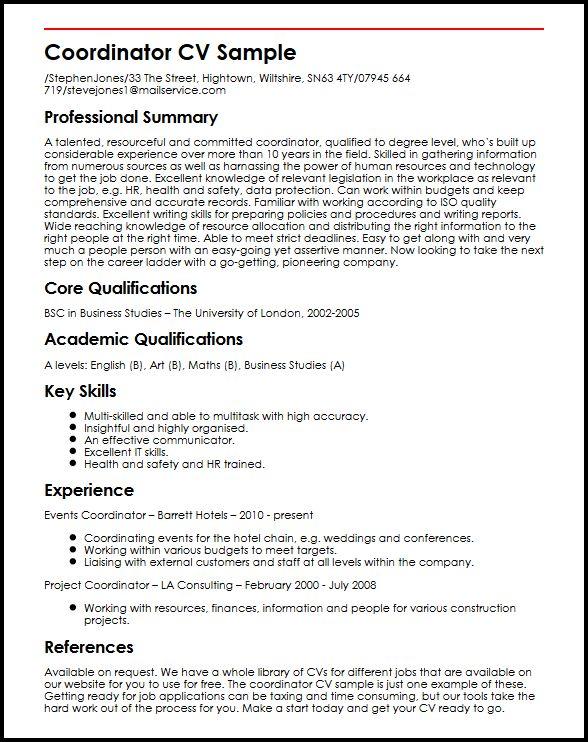 Our professional CV builder is designed to build the most powerful CV and save you time.
Coordinator CV Sample/StephenJones/33 The Street, Hightown, Wiltshire, SN63 4TY/07945 664 719/stevejones1@mailservice.com
Professional Summary
A talented, resourceful and committed coordinator, qualified to degree level, who's built up considerable experience over more than 10 years in the field. Skilled in gathering information from numerous sources as well as harnassing the power of human resources and technology to get the job done. Excellent knowledge of relevant legislation in the workplace as relevant to the job, e.g. HR, health and safety, data protection. Can work within budgets and keep comprehensive and accurate records. Familiar with working according to ISO quality standards. Excellent writing skills for preparing policies and procedures and writing reports. Wide reaching knowledge of resource allocation and distributing the right information to the right people at the right time. Able to meet strict deadlines. Easy to get along with and very much a people person with an easy-going yet assertive manner. Now looking to take the next step on the career ladder with a go-getting, pioneering company.
Core Qualifications
BSC in Business Studies | The University of London, 2002-2005
Academic Qualifications
A levels: English (B), Art (B), Maths (B), Business Studies (A)
Key Skills
Multi-skilled and able to multitask with high accuracy.
Insightful and highly organised.
An effective communicator.
Excellent IT skills.
Health and safety and HR trained.
Experience
Events Coordinator | Barrett Hotels | 2010 - present
Coordinating events for the hotel chain, e.g. weddings and conferences.
Working within various budgets to meet targets.
Liaising with external customers and staff at all levels within the company.
Project Coordinator | LA Consulting | February 2000 - July 2008
Working with resources, finances, information and people for various construction projects.
References
Available on request.We have a whole library of CVs for different jobs that are available on our website for you to use for free. The coordinator CV sample is just one example of these. Getting ready for job applications can be taxing and time consuming, but our tools take the hard work out of the process for you. Make a start today and get your CV ready to go.