Post Office Counter Clerk CV Example
If you are trying to find a job as a post office counter clerk, it is crucial to create a CV that best reveals your related skills and abilities as well as highlighting your main strengths. You can use this free of charge post office counter clerk CV sample as a model that will help you to appreciate what you need to include when you construct your own CV and in addition you can use this format to guide you.
Create This CVSee all templates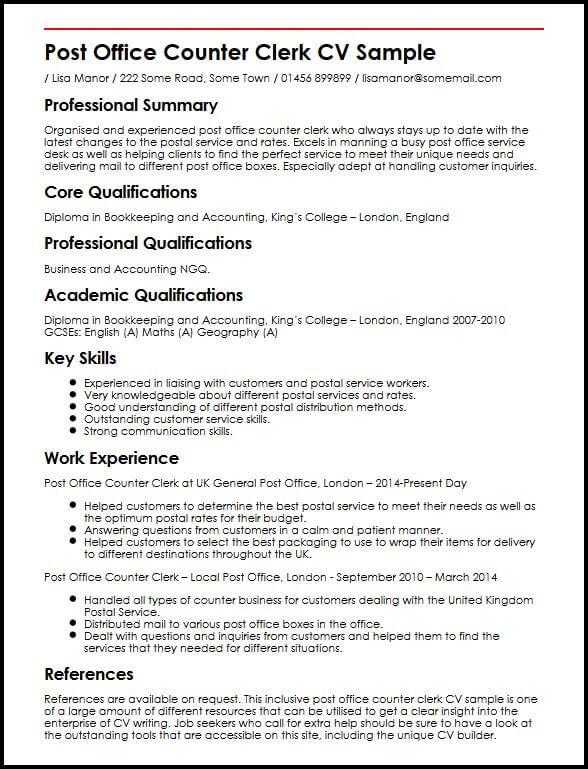 Build a professional CV that gets you hired.
Post Office Counter Clerk CV Sample / Lisa Manor / 222 Some Road, Some Town / 01456 899899 / lisamanor@somemail.com
Professional Summary
Organised and experienced post office counter clerk who always stays up to date with the latest changes to the postal service and rates. Excels in manning a busy post office service desk as well as helping clients to find the perfect service to meet their unique needs and delivering mail to different post office boxes. Especially adept at handling customer inquiries.
Core Qualifications
Diploma in Bookkeeping and Accounting, King's College | London, England
Professional Qualifications
Business and Accounting NGQ.
Academic Qualifications
Diploma in Bookkeeping and Accounting, King's College | London, England2007-2010GCSEs: English (A) Maths (A) Geography (A)
Key Skills
Experienced in liaising with customers and postal service workers.
Very knowledgeable about different postal services and rates.
Good understanding of different postal distribution methods.
Outstanding customer service skills.
Strong communication skills.
Work Experience
Post Office Counter Clerk at UK General Post Office, London | 2014-Present Day
Helped customers to determine the best postal service to meet their needs as well as the optimum postal rates for their budget.
Answering questions from customers in a calm and patient manner.
Helped customers to select the best packaging to use to wrap their items for delivery to different destinations throughout the UK.
Post Office Counter Clerk | Local Post Office, London - September 2010 | March 2014
Handled all types of counter business for customers dealing with the United Kingdom Postal Service.
Distributed mail to various post office boxes in the office.
Dealt with questions and inquiries from customers and helped them to find the services that they needed for different situations.
References
References are available on request.This inclusive post office counter clerk CV sample is one of a large amount of different resources that can be utilised to get a clear insight into the enterprise of CV writing. Job seekers who call for extra help should be sure to have a look at the outstanding tools that are accessible on this site, including the unique CV builder.