Our customers have been hired by: *
A CV is an essential tool for job-seekers, since it is usually the first point of contact with a potential employer. That's why a well-constructed CV not only shows professionalism and attention to detail but it all plays an important role because recruiters and hiring managers usually receive a large number of applications for one position and you only have a few seconds to make a good first impression.
Whether you're just starting out in your career or looking to take the next step, by following our guide, you'll be able to create a CV that not only showcases your skills, qualifications, and experience, but also stands out from the crowd.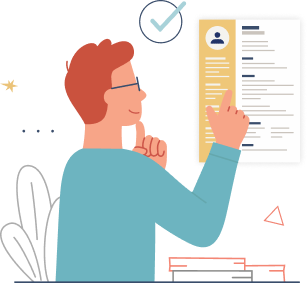 How to structure a CV in 2023
Before writing a CV, you should take a moment to learn what a good CV structure is.
The structure of a CV is simply the way the different sections in your CV are laid out and organised. A well-organised and structured CV is the key to success, as it makes it easier for those considering your application, i.e. the recruiter or hiring manager, to quickly pull together the information they need to determine if you are a good fit for the job.
Here's what your CV structure should contain to provide recruiters with the information they need about your profile…
Headline and contact details structure
The CV headline may or may not include your job title. The most important thing is that it should include:
Your name
Your address
Telephone number
Professional email address.
For example:
Mandy Rice
219 Heatheringon Close
EH3 9HA, Edinburgh
987654321
mandy.rice@example.com
About me structure
About Me, also known as a Personal Statement, is a short section at the top of your CV used to describe yourself.
This short note is meant to summarise your past achievements and experiences.
It usually contains 2-4 sentences and is written in the third person singular.
Like this:
Seasoned professional with five years of experience as a chef specialising in gourmet Asian and fusion cuisine. Brings excellent interpersonal skills, stamina, adaptability to work under pressure, and exquisite personal culture. Double winner of the prestigious Golden Fork award and featured in the 2020 Cook of the Year review.
Work history structure
Further on your CV should include information about your previous work experience.
List your experience from your last 2-3 jobs.
Include the position you held, the name of the company, its location, and dates of employment.
Start with the most recent job, i.e. in reverse chronological order.
Under each experience, list several achievements or responsibilities from that job.
Not sure how to put it together? See how it's done with this example:
Head Chef, Lotus Restaurant, Edinburgh, Scotland
June 2020 – Present
Oversee all kitchen operations including menu planning, recipe development and dish preparation.
Trains and manages a team of 10 chefs, ensuring the quality and consistency of all dishes.
Created innovative and seasonal menus incorporating classic Japanese techniques with a modern twist.
Sous Chef, Cherry Blossom, Edinburgh, Scotland
January 2017 – May 2020
Coordinated with front-of-house staff to provide seamless service and excellent customer experience.
Implemented new food safety protocols, resulting in a 15% reduction in food waste and increased efficiency in the kitchen.
Assisted the chef in all aspects of kitchen operations.
Skills structure
Your experience makes you qualified, but it is your CV skills that define whether you can ultimately handle the responsibilities.
Admittedly, you already mention them in both your Personal Statement and your employment history, so don't repeat yourself.
List in this section 6-10 unique skills, both hard and soft, that:
are relevant to the job
are required by the employer
will set you apart from other candidates.
So, for our fusion cuisine chef example, the list of skills on a CV could look like this:
culinary expertise
food health and safety regulations
traditional Japanese cooking techniques
menu planning and recipe development
presentation skills
good communication
problem-solving and adaptability
leadership and team motivation
How to structure your education in your CV
Time to provide information about your qualifications. The Education section is most often found at the bottom of your document.
List your qualifications, starting with the name of the course you completed, the institution, and the date of completion.
If you list more than one, list them in reverse chronological order.
As you would do here:
Bachelor of Arts in Culinary Arts Management,
Queen Margaret University, Edinburgh, Scotland, 2015
Culinary Arts Diploma,
Edinburgh College, Edinburgh, Scotland, 2013
Structure of additional information section
The above sections cover everything that should be included in your standard CV structure. However, if you feel there is any additional information that could help you increase your chances of being hired, include it in this additional section.
What can be included in the additional section of your CV?
Language skills
Hobbies and interests relevant to the job
Awards, honours and achievements
Additional courses and certificates.
For example:
Languages:
Japanese, level B2
French, level B2
Awards:
Golden Fork Award 2018
Honourable mention in Chef Magazine 2019
Interests:
Japanese culture and traditional culinary practices
Fusion cuisine and modern techniques in relation to traditional recipes
CV structure format
CV format simply refers to the CV structure and layout. Curriculum Vitae (CV) is a document that showcases your education, work experience, skills, achievements, and other relevant information to potential employers. Depending on the country, industry, and position you're applying for, the format of your CV may vary.
But don't worry, the key is to choose a format that effectively showcases your qualifications and experience in a clear and concise way that's specific to the job you want.
With the right CV structure and format, you'll be on your way to landing your dream job!
There are several CV formats out there, although we recommend using the reverse chronological format and keeping your CV to maximum 2 pages long.
This CV format is a type of CV structure that lists your work experience in reverse order, starting with your most recent job or position and working backward in time.
This means that your most recent work experience will be listed first, followed by the next one and so on.
The reverse chronological format is the most commonly used CV format by jobseekers in the UK.
Why?
For one, it highlights your recent and relevant work experience, which is usually considered one the most important factors when assessing a candidate.
Also, secondly, it shows clear career development and proves that you have consistently gained new skills and responsibilities over the course of your career.
And lastly, it enables hiring managers to quickly review your CV and pinpoint your most recent and relevant work experience.
Complete CV structure
Let's put it all together to get a well-structured CV for a gourmet chef.
CV structure examples
When it comes to CV structure for specific jobs, it is important to make your CV relevant to the position you are applying for.
This means highlighting the most relevant skills and experience for the job and organising your CV in such a way that an employer can quickly see why you are a good fit.
The key is to tailor your CV to each application and include keywords from the job description.
How to structure a CV for a customer service representative
When writing your CV for a Customer Service Representative, consider the CV structure outlined above and make sure you mention in it:
Well-developed interpersonal and communication skills
You need to be able to communicate effectively with customers, both verbally, for instance during face-to-face conversations or over the phone, but also in writing. So, your CV for customer service representative should highlight your strong communication skills.
Customer service experience.
Working with customers is often demanding and challenging. Your CV should highlight your experience in providing excellent customer service, including ways and means of contact.
Technical skills specific to the position
Depending on the industry, you may need technical skills related to the products or services your company offers. Your CV should highlight specific skills, e.g. handling contact channels, and product expertise.
Teamwork
As a customer service representative, you are often part of a larger team responsible for providing excellent customer service. Include teamwork experience, adaptability, or conflict resolution in your CV.
How to structure a CV for a retail job
Retail jobs can be found in a variety of areas, including malls, grocery shops, specialised shops, and online retailers. This multitude of opportunities means that working in retail requires strong customer service skills, as well as the ability to work in a fast-paced environment and multi-task simultaneously.
A CV for a retail job should highlight your strengths.
Remember to tailor it to the specific job description.
A strong retailer CV should include:
A good personal statement
A successful salesman can sell – even themselves. A strong opening to your document will intrigue the hiring manager to read further.
Sales experience
Many retail positions involve selling products to customers during face-to-face contact.
A strong retail CV should highlight the candidate's sales experience, including any relevant achievements or specific sums.
Skills
Communication skills, such as strong telephone etiquette, as well as verbal and written communication, are very important here.
In addition, consider adding your persuasion and negotiation skills.
What else is important?
Include any previously acquired skills in customer service and highlight any achievements or awards you have received in this area.
Don't forget technical skills. This could include operating specific sales channel management software or organising a warehouse or product expertise.
Attention to detail
In a retail environment, it is important to pay attention to detail, such as product placement, pricing, and stock levels. Highlight your attention to detail and ability to keep the shop organised and well stocked.
That said, don't forget to give your CV a good check. Nothing ruins a good impression like typos or mistakes on a CV praising a candidate's attention to detail.
Check this cashier CV example:
How to structure a CV for an entry job
The purpose of an entry-level CV is to show the candidate's potential and ability to learn, as they may not have much work experience.
Tailor your CV to the specific position you are applying for and use strong points to show your qualifications and skills:
About me section
A clear and concise statement of your profile and career goal can demonstrate to the employer that you are serious about your career and interested in the position you are applying for.
Skills
Focus on highlighting what you can already do. Use this section to show your potential and eagerness to work.
It is good if you include both specific technical skills and transferable skills such as communication, problem-solving, and teamwork.
Professional experience
For obvious reasons, this section can be difficult to complete. If you have no experience yet, you can skip this section and create a skills-based CV.
You can also include here any internships or volunteering you have done that can demonstrate your ability to work in a professional setting and contribute to a team.
Education
As entry-level candidates are unlikely to have much work experience, education is often a key point of interest for hiring managers. It is important to showcase any relevant courses or academic achievements.
Like we did here:
How to structure a CV with an employment gap
If you've got an employment gap on your CV, don't worry. Here are some tips on how to structure your CV so that your gap doesn't detract from your overall qualifications and experience:
First things first, be honest about your gap. Employers value transparency and honesty in candidates.
If you were doing other things during your gap, like freelancing, volunteering, or taking courses, make sure to highlight those experiences on your CV. This can show that you're still committed to professional development.
Lastly, focus on your transferable skills and experience. Use your CV to showcase the skills you've gained in your previous roles that are relevant to the job you're applying for. This will demonstrate your value as a candidate and show that you're still a great fit for the position.
Remember, an employment gap doesn't have to hold you back from landing a new job. With the right approach and a focus on your strengths, you'll be well on your way to success. Good luck!
Look how we addressed the career gap here:
CV structures - Takeaways
Your CV should include:

your contact details
personal statement
your professional experience
skills
education

Make sure your CV is tailored to the position you are applying for.

Keep it relevant and concise.

Use a reverse chronological format and lay out your CV ideally on one, maximum two pages.
CV structure matters
No matter if you are applying for an entry-level or senior position, having the right CV structure will help you create a professional document that will get recruiters curious about your candidacy. By following the tips outlined in this article, you can create a CV that will stand out to potential employers. Check out other CV examples for inspiration!