CV Example for Workers Over 50
It is now increasingly common for those over 50 years old to actively seek out employment in the professional sector. Whether this is out of necessity or simply due the love of a certain skill, there are thousands of opportunities currently available throughout the United Kingdom. With the rapid changes in terms of self-presentation and expectations in skills, those who have not constructed a CV or updated theirs for a considerable length of time may be slightly confused. It makes a great deal of sense to take a look at this CV example for workers over 50 years of age.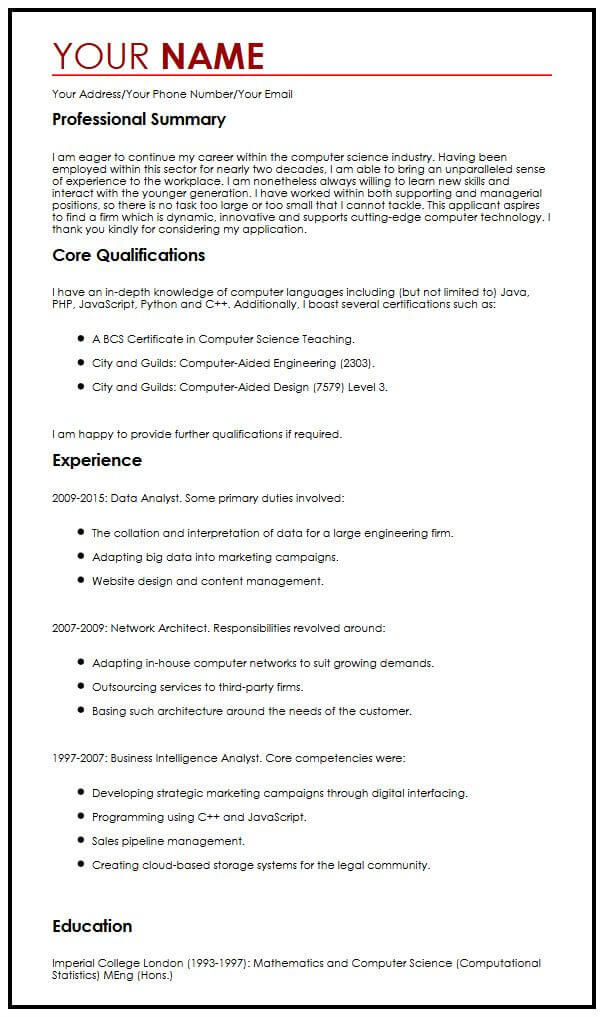 Your Address/Your Phone Number/Your Email
Professional Summary
I am eager to continue my career within the computer science industry. Having been employed within this sector for nearly two decades, I am able to bring an unparalleled sense of experience to the workplace. I am nonetheless always willing to learn new skills and interact with the younger generation. I have worked within both supporting and managerial positions, so there is no task too large or too small that I cannot tackle. This applicant aspires to find a firm which is dynamic, innovative and supports cutting-edge computer technology. I thank you kindly for considering my application.
Core Qualifications
I have an in-depth knowledge of computer languages including (but not limited to) Java, PHP, JavaScript, Python and C++. Additionally, I boast several certifications such as:
A BCS Certificate in Computer Science Teaching.
City and Guilds: Computer-Aided Engineering (2303).
City and Guilds: Computer-Aided Design (7579) Level 3.
I am happy to provide further qualifications if required.
Experience
2009-2015: Data Analyst. Some primary duties involved:
The collation and interpretation of data for a large engineering firm.
Adapting big data into marketing campaigns.
Website design and content management.
2007-2009: Network Architect. Responsibilities revolved around:
Adapting in-house computer networks to suit growing demands.
Outsourcing services to third-party firms.
Basing such architecture around the needs of the customer.
1997-2007: Business Intelligence Analyst. Core competencies were:
Developing strategic marketing campaigns through digital interfacing.
Programming using C++ and JavaScript.
Sales pipeline management.
Creating cloud-based storage systems for the legal community.
Education
Imperial College London (1993-1997): Mathematics and Computer Science (Computational Statistics) MEng (Hons.)
Conclusion
This CV example for workers over 50 is only one illustration of the numerous tools which are always at your disposal. Please take a further look around our website to fully appreciate what we have to offer.