Computer Numerically Controlled Programmer CV Example
A CNC programmer is a technically skilled job where you need appropriate skills, knowledge, qualifications and experience to apply. It can be difficult to know what to write in a CV, but the free online CNC programmer CV sample takes the guesswork out of the process, helping you to create a personalised and specific resume in the right format. Employers notice high quality CVs and prioritise these for interview selection.
Create This CVSee all templates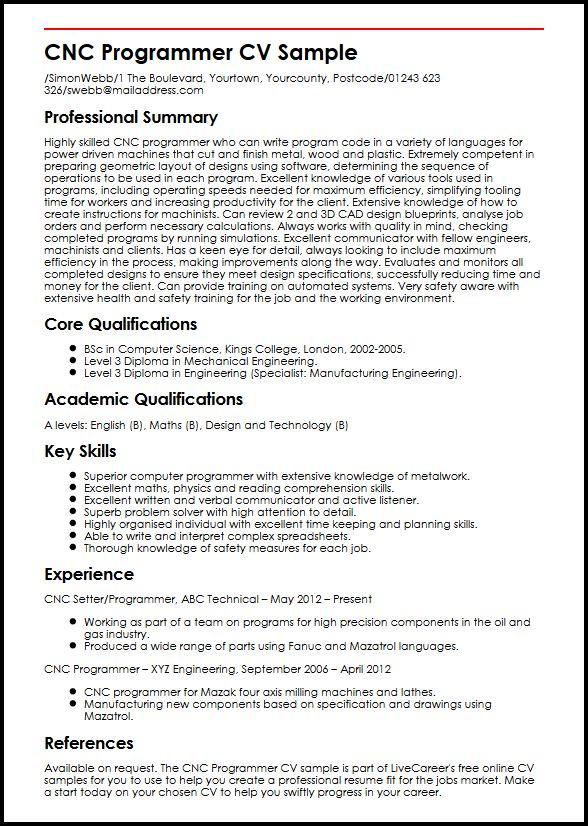 Build a professional CV that gets you hired.
CNC Programmer CV Sample/SimonWebb/1 The Boulevard, Yourtown, Yourcounty, Postcode/01243 623 326/swebb@mailaddress.com
Professional Summary
Highly skilled CNC programmer who can write program code in a variety of languages for power driven machines that cut and finish metal, wood and plastic. Extremely competent in preparing geometric layout of designs using software, determining the sequence of operations to be used in each program. Excellent knowledge of various tools used in programs, including operating speeds needed for maximum efficiency, simplifying tooling time for workers and increasing productivity for the client. Extensive knowledge of how to create instructions for machinists. Can review 2 and 3D CAD design blueprints, analyse job orders and perform necessary calculations. Always works with quality in mind, checking completed programs by running simulations. Excellent communicator with fellow engineers, machinists and clients. Has a keen eye for detail, always looking to include maximum efficiency in the process, making improvements along the way. Evaluates and monitors all completed designs to ensure they meet design specifications, successfully reducing time and money for the client. Can provide training on automated systems. Very safety aware with extensive health and safety training for the job and the working environment.
Core Qualifications
BSc in Computer Science, Kings College, London, 2002-2005.
Level 3 Diploma in Mechanical Engineering.
Level 3 Diploma in Engineering (Specialist: Manufacturing Engineering).
Academic Qualifications
A levels: English (B), Maths (B), Design and Technology (B)
Key Skills
Superior computer programmer with extensive knowledge of metalwork.
Excellent maths, physics and reading comprehension skills.
Excellent written and verbal communicator and active listener.
Superb problem solver with high attention to detail.
Highly organised individual with excellent time keeping and planning skills.
Able to write and interpret complex spreadsheets.
Thorough knowledge of safety measures for each job.
Experience
CNC Setter/Programmer, ABC Technical | May 2012 | Present
Working as part of a team on programs for high precision components in the oil and gas industry.
Produced a wide range of parts using Fanuc and Mazatrol languages.
CNC Programmer | XYZ Engineering, September 2006 | April 2012
CNC programmer for Mazak four axis milling machines and lathes.
Manufacturing new components based on specification and drawings using Mazatrol.
References
Available on request.The CNC Programmer CV sample is part of LiveCareer's free online CV samples for you to use to help you create a professional resume fit for the jobs market. Make a start today on your chosen CV to help you swiftly progress in your career.
Related CVs Manufacturing