CV Sample for Medical Students
The CV Sample for Medical Students is a free sample and part of our online tools that will help you to create your job application from the very start so you can begin an effective and successful search for jobs.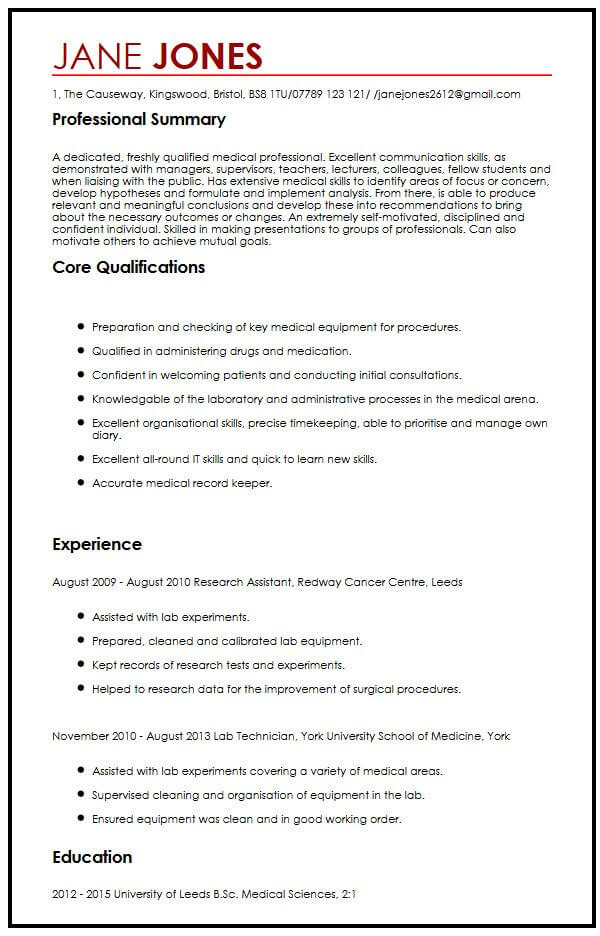 1, The Causeway, Kingswood, Bristol, BS8 1TU/07789 123 121/ /janejones2612@gmail.com
Professional Summary
A dedicated, freshly qualified medical professional. Excellent communication skills, as demonstrated with managers, supervisors, teachers, lecturers, colleagues, fellow students and when liaising with the public. Has extensive medical skills to identify areas of focus or concern, develop hypotheses and formulate and implement analysis. From there, is able to produce relevant and meaningful conclusions and develop these into recommendations to bring about the necessary outcomes or changes. An extremely self-motivated, disciplined and confident individual. Skilled in making presentations to groups of professionals. Can also motivate others to achieve mutual goals.
Core Qualifications
Preparation and checking of key medical equipment for procedures.
Qualified in administering drugs and medication.
Confident in welcoming patients and conducting initial consultations.
Knowledgable of the laboratory and administrative processes in the medical arena.
Excellent organisational skills, precise timekeeping, able to prioritise and manage own diary.
Excellent all-round IT skills and quick to learn new skills.
Accurate medical record keeper.
Experience
August 2009 - August 2010 Research Assistant, Redway Cancer Centre, Leeds
Assisted with lab experiments.
Prepared, cleaned and calibrated lab equipment.
Kept records of research tests and experiments.
Helped to research data for the improvement of surgical procedures.
November 2010 - August 2013 Lab Technician, York University School of Medicine, York
Assisted with lab experiments covering a variety of medical areas.
Supervised cleaning and organisation of equipment in the lab.
Ensured equipment was clean and in good working order.
Education
2012 - 2015 University of Leeds B.Sc. Medical Sciences, 2:1
Conclusion
The CV Sample for Medical Students is part of a large collection of CVs in our online library to help you with the process of writing your resume. When looking for a job, it's well worth consulting the CV building tools this site has to offer to assist you every step of the way.