Dental Hygienist Objectives CV Sample
Not only is the role of a dental hygienist very challenging, but it will often lead to more professional employment positions in the future.In many ways, this job title can be seen as a "springboard" to a lucrative career in the field of dentistry.It should therefore be obvious that competition is quite high and only the most qualified candidates will encounter a rewarding position.Constructing a properly formatted personal curriculum is therefore very important.Should this be your first time entering into the workforce or if you are confused in regards to how this document needs to be presented, it is wise to examine the dental hygienist objectives CV sample that is found immediately below.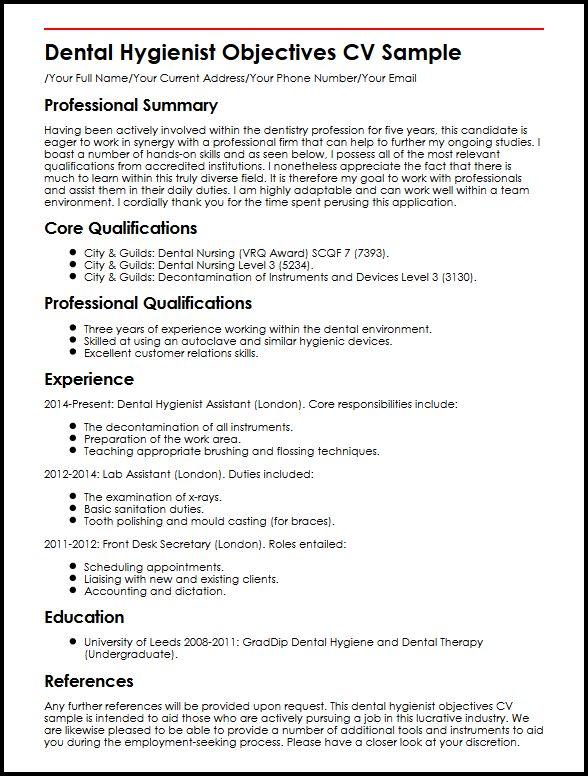 Dental Hygienist Objectives CV Sample/Your Full Name/Your Current Address/Your Phone Number/Your Email
Professional Summary
Having been actively involved within the dentistry profession for five years, this candidate is eager to work in synergy with a professional firm that can help to further my ongoing studies.I boast a number of hands-on skills and as seen below, I possess all of the most relevant qualifications from accredited institutions.I nonetheless appreciate the fact that there is much to learn within this truly diverse field.It is therefore my goal to work with professionals and assist them in their daily duties.I am highly adaptable and can work well within a team environment.I cordially thank you for the time spent perusing this application.
Core Qualifications
City & Guilds: Dental Nursing (VRQ Award) SCQF 7 (7393).
City & Guilds: Dental Nursing Level 3 (5234).
City & Guilds: Decontamination of Instruments and Devices Level 3 (3130).
Professional Qualifications
Three years of experience working within the dental environment.
Skilled at using an autoclave and similar hygienic devices.
Excellent customer relations skills.
Experience
2014-Present: Dental Hygienist Assistant (London).Core responsibilities include:
The decontamination of all instruments.
Preparation of the work area.
Teaching appropriate brushing and flossing techniques.
2012-2014: Lab Assistant (London).Duties included:
The examination of x-rays.
Basic sanitation duties.
Tooth polishing and mould casting (for braces).
2011-2012: Front Desk Secretary (London).Roles entailed:
Scheduling appointments.
Liaising with new and existing clients.
Accounting and dictation.
Education
University of Leeds 2008-2011: GradDip Dental Hygiene and Dental Therapy (Undergraduate).
References
Any further references will be provided upon request.This dental hygienist objectives CV sample is intended to aid those who are actively pursuing a job in this lucrative industry.We are likewise pleased to be able to provide a number of additional tools and instruments to aid you during the employment-seeking process.Please have a closer look at your discretion.