Customize this CV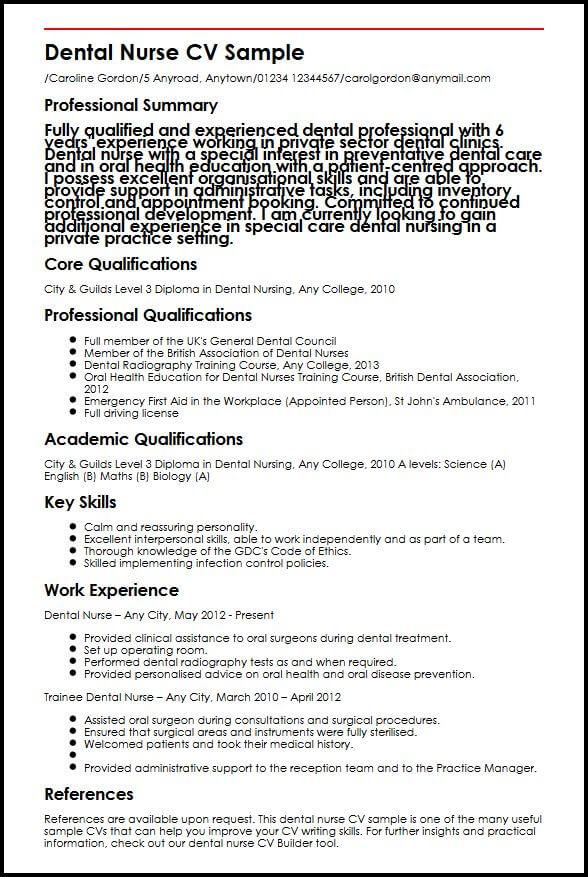 ---
Create This CV
Dental nursing professionals should never underestimate the importance of having a well-written and professionally presented CV. In this highly competitive profession, it is absolutely crucial being able to establish your professionalism and commitment to the best standards of practice. The free dental nurse CV sample that you will find below can help you highlight your accomplishments and experience in a way that meets the expectations of future employers and gives you a competitive advantage over other job applicants.
Dental Nurse CV Sample
/Caroline Gordon/5 Anyroad, Anytown/01234 12344567/carolgordon@anymail.com
Professional Summary
Fully qualified and experienced dental professional with 6 years' experience working in private sector dental clinics. Dental nurse with a special interest in preventative dental care and in oral health education with a patient-centred approach. I possess excellent organisational skills and are able to provide support in administrative tasks, including inventory control and appointment booking. Committed to continued professional development. I am currently looking to gain additional experience in special care dental nursing in a private practice setting.
Core Qualifications
City & Guilds Level 3 Diploma in Dental Nursing, Any College, 2010
Professional Qualifications
Full member of the UK's General Dental Council
Member of the British Association of Dental Nurses
Dental Radiography Training Course, Any College, 2013
Oral Health Education for Dental Nurses Training Course, British Dental Association, 2012
Emergency First Aid in the Workplace (Appointed Person), St John's Ambulance, 2011
Full driving license
Academic Qualifications
City & Guilds Level 3 Diploma in Dental Nursing, Any College, 2010 A levels: Science (A) English (B) Maths (B) Biology (A)
Key Skills
Calm and reassuring personality.
Excellent interpersonal skills, able to work independently and as part of a team.
Thorough knowledge of the GDC's Code of Ethics.
Skilled implementing infection control policies.
Work Experience
Dental Nurse | Any City, May 2012 – Present
Provided clinical assistance to oral surgeons during dental treatment.
Set up operating room.
Performed dental radiography tests as and when required.
Provided personalised advice on oral health and oral disease prevention.
Trainee Dental Nurse | Any City, March 2010 | April 2012
Assisted oral surgeon during consultations and surgical procedures.
Ensured that surgical areas and instruments were fully sterilised.
Welcomed patients and took their medical history.
Provided administrative support to the reception team and to the Practice Manager.
References
References are available upon request. This dental nurse CV sample is one of the many useful sample CVs that can help you improve your CV writing skills. For further insights and practical information, check out our dental nurse CV Builder tool.