Handyman Caretaker CV Sample
Writing a CV is never easy, and if you have been in the same job for many years, it is often tricky to know where to start. This is where our handyman caretaker CV sample comes in. You can see the type of information that needs to be included and get an idea of how a good CV should be structured. The following CV is an example of the type of CV that is likely to stand out from a pile and impress a future employer.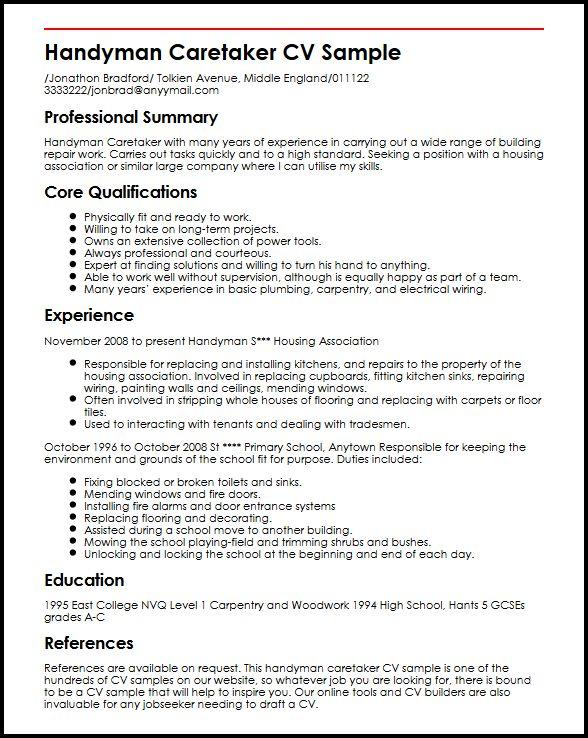 Handyman Caretaker CV Sample/Jonathon Bradford/ Tolkien Avenue, Middle England/011122 3333222/jonbrad@anyymail.com
Professional Summary
Handyman Caretaker with many years of experience in carrying out a wide range of building repair work. Carries out tasks quickly and to a high standard. Seeking a position with a housing association or similar large company where I can utilise my skills.
Core Qualifications
Physically fit and ready to work.
Willing to take on long-term projects.
Owns an extensive collection of power tools.
Always professional and courteous.
Expert at finding solutions and willing to turn his hand to anything.
Able to work well without supervision, although is equally happy as part of a team.
Many years' experience in basic plumbing, carpentry, and electrical wiring.
Experience
November 2008 to presentHandyman S*** Housing Association
Responsible for replacing and installing kitchens, and repairs to the property of the housing association. Involved in replacing cupboards, fitting kitchen sinks, repairing wiring, painting walls and ceilings, mending windows.
Often involved in stripping whole houses of flooring and replacing with carpets or floor tiles.
Used to interacting with tenants and dealing with tradesmen.
October 1996 to October 2008 St **** Primary School, AnytownResponsible for keeping the environment and grounds of the school fit for purpose. Duties included:
Fixing blocked or broken toilets and sinks.
Mending windows and fire doors.
Installing fire alarms and door entrance systems
Replacing flooring and decorating.
Assisted during a school move to another building.
Mowing the school playing-field and trimming shrubs and bushes.
Unlocking and locking the school at the beginning and end of each day.
Education
1995 East CollegeNVQ Level 1 Carpentry and Woodwork1994 High School, Hants5 GCSEs grades A-C
References
References are available on request.This handyman caretaker CV sample is one of the hundreds of CV samples on our website, so whatever job you are looking for, there is bound to be a CV sample that will help to inspire you. Our online tools and CV builders are also invaluable for any jobseeker needing to draft a CV.