Customize this CV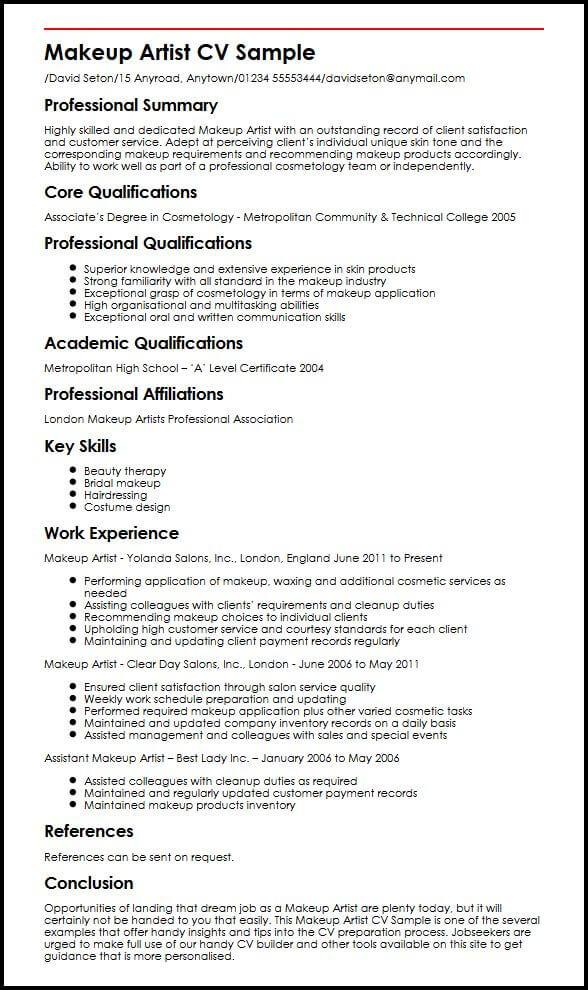 ---
Create This CV
The first critical step in furthering your career as a makeup artist is to design a CV that stands out, positively highlighting your strengths while clearly reflecting your Cosmetology skills and abilities. Our free Makeup Artist CV Sample will be an invaluable tool that comes to help you gain insights into what needs to be included in your CV. It will also guide you on the most suitable CV format that is guaranteed to catch the attention of recruiting managers.
Makeup Artist CV Sample
/David Seton/15 Anyroad, Anytown/01234 55553444/davidseton@anymail.com
Professional Summary
Highly skilled and dedicated Makeup Artist with an outstanding record of client satisfaction and customer service. Adept at perceiving client's individual unique skin tone and the corresponding makeup requirements and recommending makeup products accordingly. Ability to work well as part of a professional cosmetology team or independently.
Core Qualifications
Associate's Degree in Cosmetology – Metropolitan Community & Technical College 2005
Professional Qualifications
Superior knowledge and extensive experience in skin products
Strong familiarity with all standard in the makeup industry
Exceptional grasp of cosmetology in terms of makeup application
High organisational and multitasking abilities
Exceptional oral and written communication skills
Academic Qualifications
Metropolitan High School | 'A' Level Certificate 2004
Professional Affiliations
London Makeup Artists Professional Association
Key Skills
Beauty therapy
Bridal makeup
Hairdressing
Costume design
Work Experience
Makeup Artist – Yolanda Salons, Inc., London, England June 2011 to Present
Performing application of makeup, waxing and additional cosmetic services as needed
Assisting colleagues with clients' requirements and cleanup duties
Recommending makeup choices to individual clients
Upholding high customer service and courtesy standards for each client
Maintaining and updating client payment records regularly
Makeup Artist – Clear Day Salons, Inc., London – June 2006 to May 2011
Ensured client satisfaction through salon service quality
Weekly work schedule preparation and updating
Performed required makeup application plus other varied cosmetic tasks
Maintained and updated company inventory records on a daily basis
Assisted management and colleagues with sales and special events
Assistant Makeup Artist | Best Lady Inc. | January 2006 to May 2006
Assisted colleagues with cleanup duties as required
Maintained and regularly updated customer payment records
Maintained makeup products inventory
References
References can be sent on request.
Conclusion
Opportunities of landing that dream job as a Makeup Artist are plenty today, but it will certainly not be handed to you that easily. This Makeup Artist CV Sample is one of the several examples that offer handy insights and tips into the CV preparation process. Jobseekers are urged to make full use of our handy CV builder and other tools available on this site to get guidance that is more personalised.