Knowing what defines and accurate and streamlined CV is easier said than done, with technology changing the way we present ourselves and our key qualifications. You will need to take numerous metrics into account such as your experience, your talents, your professional qualifications and your goals. This can be slightly challenging if you have never written this type of document before. As you need to place yourself in the most advantageous position possible to obtain a rewarding job title. Our modern CV example is designed to illustrate how this document is formatted as well as some of the important information that should be contained within. For the sake of this article, we will utilise architecture as a profession.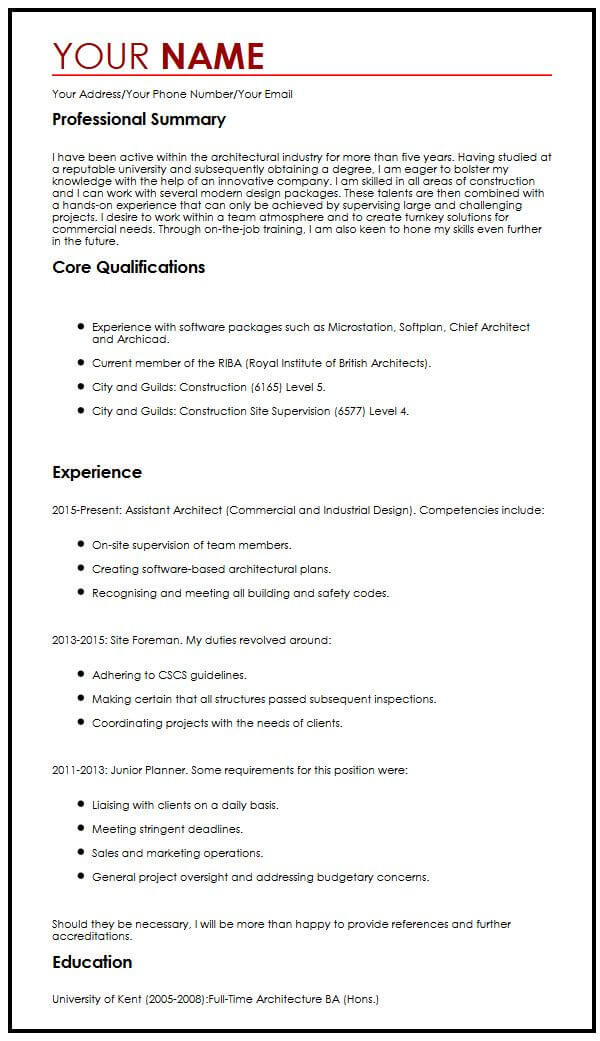 Our professional CV builder is designed to build the most powerful resume and save you time.
Your Address/Your Phone Number/Your Email
Professional Summary
I have been active within the architectural industry for more than five years. Having studied at a reputable university and subsequently obtaining a degree, I am eager to bolster my knowledge with the help of an innovative company. I am skilled in all areas of construction and I can work with several modern design packages. These talents are then combined with a hands-on experience that can only be achieved by supervising large and challenging projects. I desire to work within a team atmosphere and to create turnkey solutions for commercial needs. Through on-the-job training, I am also keen to hone my skills even further in the future.
Core Qualifications
Experience with software packages such as Microstation, Softplan, Chief Architect and Archicad.
Current member of the RIBA (Royal Institute of British Architects).
City and Guilds: Construction (6165) Level 5.
City and Guilds: Construction Site Supervision (6577) Level 4.
Experience
2015-Present: Assistant Architect (Commercial and Industrial Design). Competencies include:
On-site supervision of team members.
Creating software-based architectural plans.
Recognising and meeting all building and safety codes.
2013-2015: Site Foreman.My duties revolved around:
Adhering to CSCS guidelines.
Making certain that all structures passed subsequent inspections.
Coordinating projects with the needs of clients.
2011-2013: Junior Planner.Some requirements for this position were:
Liaising with clients on a daily basis.
Meeting stringent deadlines.
Sales and marketing operations.
General project oversight and addressing budgetary concerns.
Should they be necessary, I will be more than happy to provide references and further accreditations.
Education
University of Kent (2005-2008):Full-Time Architecture BA (Hons.)
Conclusion
This modern CV example illustrates all of the most important talents, experience and education that the individual possesses. It provides you with insight into the motivation of the job applicant. We encourage you to have a further look at our other tips and tricks.