Whether you have a few qualifications or a lot, making sure your CV stacks up is an essential part of landing the job you want. This simple CV example provides a look at what might make up a CV, regardless of the position, experience and job location you're going for. Beyond giving you an idea of what information to provide, this simple CV example shows you what sort of formatting should generally be used as part of a CV. Overall, this simple CV is a great basic example of what hiring managers might look for.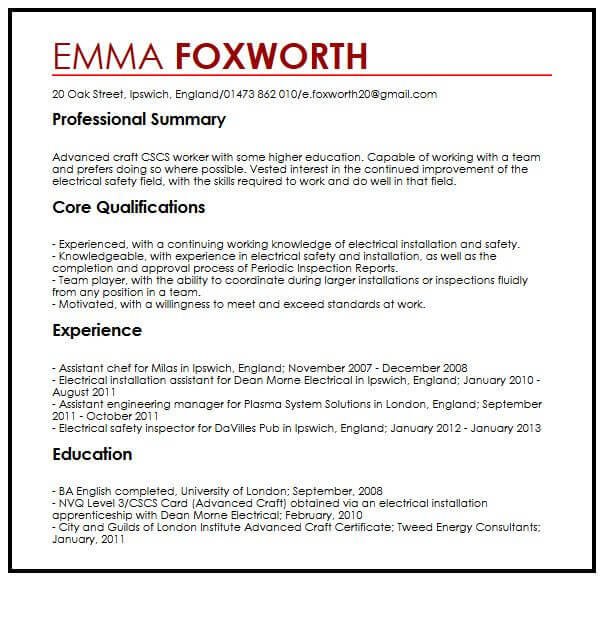 20 Oak Street, Ipswich, England/01473 862 010/e.foxworth20@gmail.com

Professional Summary
Advanced craft CSCS worker with some higher education. Capable of working with a team and prefers doing so where possible. Vested interest in the continued improvement of the electrical safety field, with the skills required to work and do well in that field.
Core Qualifications
- Experienced, with a continuing working knowledge of electrical installation and safety. - Knowledgeable, with experience in electrical safety and installation, as well as the completion and approval process of Periodic Inspection Reports. - Team player, with the ability to coordinate during larger installations or inspections fluidly from any position in a team. - Motivated, with a willingness to meet and exceed standards at work.
Experience
- Assistant chef for Milas in Ipswich, England; November 2007 - December 2008 - Electrical installation assistant for Dean Morne Electrical in Ipswich, England; January 2010 - August 2011 - Assistant engineering manager for Plasma System Solutions in London, England; September 2011 - October 2011 - Electrical safety inspector for DaVilles Pub in Ipswich, England; January 2012 - January 2013
Education
- BA English completed, University of London; September, 2008 - NVQ Level 3/CSCS Card (Advanced Craft) obtained via an electrical installation apprenticeship with Dean Morne Electrical; February, 2010 - City and Guilds of London Institute Advanced Craft Certificate; Tweed Energy Consultants; January, 2011
Conclusion
This simple CV example is just one of many examples available on this website. A job seeker should consider consulting the other examples, or using the CV builder, also on offer.