Most experts recommend that brevity is the soul of wit in terms of creating a CV. In other words, it's all about quality rather than quantity, but keeping the information limited to a two-page space can prove tricky. The two-page CV example within this article illustrates how this important document can be formatted in such a way to properly highlight your specific talents.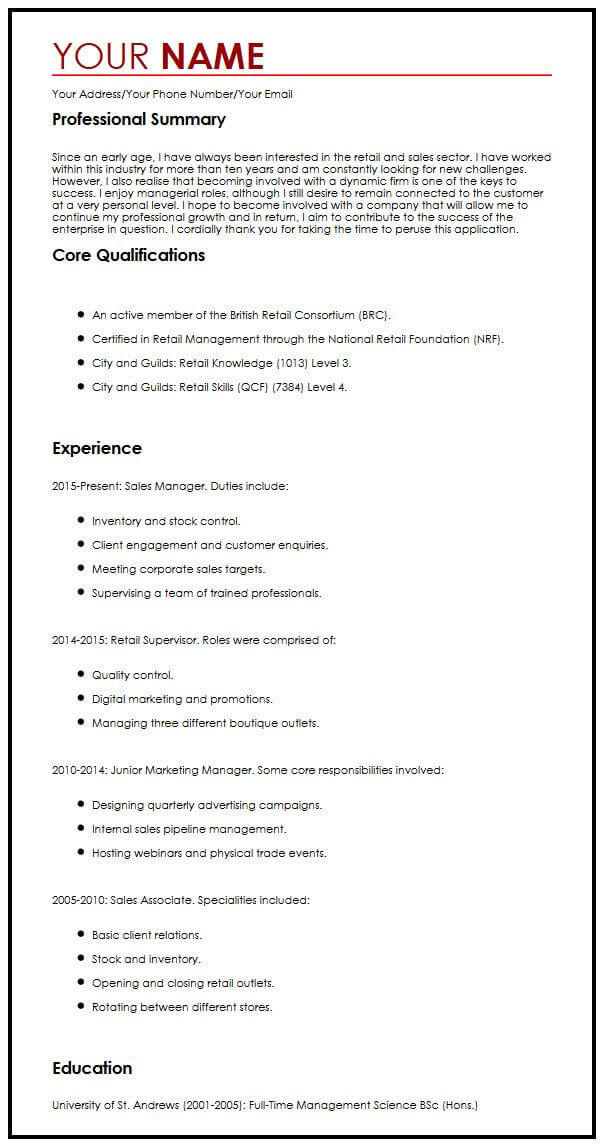 Your Address/Your Phone Number/Your Email
Professional Summary
Since an early age, I have always been interested in the retail and sales sector. I have worked within this industry for more than ten years and am constantly looking for new challenges. However, I also realise that becoming involved with a dynamic firm is one of the keys to success. I enjoy managerial roles, although I still desire to remain connected to the customer at a very personal level. I hope to become involved with a company that will allow me to continue my professional growth and in return, I aim to contribute to the success of the enterprise in question. I cordially thank you for taking the time to peruse this application.
Core Qualifications
An active member of the British Retail Consortium (BRC).
Certified in Retail Management through the National Retail Foundation (NRF).
City and Guilds: Retail Knowledge (1013) Level 3.
City and Guilds: Retail Skills (QCF) (7384) Level 4.
Experience
2015-Present: Sales Manager. Duties include:
Inventory and stock control.
Client engagement and customer enquiries.
Meeting corporate sales targets.
Supervising a team of trained professionals.
2014-2015: Retail Supervisor. Roles were comprised of:
Quality control.
Digital marketing and promotions.
Managing three different boutique outlets.
2010-2014: Junior Marketing Manager. Some core responsibilities involved:
Designing quarterly advertising campaigns.
Internal sales pipeline management.
Hosting webinars and physical trade events.
2005-2010: Sales Associate. Specialities included:
Basic client relations.
Stock and inventory.
Opening and closing retail outlets.
Rotating between different stores.
Education
University of St. Andrews (2001-2005): Full-Time Management Science BSc (Hons.)
Conclusion
This two-page CV example should now illustrate the fact that longer presentations can still provide very useful information to the prospective employer. There are many other CV samples available throughout this site; each intended to be adapted to meet very specific needs.