Car Driver CV Example
Driving a car can be a fulfilling and a financially rewarding experience.However, presenting a well-constructed CV is the best way to illustrate your talents, accomplishments and professional desire.This process can be daunting at times and for this reason, it is always wise to use this template to your advantage.This will help you to appreciate the type of information to present and the proper formatting that is utilised.So, please have a close look at our car driver CV sample found below.
Create This CVSee all templates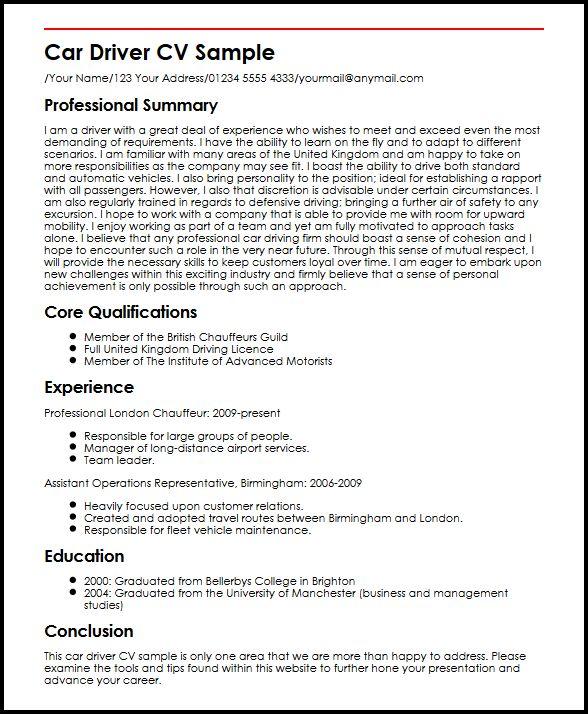 Build a professional CV that gets you hired.
Car Driver CV Sample/Your Name/123 Your Address/01234 5555 4333/yourmail@anymail.com
Professional Summary
I am a driver with a great deal of experience who wishes to meet and exceed even the most demanding of requirements.I have the ability to learn on the fly and to adapt to different scenarios.I am familiar with many areas of the United Kingdom and am happy to take on more responsibilities as the company may see fit.I boast the ability to drive both standard and automatic vehicles.I also bring personality to the position; ideal for establishing a rapport with all passengers.However, I also that discretion is advisable under certain circumstances.I am also regularly trained in regards to defensive driving; bringing a further air of safety to any excursion.I hope to work with a company that is able to provide me with room for upward mobility.I enjoy working as part of a team and yet am fully motivated to approach tasks alone.I believe that any professional car driving firm should boast a sense of cohesion and I hope to encounter such a role in the very near future.Through this sense of mutual respect, I will provide the necessary skills to keep customers loyal over time.I am eager to embark upon new challenges within this exciting industry and firmly believe that a sense of personal achievement is only possible through such an approach.
Core Qualifications
Member of the British Chauffeurs Guild
Full United Kingdom Driving Licence
Member of The Institute of Advanced Motorists
Experience
Professional London Chauffeur: 2009-present
Responsible for large groups of people.
Manager of long-distance airport services.
Team leader.
Assistant Operations Representative, Birmingham: 2006-2009
Heavily focused upon customer relations.
Created and adopted travel routes between Birmingham and London.
Responsible for fleet vehicle maintenance.
Education
2000: Graduated from Bellerbys College in Brighton
2004: Graduated from the University of Manchester (business and management studies)
Conclusion
This car driver CV sample is only one area that we are more than happy to address.Please examine the tools and tips found within this website to further hone your presentation and advance your career.