Taxi Driver CV Example
A CV that's well written and targeted to the specific job you want is the first step towards your taxi driver career. In order to catch the eye of a prospective employer, it's important that your CV lists all the relevant skills and experience. You also need to ensure that your CV is correctly set out and formatted, making it easy for employers to find and weight up the information they need to make a decision. It is very helpful at this stage to read through a taxi cab driver CV sample, as this can give you a better idea of what is expected. Our taxi cab driver CV sample below is a great starting point.
Create This CVSee all templates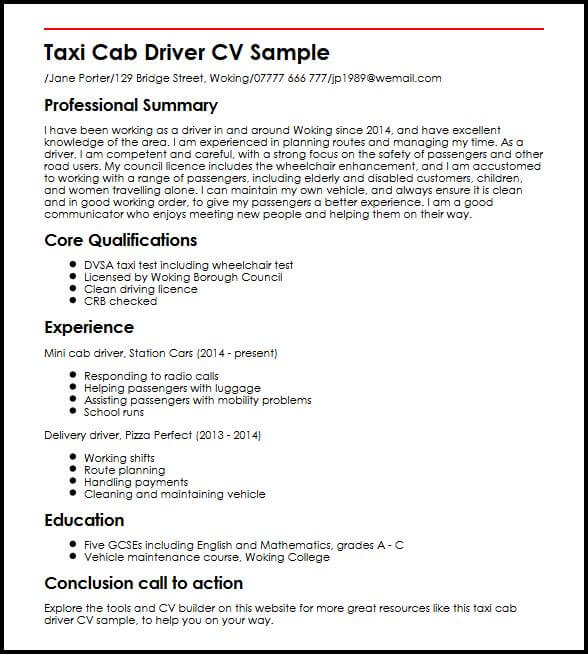 Build a professional CV that gets you hired.
Taxi Cab Driver CV Sample/Jane Porter/129 Bridge Street, Woking/07777 666 777/jp1989@wemail.com
Professional Summary
I have been working as a driver in and around Woking since 2014, and have excellent knowledge of the area. I am experienced in planning routes and managing my time. As a driver, I am competent and careful, with a strong focus on the safety of passengers and other road users. My council licence includes the wheelchair enhancement, and I am accustomed to working with a range of passengers, including elderly and disabled customers, children, and women travelling alone. I can maintain my own vehicle, and always ensure it is clean and in good working order, to give my passengers a better experience. I am a good communicator who enjoys meeting new people and helping them on their way.
Core Qualifications
DVSA taxi test including wheelchair test
Licensed by Woking Borough Council
Clean driving licence
CRB checked
Experience
Mini cab driver, Station Cars (2014 - present)
Responding to radio calls
Helping passengers with luggage
Assisting passengers with mobility problems
School runs
Delivery driver, Pizza Perfect (2013 - 2014)
Working shifts
Route planning
Handling payments
Cleaning and maintaining vehicle
Education
Five GCSEs including English and Mathematics, grades A - C
Vehicle maintenance course, Woking College
Conclusion call to action
Explore the tools and CV builder on this website for more great resources like this taxi cab driver CV sample, to help you on your way.