Long Haul Lorry Driver CV Example
A long-haul lorry driver is a diverse and rewarding employment possibility.Not only will you be able to experience various portions of the United Kingdom (and indeed other parts of Europe), but the "romance of the open road" entices many candidates each and every year.While it is important to possess all of the most relevant driving skills, it is just as crucial to present an impressive and well-rounded CV to a prospective driving company.We are therefore quite pleased to provide you with this long haul lorry driver CV sample.Please spend some time and examine its contents in greater detail.
Create This CVSee all templates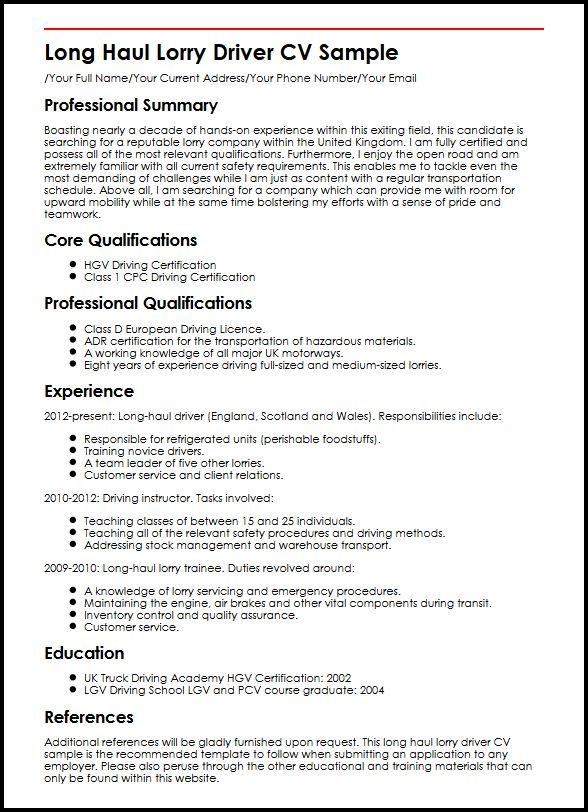 Build a professional CV that gets you hired.
Long Haul Lorry Driver CV Sample/Your Full Name/Your Current Address/Your Phone Number/Your Email
Professional Summary
Boasting nearly a decade of hands-on experience within this exiting field, this candidate is searching for a reputable lorry company within the United Kingdom.I am fully certified and possess all of the most relevant qualifications.Furthermore, I enjoy the open road and am extremely familiar with all current safety requirements.This enables me to tackle even the most demanding of challenges while I am just as content with a regular transportation schedule.Above all, I am searching for a company which can provide me with room for upward mobility while at the same time bolstering my efforts with a sense of pride and teamwork.
Core Qualifications
HGV Driving Certification
Class 1 CPC Driving Certification
Professional Qualifications
Class D European Driving Licence.
ADR certification for the transportation of hazardous materials.
A working knowledge of all major UK motorways.
Eight years of experience driving full-sized and medium-sized lorries.
Experience
2012-present: Long-haul driver (England, Scotland and Wales).Responsibilities include:
Responsible for refrigerated units (perishable foodstuffs).
Training novice drivers.
A team leader of five other lorries.
Customer service and client relations.
2010-2012: Driving instructor.Tasks involved:
Teaching classes of between 15 and 25 individuals.
Teaching all of the relevant safety procedures and driving methods.
Addressing stock management and warehouse transport.
2009-2010: Long-haul lorry trainee.Duties revolved around:
A knowledge of lorry servicing and emergency procedures.
Maintaining the engine, air brakes and other vital components during transit.
Inventory control and quality assurance.
Customer service.
Education
UK Truck Driving Academy HGV Certification: 2002
LGV Driving School LGV and PCV course graduate: 2004
References
Additional references will be gladly furnished upon request.This long haul lorry driver CV sample is the recommended template to follow when submitting an application to any employer.Please also peruse through the other educational and training materials that can only be found within this website.