Semi Lorry Driver CV Example
When applying for a job, it's vital to have a CV that is both up to date and tailored to the job you want. A semi lorry driver CV sample can help you decide which information to include or emphasise, and how to put your work experience, qualifications, and skills in order. A CV that's well written and laid out, using formatting and style that makes it easy to read, will really stand out, making recruiters and employers sit up and take notice. The semi lorry driver CV sample below has been created as an example of the kind of document that grabs attention and wins interviews.
Create This CVSee all templates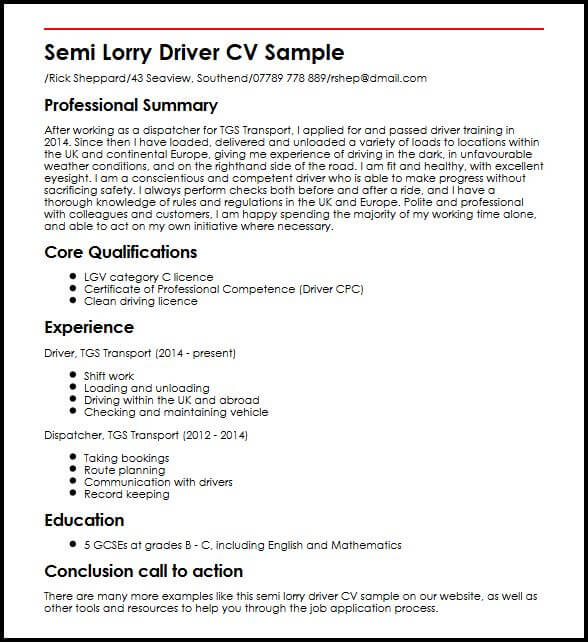 Build a professional CV that gets you hired.
Semi Lorry Driver CV Sample/Rick Sheppard/43 Seaview, Southend/07789 778 889/rshep@dmail.com
Professional Summary
After working as a dispatcher for TGS Transport, I applied for and passed driver training in 2014. Since then I have loaded, delivered and unloaded a variety of loads to locations within the UK and continental Europe, giving me experience of driving in the dark, in unfavourable weather conditions, and on the righthand side of the road. I am fit and healthy, with excellent eyesight. I am a conscientious and competent driver who is able to make progress without sacrificing safety. I always perform checks both before and after a ride, and I have a thorough knowledge of rules and regulations in the UK and Europe. Polite and professional with colleagues and customers, I am happy spending the majority of my working time alone, and able to act on my own initiative where necessary.
Core Qualifications
LGV category C licence
Certificate of Professional Competence (Driver CPC)
Clean driving licence
Experience
Driver, TGS Transport (2014 - present)
Shift work
Loading and unloading
Driving within the UK and abroad
Checking and maintaining vehicle
Dispatcher, TGS Transport (2012 - 2014)
Taking bookings
Route planning
Communication with drivers
Record keeping
Education
5 GCSEs at grades B - C, including English and Mathematics
Conclusion call to action
There are many more examples like this semi lorry driver CV sample on our website, as well as other tools and resources to help you through the job application process.