Caretaker CV Example
Being a caretaker takes a specific set of skills and experience, which you can show you possess by using our online caretaker CV sample for free. Our powerful online tools are valuable assets in your quest to build a great CV to impress the recruitment teams at the various establishments you're targeting. This should put you in a strong position to be selected for interview.
Create This CVSee all templates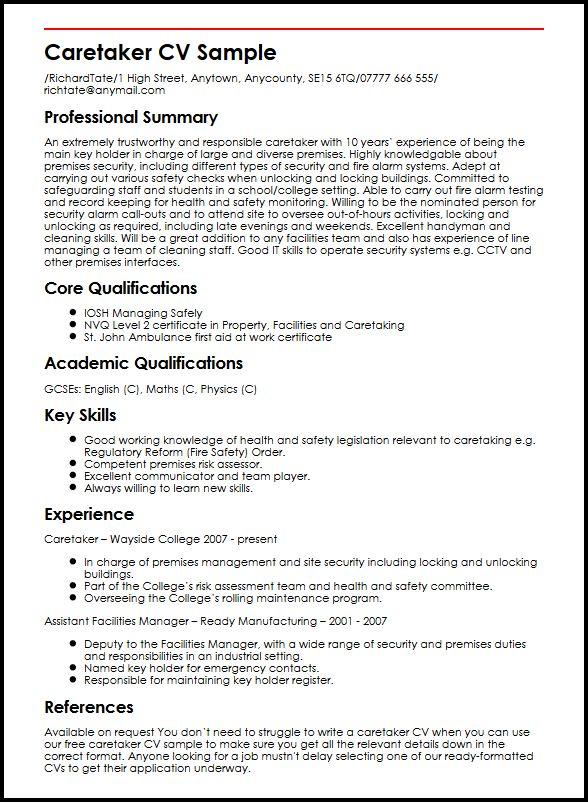 Build a professional CV that gets you hired.
Caretaker CV Sample/RichardTate/1 High Street, Anytown, Anycounty, SE15 6TQ/07777 666 555/ richtate@anymail.com
Professional Summary
An extremely trustworthy and responsible caretaker with 10 years' experience of being the main key holder in charge of large and diverse premises. Highly knowledgable about premises security, including different types of security and fire alarm systems. Adept at carrying out various safety checks when unlocking and locking buildings. Committed to safeguarding staff and students in a school/college setting. Able to carry out fire alarm testing and record keeping for health and safety monitoring. Willing to be the nominated person for security alarm call-outs and to attend site to oversee out-of-hours activities, locking and unlocking as required, including late evenings and weekends. Excellent handyman and cleaning skills. Will be a great addition to any facilities team and also has experience of line managing a team of cleaning staff. Good IT skills to operate security systems e.g. CCTV and other premises interfaces.
Core Qualifications
IOSH Managing Safely
NVQ Level 2 certificate in Property, Facilities and Caretaking
St. John Ambulance first aid at work certificate
Academic Qualifications
GCSEs: English (C), Maths (C, Physics (C)
Key Skills
Good working knowledge of health and safety legislation relevant to caretaking e.g. Regulatory Reform (Fire Safety) Order.
Competent premises risk assessor.
Excellent communicator and team player.
Always willing to learn new skills.
Experience
Caretaker | Wayside College 2007 - present
In charge of premises management and site security including locking and unlocking buildings.
Part of the College's risk assessment team and health and safety committee.
Overseeing the College's rolling maintenance program.
Assistant Facilities Manager | Ready Manufacturing | 2001 - 2007
Deputy to the Facilities Manager, with a wide range of security and premises duties and responsibilities in an industrial setting.
Named key holder for emergency contacts.
Responsible for maintaining key holder register.
References
Available on requestYou don't need to struggle to write a caretaker CV when you can use our free caretaker CV sample to make sure you get all the relevant details down in the correct format. Anyone looking for a job mustn't delay selecting one of our ready-formatted CVs to get their application underway.
Related CVs Maintenance s