Production Manager CV Example
When writing a CV for workers over 50, you need to create a document that is written using the right wording and aims to get you the job you're interested in. Your CV must also show your main qualifications, skills and accomplishments, and the CV Sample for Workers Over 50 is a very helpful document that will help you to gauge what information to include and the style and format in which to write it. Recruiting managers prefer professionally written CVs and the CV Sample for Workers Over 50 is just the type of CV that will stand you in good stead for getting to the interview stage.

Create This CVSee all templates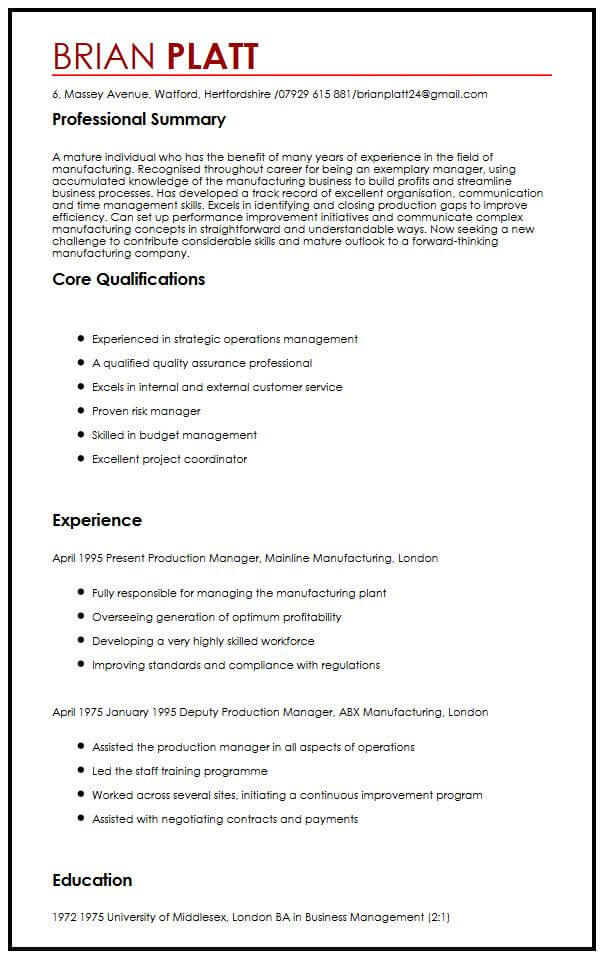 Build a professional CV that gets you hired.
6, Massey Avenue, Watford, Hertfordshire /07929 615 881/brianplatt24@gmail.com
Professional Summary
A mature individual who has the benefit of many years of experience in the field of manufacturing. Recognised throughout career for being an exemplary manager, using accumulated knowledge of the manufacturing business to build profits and streamline business processes. Has developed a track record of excellent organisation, communication and time management skills. Excels in identifying and closing production gaps to improve efficiency. Can set up performance improvement initiatives and communicate complex manufacturing concepts in straightforward and understandable ways. Now seeking a new challenge to contribute considerable skills and mature outlook to a forward-thinking manufacturing company.
Core Qualifications
Experienced in strategic operations management
A qualified quality assurance professional
Excels in internal and external customer service
Proven risk manager
Skilled in budget management
Excellent project coordinator
Experience
April 1995PresentProduction Manager, Mainline Manufacturing, London
Fully responsible for managing the manufacturing plant
Overseeing generation of optimum profitability
Developing a very highly skilled workforce
Improving standards and compliance with regulations
April 1975January 1995Deputy Production Manager, ABX Manufacturing, London
Assisted the production manager in all aspects of operations
Led the staff training programme
Worked across several sites, initiating a continuous improvement program
Assisted with negotiating contracts and payments
Education
19721975University of Middlesex, LondonBA in Business Management (2:1)
Conclusion
The CV Sample for Workers Over 50 is one of a comprehensive collection designed to give you essential information about the CV writing process. When you're searching for jobs, using our online CV builder as well as the other tools on our site will prove very valuable, guiding you through the CV writing process.