The CV Format You Choose Has Instant Impact
The average recruiter spends only 6 seconds looking at a CV, so you need a layout that encourages skim reading. At the same time, it needs to be in a format that works with Applicant Tracking Systems (ATS) software, which scan for specific keywords.
Learn more about how to choose CV templates that give you the right format and layout. Then use a combination of our CV templates and builder to build your perfect CV.
What's the Best CV Layout?
The best CV layout clearly communicates your professionalism and work history, while also ensuring it's easy for both software and employers to scan. Consider the following key aspects of your CV layout:
Length
Your CV layout should be no longer than 2 pages of A4. Anything longer bores employers, and is likely to be discarded. 
Structure
Each section of information, like your personal statement, work history, and education, should be clearly set out in a logical order. Start with a clear personal statement, then list relevant work experience in reverse chronological order. Follow up with skills, then education.
Headings, subheadings, and bullet points
A strong CV layout has clearly defined headings, making it easy for a recruiter to identify where key information is likely to be. Using sub-headings and bullet points further break up text and make keywords more discoverable.
Colour
Just because multicoloured CV templates are available doesn't mean that you should choose them. Using a secondary colour isn't inappropriate in the UK, but any more looks unprofessional.
Fonts
Templates with unique fonts may look interesting but are seldom loved by employers. They're often hard for both ATS and recruiters to read. Keep the fonts clear and simple - check out our CV templates to see what's recommended.
Industry appropriateness
Show you understand industry expectations by choosing a layout that works for the role you want. For example, a CV for a Web Developer role with a startup might be less formal and more skills-focused. But an Analyst in financial services will require a precise, formal CV template.
Consistency with your cover letter
By choosing a CV template that matches the template you use for your cover letter, you create a strong application.

The right CV layout will make a recruiter want to read to the end of the document
30 of the UK's Most Popular CV Layouts and Formats
Stand out from the crowd by choosing the right CV layout for the role you want.
15 Common CV Layout Mistakes to Avoid
The right CV layout can be the difference between a strong job application and a CV that lands in the rubbish bin. Stand out with a perfect CV by avoiding these common layout mistakes:
Filling every space on the CV with information
Cramming lots of text into CVs creates instant problems. It's difficult for an ATS to pick out keywords which may mean rejection at the first hurdle. And when recruiters finally get the CVs, the lack of white space makes them hard to skim read. Instead, keep content concise.
Using a creative font
A creative font gets in the way of clear communication, distracting the recruiter who's only got 6 seconds to find key bits of information. A professional CV template helps by choosing an appropriate font that will do the job nicely.
Adding colours and images
Your CV needs to stand out for the right reasons: looking professional and being easy to read. Multicoloured, image-heavy CVs make the opposite impression. Even if you're applying for a fashion or design role, don't treat your CV like a portfolio. Keep it clean and uncluttered with one subtle accent colour at most.
Including a selfie
88% of UK CVs with a headshot are instantly rejected. And if your headshot is a selfie, you can pretty much guarantee that number rises to 100%. What you look like is completely irrelevant for most positions, so keep your CV photo-free.
Using an unprofessional email address
A quirky email address might be funny but it doesn't create a professional first impression. Nor does a job application sent from your current work email. If you don't have one already, set up a separate email for your job applications.
Giving a detailed account of every job you've ever had
An overly detailed career history is a turn-off - it implies that you don't know what's important. While you may choose to list every position you've held, keep descriptions particularly succinct for older and less relevant roles.
Including irrelevant personal information
UK employers are not legally allowed to ask your age, gender, or marital status. Your religion and political affiliations are not usually relevant either. So don't include them! Use the space to highlight related strengths and successes instead.
Providing reference details
In most cases you don't need to provide contact details for referees before you've even had an interview. Simply state that 'References are available on request'. Let potential employers ask for contact details later in the interview process.
Sharing all your social media profile links
Your Instagram and Facebook profiles may highlight your quirky, creative side. But they may also include images of you drunk or engaging in unprofessional behaviour. Only include links to online portfolios or LinkedIn, and consider keeping some social media channels private when you apply for roles.
Writing long blocks of text
Recruiters will only scan your CV before deciding whether it's worth reading. Long paragraphs are hard to scan - use numbered or bulleted lists to make the content easy to read.
Changing the standard layout to keep things interesting
Recruiters rely on candidates using standard CV templates and layouts to make their job easy. It doesn't matter if you think the layout is boring - it only matters what the recruiter thinks. They value a standard CV layout, so give them what they want.
Forgetting to check your contact details are correct
It's a simple mistake but one that many candidates make. Even if they love your CV, employers won't hunt you down - they'll just move on to the next applicant. So check you've spelled your email address correctly and that you've included the correct mobile phone number.
Going on too long
A two-page CV is the limit in the UK - anything longer feels too much like hard work to a busy recruiter. If you're brand new to the workforce, it's fine to stick to a one-page CV.
Bending the truth
It may be tempting to exaggerate your achievements on your CV. After all, isn't everybody doing it? No, they're not. And even if they were, you're hardly creating a professional impression by lying. When you get an interview you'll have to prove that you have the skills you've mentioned. Be positive, but also be honest.
Underplaying relevant achievements
Sometimes you have to blow your own trumpet. Highlighting your achievements isn't boasting - it's demonstrating that you're a qualified, high-achieving candidate. Quantifying the impact of your work is a great way to stand out.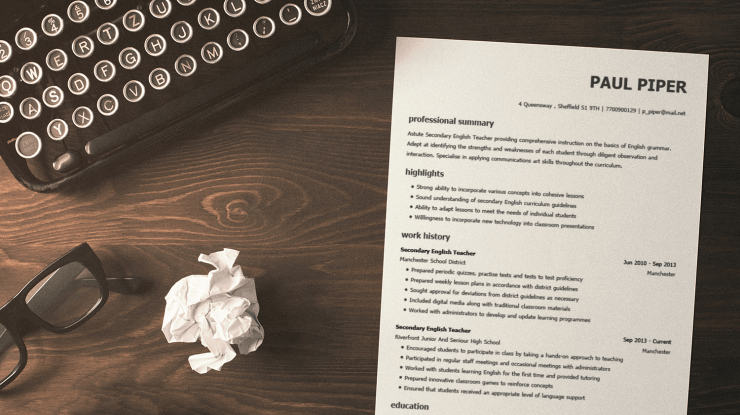 3 Common Questions About CV Formatting & Layouts
1: How do you format a CV?
Format a CV by choosing a professional CV template and filling in key details. Ensure that you include:
Up-to-date, correct contact details.
A personal statement that summarises your strengths and how they relate to the role.
Work experience, listed in reverse chronological order.
Skills that are clearly relevant to the position.
Your education, including qualifications.
Our CV builder takes care of the formatting for you, so you can focus on the content. See what it has to offer.
2: How can I write a good CV?
Write a good CV by packing the relevant information into just 1-2 sides of A4. A professional CV builder and the right CV template can make a huge difference.
Be specific about your strengths and achievements. Use facts and figures like meeting or exceeding sales targets.
Build a list of keywords: the skills and work experience the job description mentions. Include these to appeal to both ATS and employers.
Proofread the content multiple times, then read it out loud to confirm it reads well.
Use a professional CV builder to make it quick, easy, and professional.
3: I've found the right CV, should I stick to it?
Don't stick to just one CV. It's critical that your CV is customised to specifically meet the job description for each role. Why?
Re-using an existing CV shows a lack of effort and interest in the position.
A specific CV template will conform to industry expectations for the role. A more general CV won't.
A CV template suited to more junior roles will become outdated as you build your career history.
We have CV templates and examples for almost every role and industry. Take a look and find the right CV for you, right now.
The Advantages of Using an Online CV Layout
Once you've written a CV you need to figure out how to format it. It takes hours to design your own template and sort out a structure, and we believe your time is better spent customising the content and attending interviews.
So instead of creating CV formatting drama, just use one of our readymade templates in our online CV builder. Professionally developed thanks to over a decade's experience in the field, you'll get a professional layout and the convenience of online access. Here are the key advantages:
A readymade structure
An easy-to-read structure makes it much easier to fill in content. If information doesn't slot easily into one of the sections outlined, rethink including it or find a different way of highlighting it.
Appropriate fonts and colours
Mixing and matching font sizes and colours is a classic CV building time-waster. An online CV template has already done the work, providing you with a few appropriate choices that won't distract from the content.
ATS-friendly
Our online CV formats have been devised with ATS in mind. This means it's easy for the filters to find keywords, helping your CV to make it through for human consideration.
Always-on access
Online CV tools make it quick and easy to add and edit content - anytime, anywhere, and on any device. This means you can fit in CV creation with your busy life.
Find the Right CV Layout
Get your CV layout right and you'll be more successful in taking the next step in your career. Use our CV formats and builder to make sure that employers get the clearest possible picture of what you have to offer.
What are you waiting for? Start building your CV now and get the job you want.