The CV Format You Choose Has Instant Impact
The average recruiter spends only 6 seconds looking at a CV. It's a short amount of time, and you can only absorb vital details. For your CV to be effective, it needs a layout that encourages skim reading and makes it easy to spot the most important pieces of information. Use our CV builder and you can be certain your CV will have a layout like this.
Many companies now make use of ATS (Applicant Tracking Systems), automated software which scans a CV looking for specific keywords relating to the job in question. If the ATS doesn't find these keywords, your CV will never get into the hands of a recruiter. The best CV layout will make the keywords easy to find by using a standard industry format.
The other factor that has a huge impact on CV layout is the position you've applied for. Certain sectors, such as finance and the law, demand highly specific and formal formats. Creative jobs, on the other hand, might encourage a slightly more expressive use of fonts, colours and formatting.
Choosing the right CV layout will put you on an equal footing with fellow applicants and will enable recruiters to see, at a glance, that you understand the profession and have a professional approach. Our CV templates offer a wide range of layout and formats, helping you to take the first step toward creating the perfect CV.
What is the Best CV Layout?
Don't make the mistake of thinking that the content of your CV is all that matters. The best CV format is at least as important as what it says about you. The 6 second rule means that a sub-standard CV layout will lead to it being rejected by a recruiter pretty much instantly. This instant evaluation is one of the main reasons you have to use the best CV layout you can.

The right CV layout will make a recruiter want to read to the end of the document
The right CV layout will make a recruiter want to read to the end of the document, at the same time as making it easy for them to pick out the keywords and pieces of information they need to see. Consider the following key aspects your CV layout:
Length
The CV format you choose should be no longer than 2 pages of A4. Anything longer may even stop a recruiter before they bother reading any of it.
The structure
The structure of your CV is vital. Each section of information, such as personal statement, employment and education, should be set out in clearly separate blocks and labelled to make them easy to find. Both the ATS and a recruiter will be looking for the keywords set out in the job description, and a good CV layout will make them easy to find and tick off the list.
A strong CV format will also play part in helping you to write the best CV possible. It will make it easier decide exactly where to mention different aspects of your experience and key skills you have.
Starting with a clear personal statement will give the recruiter a strong sense of who you are and what you're offering. Work experience set out in reverse chronological order will also make it simple to trace your development over the years.
Headings, subheadings and bullet points
Clearly defined headings will mean your CV layout makes it easy for a recruiter or ATS to skim read the document and establish that you've included the minimum information required.
A large block of text can be off-putting, especially if you're a recruiter who has to get through tens if not hundreds of CVs. Breaking down the information with sub-headings and bullet points will encourage a recruiter to explore further, and will make it easier to pick out individual facts such as qualifications gained.
Using colour
The fact that you can design or print a multi-coloured CV doesn't mean you should. By all means use some subtle shading to make your CV layout stand out slightly, but anything more than 2 colours will look garish and off-putting.
Fonts
The purpose of the fonts you choose for the best CV layout is to make the information you're including extremely clear and easily readable. All the fonts should be clear and simple. Too many contrasting or "creative" fonts will just make your CV look confused and unprofessional.
Industry appropriateness
A great CV layout will help you to be seen as being in tune with the industry you want to work in. For example, a tech CV might be less formal and more skills-focused, while a financial services CV will be expected to be highly formal and exact in style.
Take a look at different CV format examples in your chosen profession to understand what the conventions are. Get it right and just a glance at your CV will show that you're a good fit for the industry in question.
Check Out 30 of the UK's Most Popular CV Layouts and Formats
Our CV layouts and formats will help you to create the perfect CV for the job you're targeting. They've been designed by experts who know everything there is to know about each sector. By using the right CV layout, you'll demonstrate to the recruiter at a glance that you understand the sector in question.
According to recruitment experts, an average of 118 people apply for every job. Make sure that your CV looks professional enough to make you stand out from the competition.
15 Common CV Layout Mistakes to Avoid
There's no getting away from the fact that choosing the best CV layout for a job application is difficult. You might be a creative trying to express their flair, a student keen to emphasise educational achievements, or a sales executive with a track record of results to highlight.
No matter what your situation is, looking at a blank piece of paper and deciding where to put each piece of information can be frustrating. Using our online CV builder removes the stress by recommending CV layouts that work for the role you're applying for. The rich CV layout will also make it much easier to concentrate on the content of your CV and avoid the following mistakes:
1.
Filling every space on the CV with information
Too much text crammed onto a CV creates instant problems. It will make it difficult for an ATS to pick out the keywords required, and that might mean your CV is rejected at the first hurdle.
If it does get past the ATS it will be picked up by a recruiter, who will spend an average of 6 seconds skim reading it to pick out relevant facts. Dense text and a lack of white space make your CV hard to skim read. Keep it concise and leave room for the text to breathe.
A good CV layout conveys the maximum amount of information in the minimum amount of time. At a glance, a recruiter should be able to gauge that you're a professional candidate who understands the sector you're applying to.
A creative font will simply get in the way of this process. It will distract a recruiter who is busy looking for key bits of information, and it could create the impression that you're not treating the CV seriously. Even if you're applying for a creative role, your ability should be showcased through the facts you present, not your choice of font, so use two classic fonts at most.
3.
Excessive use of colours and images
Making your CV stand out from the crowd is vital. Using lots of colours and images to try and do that is a mistake. It will merely distract from the information you're trying to present, and will make it more difficult for an ATS to pick out the keywords it is looking for. In many professions - such as finances, the law and medicine - the use of images will appear hugely unprofessional.
Even if you're applying in a sector such as fashion or design, you should resist the temptation to treat your CV like a form of portfolio. Mention the work you've done, but keep the CV itself clear and uncluttered, with one subtle accent colour at most.
In the social media age, when virtually nothing happens without it being photographed and posted online, it may seem natural to include a photograph with your CV. Research shows, however, that this will lead to your CV being instantly rejected a massive 88% of the time.
In simple terms, what you look like is completely irrelevant for the vast majority of posts that you apply for. By including a photograph, you'll indicate that you don't understand this fact, and therefore don't really understand the profession in question. Since many recruiters use social media to research applicants, if they really want to take a look at you, they'll do so.
5.
Using an unprofessional email address
Think back to how much time you spend coming up with an email address. The chances are that it wasn't much time at all, and that the simple firstname.lastname format was rejected as already in use. It might have seemed funny to opt for jimmyboy.thelegend@gmail -but when you complete your CV an email address like this is less amusing.
If you're particularly attached to your quirky personal email address, then set up an alternative for professional use. Nothing less is going to be acceptable for a recruiter to a professional position.
6.
Giving a detailed account of every job you've ever had
A detailed employment history in reverse chronological order is a key component of a standard CV layout. Leaving any gaps in the account of your employment is going to make it look like you've got something to hide, but you don't have to go into detail on every single job.
If you're applying for a position in nursing, for example, only say more about the jobs which are relevant in terms of direct experience or an indication of complementary skills. A recruiter should be able to tell at a glance which parts of your employment history are the most relevant.
7.
Including irrelevant personal information and achievements
Picking what to include and what to leave out is one of the trickiest aspects of the CV writing process. It can be tempting to include everything you regard as an achievement, but the fact that you have a brown belt in karate will be completely irrelevant when you're applying for a job in the legal sector.
If you do include information, make sure you explain exactly how it relates to the job in question. If you can't make this connection, then it's wisest to simply remove the information in question.
8.
Including the details of any references
In simple terms, a CV is only the very first step toward taking your next step in employment. It has to get past ATS bots and impress a human recruiter before it results in you being invited for an interview, and for that reason it will seem highly presumptuous to include the details of your references.
Simply state that 'References are available on request' and the employer will ask for details if and when they decide to offer you a position. In addition, you'll avoid the possible embarrassment of your current employer being contacted before you've secured your next position.
9.
Including all of your social media profile links
We live in a digital world, so you might be tempted to include all of your social media links on your CV. After all, your Instagram highlights your quirky, creative side. But it might also include images of you on drunken nights out or engaging in less than professional behaviour.
Minimise the risk of putting your potential employer off by only including links to wholly professional pages, such as LinkedIn, or, for more creative roles, an online portfolio.
10.
Writing long blocks of text
Remember that a recruiter will initially only be scanning your CV before deciding whether to read it in full. Research shows that most readers use a similar method when looking at a web page, and that they read the text in an 'F' shaped pattern.
This means that large blocks of text might be ignored. Help the recruiter to find the facts they need: turn blocks of text into bullet points or numbered lists.
11.
Keeping things 'interesting' by altering the standard order
A recruiter has to read a huge number of CVs for any post, particular a more attractive position. It stands to reason then, that a CV with things in a different order from the standard best CV format will stand out, right?
Yes, but not in a good way. A CV has to convey information as efficiently as possible, and the standard layout makes this happen. Opting to start with 'Additional Skills' will just make a recruiter think that they're going to have a hard time finding the information they really need.
12.
Forgetting to check that your contact details are correct
Some pieces of advice are so simple that they hardly seem to be worth saying. But we will. Check that your contact details are correct.
If your contact details are wrong, recruiters won't hunt you down - they'll move on to the next applicant. So, check: Are you using the right email address? Have you spelled it correctly? Have you included the correct mobile phone number?
13.
Writing more than 2 sides of A4
The maximum length for a CV layout is two sides of A4. Anything more feels like hard work to a busy recruiter, no matter how distinguished your career is. If you're brand new to the workforce, a single side is fine - there's no need to fill your CV with irrelevant details.
If you think you can't fit everything onto 2 sides, then go back over your CV. Be ruthless about what is really relevant to this particular job.
14.
Exaggerating your skills or bending the truth
It may be tempting to exaggerate your achievements on your CV. After all, isn't everybody doing it? Firstly, the answer to that question is no. Secondly, it doesn't make any difference what anyone else is doing. This is your CV and if it gets you an interview, then you'll be expected to back up everything that's included on it.
Claiming to be bilingual because you can still recall some school language lessons might not seem like quite such a clever idea when a member of the interview panel decides to ask you a few questions in French. Make the most of the truth by utilising a CV format that highlights the important information.
15.
Underplaying your relevant achievements
On the other hand, don't feel shy about blowing your own trumpet. You might think that highlighting your achievements is rather boastful, but as long as those achievements are relevant and can be backed up with specific details they should be included.
Don't make the mistake of thinking that you'll be able to mention everything at an interview, because if your CV doesn't create a good enough impression, you're not even going to get that far.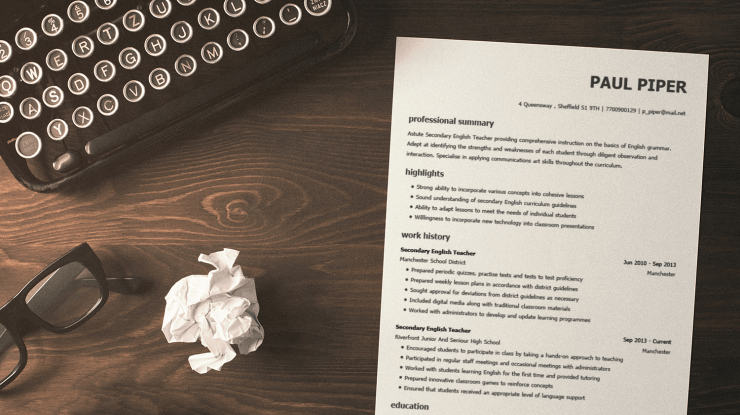 3 Common Questions UK Jobseekers Ask
1: How do you format a CV?
A CV should follow a standard format or layout, modified to take account of the profession being applied to and your own level of experience. Sections of a CV format should include:
Up-to-date and correct contact details.
A personal statement offering a summary of your strengths and how they relate to this role.
Educational history including any qualifications gained.
Employment history in reverse chronological order.
Additional skills which don't fall under 'employment' or 'education' but are still clearly relevant to the job in question.
2: How can I write a good CV?
A good CV has to pack a great deal of information into a relatively small space, set out in a clear and attractive manner, and a CV builder with the right CV layout can make a huge difference.
Be specific about your strengths and achievements, using facts and figures - such as sales targets met - wherever possible.
Make a list of the key attributes the job description mentions and make sure these are included. Both an ATS and a recruiter will be on the lookout for specific words which show you understand the role you're applying for.
Check several times for spelling and grammar and read out loud to make sure that all of the sentences read correctly.
Use a professional CV builder to make it quick and easy - and stand out from the crowd.
3: I've found the right CV, should I stick to it?
The best CV format needs to do two jobs at once. It needs to capture who you are and what you offer, and it needs to reflect the position you're applying for.
Only a specific CV layout will conform to the standards of the industry in question and demonstrate that you understand what's expected. A more general CV won't.
Re-using an existing CV will show a lack of effort of your part.
One CV format might be suited to a particular stage in your career, but will become outdated as you progress.
The Advantages of Using an Online CV Layout
There are two main tasks to be overcome when you sit down to write your CV. The first of these is choosing which facts are relevant, whether you can demonstrate everything you claim with specific examples, and if you've shaped the content to include the keywords that ATS and recruiters are looking for.
The second problem is how to format a CV. Using word processing tools to format your CV manually can be a long and frustrating process. It's the kind of thing that people train for years in graphics and design to accomplish, and it can be stressful, particularly if you're trying to craft a CV with a specific industry in mind.
Should there be a border? How large should the font be? Questions like these can make it all but impossible to get on with the task of actually writing the content of your CV.
The answer is to make use of one of our online CV layouts. These have been professionally developed on the basis of past experience, proven success and the demands and expectations of particular positions. An online CV layout offers the following advantages:
A clear structure that outlines where specific information goes will make it much easier to organise the facts you're choosing to include. It will also provide a framework, which makes it easier to decide which facts are relevant and which aren't.
Ask yourself if a detail slots easily into one of the sections outlined in the format. If it doesn't then perhaps you should rethink including it, or find a different way of highlighting the skill or achievement in question.
The fonts and colours are chosen for you, and will have been picked to match industry expectations. Mixing and matching too many fonts and colours is a classic time-waster.
An online CV will avoid this mistake, providing you with a few more subtle choices that won't distract from the content. The choices made will also match specific recruiter expectations.
Our online CV formats have been devised with ATS in mind. They ensure that the keywords that these automated bots are looking for are easy to find, helping the CV in question to make it through to a human recruiter.
The tools for using the CV formats make it quick and easy to add, remove or edit the content. When you're putting a CV together and juggling with a lifetime's worth of information, this can save a massive amount of time. Speedy editing means you can swap back and forth between various options to decide which content is the perfect fit.
Using our online CV builder means that you can access your CV anywhere, at any time, using any device. That means you can fit crafting the perfect CV into the time-consuming demands of everyday life.
The train journey home from work might be the perfect opportunity to tweak your personal profile or dig up the sales figures to back up your claims of excellence.
Find the Right CV Layout
Sitting down to write a CV from scratch can be a stressful process. Attempting to fit a lifetime's worth of experience into a single document is difficult at the best of times. A good CV not only has to convey this information, it has to do it in a manner which conforms to the standards of the industry in question.
Get it right, and you've taken your first step toward a whole new career. Get it wrong, however, and your CV will simply join the vast pile of those which are rejected at the first hurdle.
The layout of your CV is crucial to that all-important first impression. You might have a fantastic story to tell, but if your CV doesn't look the part then nobody will get to hear it!
Use our CV formats and CV builder to make sure that employers and recruiters get to enjoy the clearest possible picture of who you are and what you offer. Make the right choice and the details you include will cut through and create the maximum impact.
What are you waiting for? Start building your CV now and get the job you want.