When applying for new positions as a carpenter, a properly laid out CV should highlight your education and practical abilities and skills. Our free carpenter CV sample has been formatted to provide the correct layout expected by prospective employers, and show how to feature the information they will require.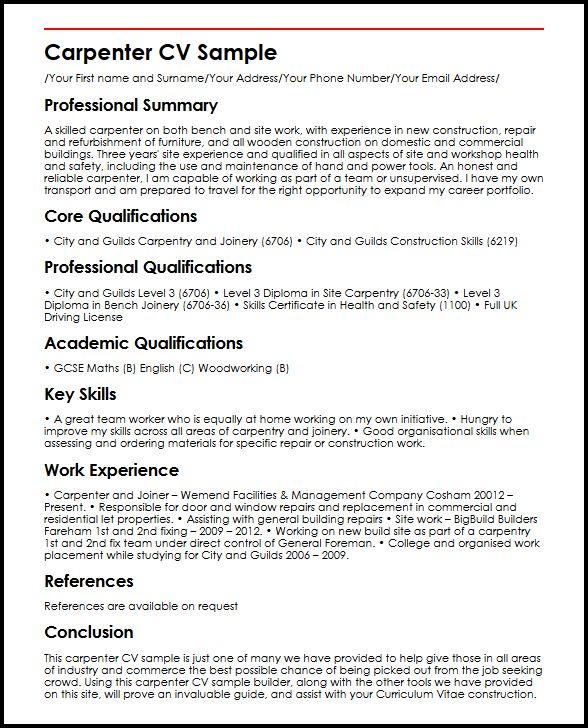 Carpenter CV Sample /Your First name and Surname/Your Address/Your Phone Number/Your Email Address/
Professional Summary
A skilled carpenter on both bench and site work, with experience in new construction, repair and refurbishment of furniture, and all wooden construction on domestic and commercial buildings. Three years' site experience and qualified in all aspects of site and workshop health and safety, including the use and maintenance of hand and power tools.An honest and reliable carpenter, I am capable of working as part of a team or unsupervised. I have my own transport and am prepared to travel for the right opportunity to expand my career portfolio.
Core Qualifications
• City and Guilds Carpentry and Joinery (6706)• City and Guilds Construction Skills (6219)
Professional Qualifications
• City and Guilds Level 3 (6706)• Level 3 Diploma in Site Carpentry (6706-33)• Level 3 Diploma in Bench Joinery (6706-36)• Skills Certificate in Health and Safety (1100)• Full UK Driving License
Academic Qualifications
• GCSE Maths (B) English (C) Woodworking (B)
Key Skills
• A great team worker who is equally at home working on my own initiative.• Hungry to improve my skills across all areas of carpentry and joinery.• Good organisational skills when assessing and ordering materials for specific repair or construction work.
Work Experience
• Carpenter and Joiner | Wemend Facilities & Management Company Cosham 20012 | Present.• Responsible for door and window repairs and replacement in commercial and residential let properties.• Assisting with general building repairs• Site work | BigBuild Builders Fareham 1st and 2nd fixing | 2009 | 2012.• Working on new build site as part of a carpentry 1st and 2nd fix team under direct control of General Foreman.• College and organised work placement while studying for City and Guilds 2006 | 2009.
References
References are available on request
Conclusion
This carpenter CV sample is just one of many we have provided to help give those in all areas of industry and commerce the best possible chance of being picked out from the job seeking crowd. Using this carpenter CV sample builder, along with the other tools we have provided on this site, will prove an invaluable guide, and assist with your Curriculum Vitae construction.