A job as an apprentice is your first chance to make your mark on the chosen profession, so to begin with you need an impressive CV that accurately reflects your skills and qualifications, together with any experience you have for the role. Our free online apprentice CV sample does much of the donkey work for you in terms of what to write and how to format your content. The right CV will get you noticed by the employer you're targeting and they're likely to call you in for an interview, hopefully leading on to you getting the job.
Create This CVSee all templates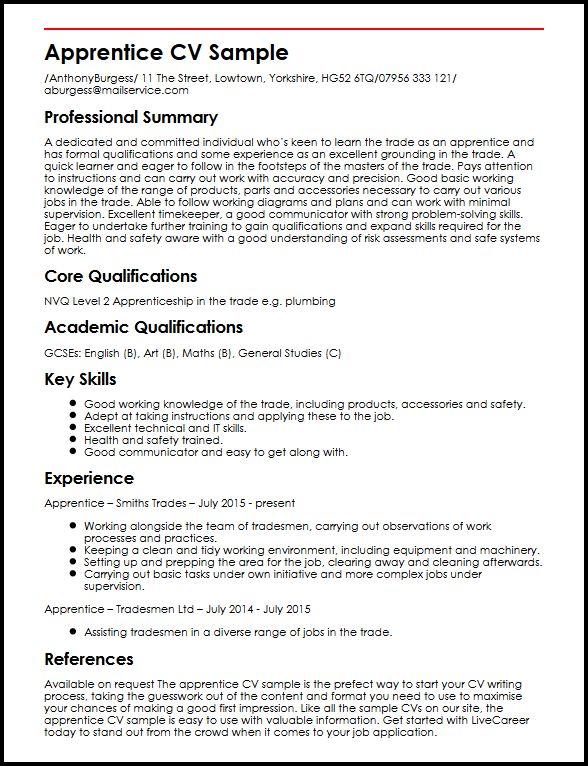 Build a professional CV that gets you hired.
Apprentice CV Sample/AnthonyBurgess/ 11 The Street, Lowtown, Yorkshire, HG52 6TQ/07956 333 121/ aburgess@mailservice.com
Professional Summary
A dedicated and committed individual who's keen to learn the trade as an apprentice and has formal qualifications and some experience as an excellent grounding in the trade. A quick learner and eager to follow in the footsteps of the masters of the trade. Pays attention to instructions and can carry out work with accuracy and precision. Good basic working knowledge of the range of products, parts and accessories necessary to carry out various jobs in the trade. Able to follow working diagrams and plans and can work with minimal supervision. Excellent timekeeper, a good communicator with strong problem-solving skills. Eager to undertake further training to gain qualifications and expand skills required for the job. Health and safety aware with a good understanding of risk assessments and safe systems of work.
Core Qualifications
NVQ Level 2 Apprenticeship in the trade e.g. plumbing
Academic Qualifications
GCSEs: English (B), Art (B), Maths (B), General Studies (C)
Key Skills
Good working knowledge of the trade, including products, accessories and safety.
Adept at taking instructions and applying these to the job.
Excellent technical and IT skills.
Health and safety trained.
Good communicator and easy to get along with.
Experience
Apprentice | Smiths Trades | July 2015 - present
Working alongside the team of tradesmen, carrying out observations of work processes and practices.
Keeping a clean and tidy working environment, including equipment and machinery.
Setting up and prepping the area for the job, clearing away and cleaning afterwards.
Carrying out basic tasks under own initiative and more complex jobs under supervision.
Apprentice | Tradesmen Ltd | July 2014 - July 2015
Assisting tradesmen in a diverse range of jobs in the trade.
References
Available on requestThe apprentice CV sample is the prefect way to start your CV writing process, taking the guesswork out of the content and format you need to use to maximise your chances of making a good first impression. Like all the sample CVs on our site, the apprentice CV sample is easy to use with valuable information. Get started with LiveCareer today to stand out from the crowd when it comes to your job application.